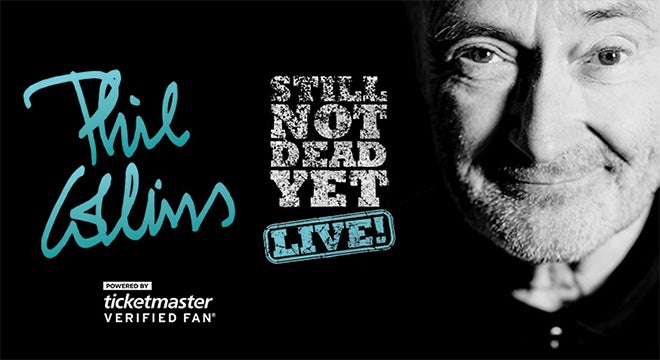 Phil Collins
"Still Not Dead Yet, Live!"
Phil Collins
"Still Not Dead Yet, Live!"
Event Details
Due to overwhelming demand, Live Nation and S2BN Entertainment recently announced a limited run of Phil Collins Still Not Dead Yet, Live! dates have been confirmed for fall 2019. The 15-city limited engagement will visit Little Caesars Arena on Tuesday, October 1 at 8 p.m.
One of the world's most acclaimed hitmakers with over 100 million record sales and an unstoppable catalogue of #1 albums, Phil Collins Still Not Dead Yet, Live! follows his highly successful Phil Collins Not Dead Yet 2018 outing which included multiple sold out dates and will once again feature Phil Collins accompanied by longtime guitarist Daryl Stuermer, keyboardist Brad Cole, bassist Leland Sklar, percussionist Richie Garcia), four-piece horns & stellar backup vocalists with Phil's son Nicolas once again handling the iconic drum beats Phil himself made so famous and compelling a generation before.
"The atmospheric and electrifying In The Air Tonight was magnificent. Collins, poignantly, stood to sing this classic. His thousand-yard stare penetrated those in the far-flung seats facing the stage and his haunting vocals were sung with an intensity that had many fans standing and swaying on their feet, eyes closed, mesmerized." (The Herald, AU).
Phil Collins Still Not Dead Yet, Live! will continue to be a celebration of his epic career. With more top 40 hits than any other US artist in the 80's crowd pleasers "Against All Odds," "Another Day in Paradise," "I Missed Again," "Follow You Follow Me," "In the Air Tonight" "Invisible Touch" and "Easy Lover" amongst others had the rapturous crowds air drumming and dancing in their seats.
The tour is presented by Live Nation & S2BN Entertainment Studios by Arrangement with Solo & Tony Smith Personal Management.
For complete tour and ticket information visit: www.PhilCollins.com & www.LiveNation.com.