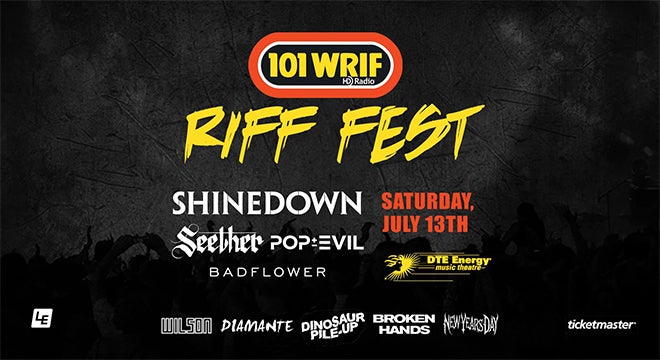 101 WRIF PRESENTS RIFF FEST 2019
Shinedown, Seether, Pop Evil, Badflower, Wilson, New Years Day, Diamante and more
101 WRIF PRESENTS RIFF FEST 2019
Shinedown, Seether, Pop Evil, Badflower, Wilson, New Years Day, Diamante and more
Event Details
101.1 WRIF presents the hardest rockin' party in Southeast Michigan RIFF FEST 2019 featuring main stage performances by Shinedown, Seether, Pop Evil, Badflower and Wilson at DTE Energy Music Theatre on Saturday, July 13. RIFF FEST 2019 will also feature performances by New Years Day, Diamante, Dinosaur Pile-Up and Broken Hands on the second festival stage located in the DTE parking lot. Gates and access to the festival stage will open at 1:30 p.m.
WRIF Program Director Mark Pennington:
"101 WRIF is excited to present 'RIFF FEST' 2019 for a great summertime Saturday at DTE. We are proud to have put together a powerful line up that is headlined by Shinedown, amazing support artists Seether, a special artist to be announced, live show legends and some amazing rising talent with Badflower, Diamante and our hometown boys Wilson. We look forward to joining rock fans across Detroit and all of Michigan on July 13th at 'RIFF FEST.'"
VIP package includes:
• Best Seats or Pit Tickets closest to the stage
• VIP Parking
• Pre-show party in The Arbor from 4-7 p.m.
• A private acoustic performance at 5:25 p.m.
• Commemorative RIFF FEST Laminate
• VIP early entry
• VIP dedicated entrance
• Complimentary Pre-show party hors d'oeuvres
• Complimentary soft drinks
Broken Hands, Dinosuar Pile-Up and more will kick off the full day of hard rock performances on the Festival Stage located in DTE's West parking lot at 2 p.m. Access to reserved pavilion seating and United Shore lawn for main stage performances will open at 4:30 p.m.
Riff Fest 2019 Artist Websites
Shinedown – www.shinedown.com
Seether – www.seether.com
Pop Evil - www.popevil.com
Badflower – www.badflowermusic.com
Wilson – www.houseoffuckery.com
New Years Day - www.nydrock.com
Diamante – www.thisisdiamante.com
Dinosaur Pile-Up – www.dinosaurpileup.com
Broken Hands – www.brokenhandsband.com