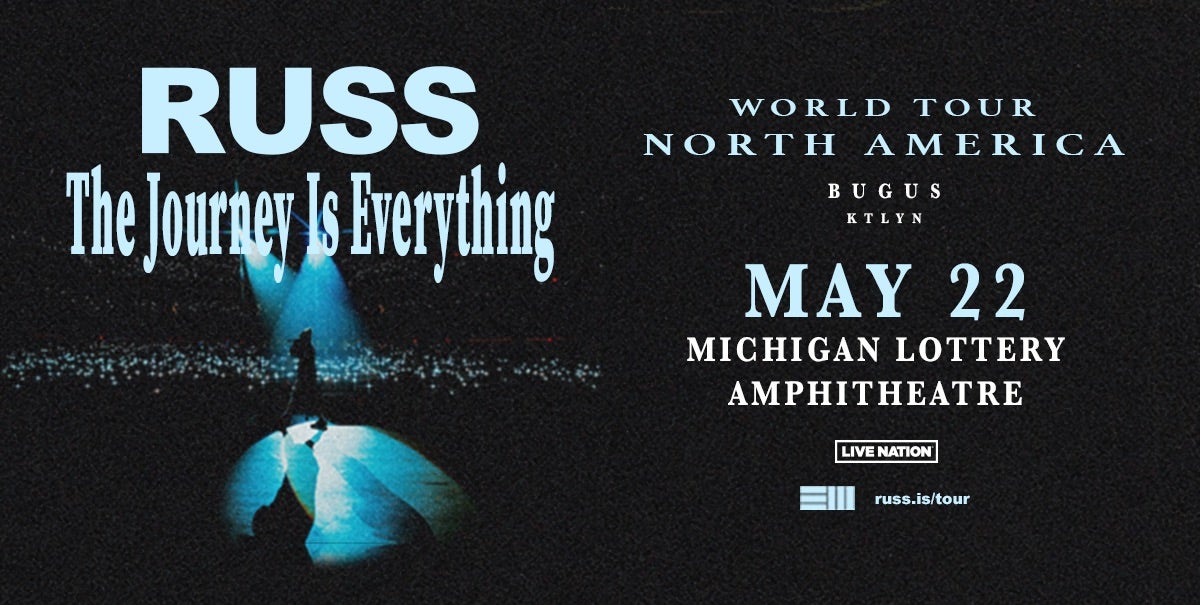 RUSS
"The Journey Is Everything" tour with special guests BUGUS and KTLYN
RUSS
"The Journey Is Everything" tour with special guests BUGUS and KTLYN
Event Details
Russ' "The Journey Is Everything" performance at Michigan Lottery Amphitheatre on June 3, 2021 has been rescheduled to take place on Sunday, May 22, 2022.
Russ released his third major label album, Shake The Snow Globe, on January 31, 2020. The album includes all brand-new songs. Every ticket purchased for U.S. dates on Russ' tour includes a CD of Shake The Snow Globe.
The album follows the success of one of Russ' most viral songs to date with "Best On Earth" featuring BIA. The Boi-1da and Jahaan Sweet produced track shot up the charts upon release and has received over 50 million streams and views to date. Rihanna posted the track to her social media calling it her "new fav song," inspiring a #BestOnEarthChallenge. The song is currently climbing the charts at radio and has been added to top playlists including Today's Hits on Apple Music and Rap Caviar on Spotify.
Russ also recently released his Wall Street Journal, USA Today and Publishers Weekly bestseller self-help book It's All In Your Head. In his book, Russ inspires readers to walk to their individual rhythms and overcome their biggest obstacles: themselves. With chapters named after his most powerful and popular songs, It's All In Your Head reflects on the lessons that Russ has learned from his career, family, and relationships. With illustrations throughout consistent with the brand Russ has built and his fan base loves, It's All In Your Head gives readers an inside look at the man and the motivation behind the music.
Shake The Snow Globe follows Russ' previous albums ZOO (2018) and There's Really A Wolf (2017). In his 10+ years of releasing music, the 27-year-old has developed an extensive catalog of music that has collectively surpassed over a billion streams on Spotify/Apple Music alone and nearly 1.5 billion video views. He has landed himself on Forbes' 2019 "30 Under 30," Forbes' "Hip-Hop Cash Kings 2018," and has sold out arenas around the globe, becoming one of the most popular and engaged rappers of today.