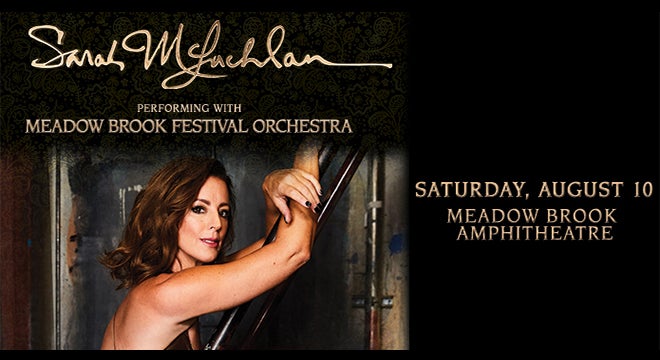 Sarah McLachlan
Sarah McLachlan
Event Details
Sarah McLachlan will perform at Meadow Brook Amphitheatre on the campus of Oakland University with the Meadow Brook Festival Orchestra on Saturday, August 10 at 8 p.m.
IMPORTANT NOTE: FOR ATTENDEES OF SARAH MCLACHLAN, PLEASE DO NOTE THERE IS NO OPENER AND THE SHOW IS SCHEDULED TO BEGIN ON TIME. PLEASE PLAN TO ARRIVE EARLY, DOORS OPEN TO THE VENUE AT 6:30 PM.
Similar to 313 Presents' other outdoor amphitheatres, and new to Meadow Brook Amphitheatre in 2019, the parking fee ($5) is now included in the ticket price.
With over 30 years in the recording industry, McLachlan is a multi-platinum singer and songwriter best known for her intimate vocals and relatable lyrics. Canadian-born, this Grammy® and Juno Award winning artist has sold over 40 million albums throughout her career and was recently inducted into the Canadian Music Hall of Fame.
McLachlan's multi-platinum album Surfacing was released in 1997 and became her best-selling album to-date, reaching eight-times platinum in the US. The album won a Grammy® for Best Pop Vocal Performance for "Building a Mystery" and another for Best Pop Instrumental Performance for "Last Dance". She won another Grammy® in 1999 for "I Will Remember You".
In addition to her personal artistic efforts, McLachlan founded the Lilith Fair tour, which showcased female artists and brought over 2 million people together during its three-year run. Lilith Fair raised more than $7 million for women's charities and helped launch the careers of numerous women performers. The festival was the most successful all-female music event and was the top-grossing touring festival at that time.
In 2002 McLachlan founded her non-profit organization, the Sarah McLachlan School of Music, which provides top quality music instruction at no cost, in a safe and nurturing environment, for at-risk and underserved children and youth. From an early age, music provided McLachlan with the tools she needed to navigate the challenges she faced in her life, so she recognizes how important it is for every child to have those same opportunities.
In recent years, she's released the 2014 record Shine On and the 2016 Christmas album Wonderland, which scored a Traditional Pop Vocal Album Grammy® nomination.
There's a startlingly intimate quality to her voice and her music that's virtually unmatched. Her live shows showcase not only her impressive vocal skill, but also her musical skills. Don't miss this intimate evening of music.
www.sarahmclachlan.com
www.facebook.com/sarahmclachlan
IG: @officialsarahmclachlan
www.sarahschoolofmusic.com