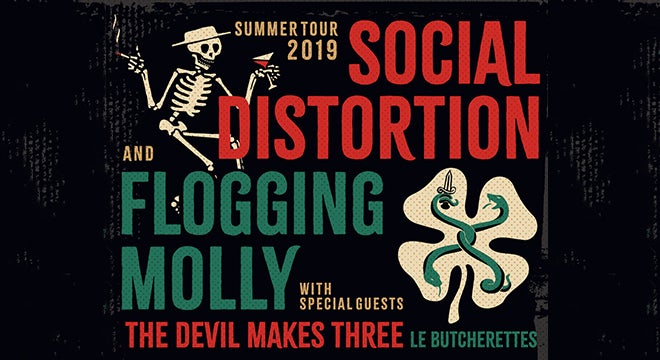 Social Distortion and Flogging Molly
With special guests The Devil Makes Three and Le Butcherettes
Social Distortion and Flogging Molly
With special guests The Devil Makes Three and Le Butcherettes
Event Details
Legendary American punk rock band, Social Distortion, and Irish-American Celtic punk band, Flogging Molly's, summer tour with The Devil Makes Three and Le Butcherettes will stop at Michigan Lottery Amphitheatre at Freedom Hill as part of the Fifth Third Bank Concert Series on Friday, September 6 at 6 p.m.
"We're excited to be heading out on the road with our friends Flogging Molly this summer," vows Social Distortion frontman Mike Ness. "It's been a long time since we've played a show together and the first time since '92 that Social Distortion has done a co-headline tour. It's going to be a lot of fun and we're all looking forward to it."
Over the past 30 years, the punk godfathers of the band Social Distortion have all but trademarked their sound, a brand of hard rockabilly/punk that's cut with the melodic, road-tested lyrics of frontman Mike Ness. Their searing guitars and a locomotive rhythm section sound as alive today as they did in '82, as do Ness' hard-luck tales of love, loss and lessons learned. Hard Times And Nursery Rhymes (produced, for the first time, by Ness himself) is the band's first record since 2004. The album debuted at #4 on the Billboard Top 200 and was the highest debut that the band has yet seen. Hard Times was also the #1 Independent Album and the #2 Modern Rock/Alternative Album week of release.
The social and political awareness that drives Flogging Molly's music is never more prominent than in their upcoming new release Life Is Good -- a strikingly powerful album and it arrives at a strikingly key time. The sixth studio album by the renowned Celtic-punk rockers now in their 20th year is mature, well crafted, equally polished and almost aggressively topical. It is filled with rousing songs that are timeless in their sentiment, but directly related to today's most pressing concerns: Politics, the economy, unemployment, planned boomtowns gone bust, immigration policies gone awry, and much more.
Additional Ticket Information
Tickets in the Crest Ford pavilion Ford Motor Company luxury seats and on the lawn, can be purchased at the Little Caesars Arena XFINITY box office and Ticketmaster.com. To charge tickets by phone, call (800) 745-3000.