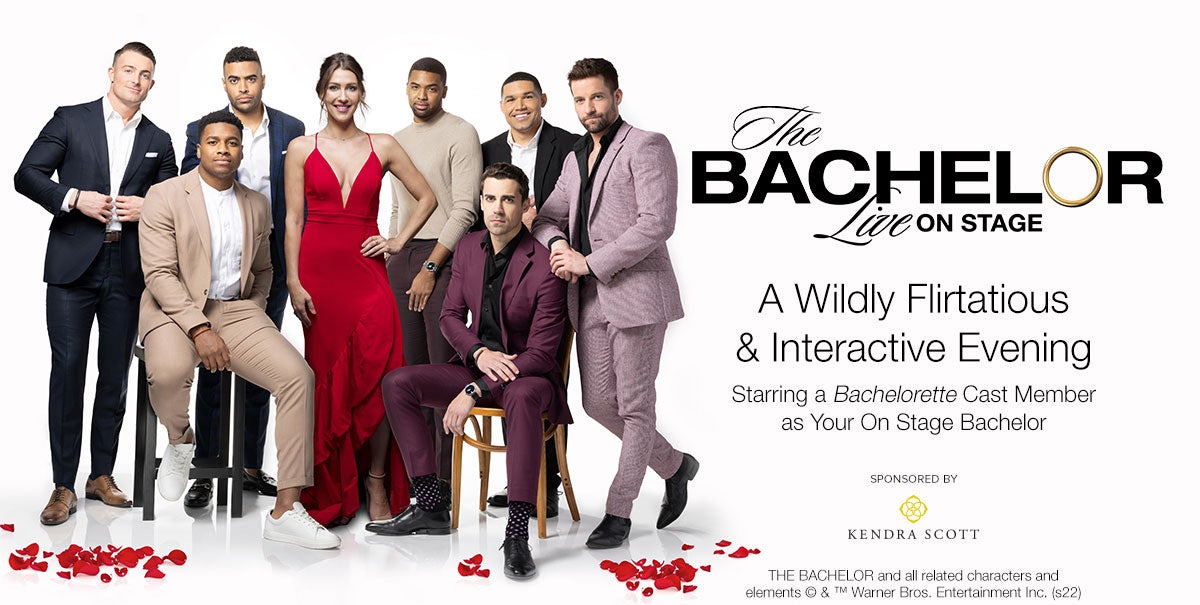 The Bachelor Live on Stage
The Bachelor Live on Stage
The Bachelor Live On Stage Official Tour is the ultimate Bachelor Nation fan party in the form of a wildly flirtatious and interactive evening hosted by Becca Kufrin and featuring Rick Leach from Season 18 of The Bachelorette as your on-stage bachelor at the Fox Theatre on Sunday, March 27 at 7:30 p.m. Comerica Bank is the exclusive presenting partner of the Fox Theatre.
Featuring one incredible man from a recent season of The Bachelorette as your on-stage Bachelor, the audience and on-stage participants will leave the theater feeling like they just spent an evening at the mansion. It's a thrilling night of laughter, lively games and lighthearted connections with a handful of ladies, hand-picked from the audience to experience first-hand what life at the mansion is really like. From glamorous limo entrances to outrageous group dates and all the memories that come along with it, come dressed to the nines and bring your watch party crew to cheer on those vying for the final rose of the evening.
The Bachelor Live On Stage Official Tour guarantees a wild night of fun, shocking surprises and a front row seat to the journey you've been watching on TV for years. There's only one question – are you here for the right reasons?
Discounts are available for groups of 10 or more. If you are interested in bringing a group to an upcoming event, please click the "Get Group Tickets" button below to fill out our interest form and a Group Sales Executive will contact you within 48 hours. If you would like to speak with an executive directly, please call 313-471-3099. For more group sales information and FAQs, please visit 313presents.com/Groups.
Additional Ticket Information
Subscription Packages On Sale Now
Select three of the incredible featured shows in the Fox Theatre Series presented by Comerica Bank lineup and save up to 20%! You will also enjoy several exclusive benefits.
Build Your Custom Package Today!
YOU can be a part of the journey!
Ladies, do you want a chance to experience a wild night in your hometown as one of our on-stage participants? You could Join Rick from The Bachelorette for an evening full of fun, flirting and a chance to take home the iconic final rose. A thrilling night of laughter, lively games and lighthearted connections.
Here are a few things you can do to prepare to be called on stage from your seat.
Arrive EARLY to the show. Doors open at 6:00pm & plan to come to the lobby and meet our Casting Director.
Come prepared with a less than 30-word DESCRIPTION of yourself! What are your hobbies, dreams, what do you do for a living, etc.
Dress to be STAGE ready! Pick an outfit of your choice but remember, this will be your FIRST IMPRESSION.
Think about your LIMO ENTRANCE and what you will say when you meet our BACHELOR who will guide you through this exciting & interactive evening.
Be prepared to sign a waiver with our casting team, each volunteer is subject to any and all applicable state and local COVID-19 mandates and laws of the corresponding tour stop city. All volunteers will be rapid tested on site and must have a negative test result to participate in the show.
You must be 21 years or older to be a volunteer on stage.
Expect the UNEXPECTED! Be open to having fun and leaving your HEART on the stage.
Let the JOURNEY begin.