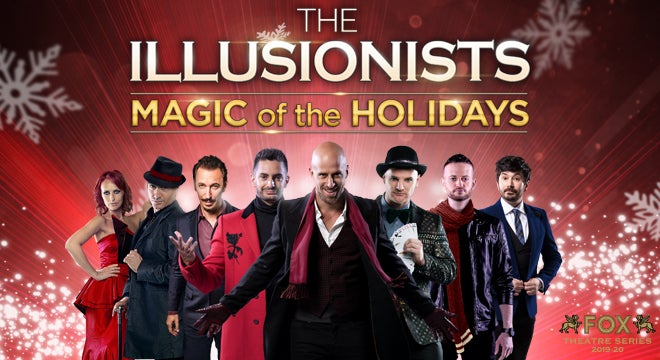 The Illusionists – Magic of the Holidays
The Illusionists – Magic of the Holidays
Event Details
Tis the season…Producers Simon Painter, Tim Lawson, and MagicSpace Entertainment are pleased to announce that The Illusionists – Magic Of The Holidays (www.theillusionistslive.com), an all-new installment of the world-famous, blockbuster touring magic spectacular, will play the Fox Theatre in The District Detroit as part of the 2019-20 Fox Theatre Series on Friday, November 29 and Saturday, November 30 for three shows during this holiday season.
"The audience response from our record-breaking Broadway run for Magic of the Holidays was incredible," says producer Simon Painter. "Our cast is performing incredible illusionists every night which is a perfect setting for families to experience and celebrate the holiday together."
Celebrate the holidays with the entire family at The Illusionists – Magic of the Holidays, a mind-blowing showcase featuring jaw-dropping talents of the most incredible illusionists on earth. The Illusionists has shattered box office records across the globe and dazzles audiences of all ages with a powerful mix of the most outrageous and astonishing acts ever seen on stage. This non-stop show is packed with thrilling and sophisticated magic of unprecedented proportions.
The Illusionists previously wowed audiences and around the world including smash hit engagements on Broadway, London's West End and on tour around the United States and Canada. This year's family-friendly show promises even more illusions, close-up magic, mentalism, daring escapes, and technological spectacle performed by master entertainers who've captivated audiences worldwide.
In addition to creative producer Simon Painter, the creative team for The Illusionists – Magic Of The Holidays includes executive producer Tim Lawson.
The Elusive, Valentin Azema
With a French touch, a bit of humor and a limitless passion for the art of magic, you will share with Valentin a one-of-a-kind experience of wonder and mystery.
The Trickster, Darren Partridge, aka Dizzy
Dizzy's wild combination of magic, physical comedy, and theatrical thievery, delivered with mischievous British charm, leaves his audiences both spellbound and gasping for breath. an experience you will not believe and will never forget.
The Transformationalists, Sos & Victoria
The lightning-fast and world-famous Quick Change artists Sos & Victoria have perfected their modern interpretation of traditional performance art by combining fashion, stage-craft and sleight-of-hand in a display that has dazzled audiences all over the world. Masters of quick couture, this dapper duo are always prepared and dressed to impress. A flick of the wrists, a twist and a twirl are all it takes for them to transmute their apparel into looks for any occasion. There is only one thing about Sos & Victoria don't 'quick change'… is their ability to be the absolute best at what they do!
The Daredevil, Jonathan Goodwin
British born Daredevil and Escape Artist Jonathan is widely considered one of the most creative, skilled, and frankly crazy stunt performers in the world; and has been described as "The world's greatest theatrical daredevil". Goodwin has been hanged, buried alive, hung by his toes from helicopters, burned at the stake, attacked by sharks, and bitten by rattlesnakes dodged arrows and climbed under moving cars.
The Manipulator, Florian Sainvet
Born in Bordeaux, France, Florian Sainvet began his career in magic at the age of sixteen, but it was while devouring his favorite science fiction films and universes at his beloved neighborhood cinema that he discovered his true calling as a futuristic manipulator and illusionist.
The Showman, Steve Valentine
In fact, in the last 20 years Steve has appeared in over 250 hours of TV and film carving out a unique place for himself in show business, constantly changing and morphing into a myriad of wild, quirky, funny, dangerous and always unique characters.
The Mentalist, Stuart MacLeod
A Scottish BAFTA nominee, Stuart MacLeod has created some of the most controversial magic on television, played to sell out crowds all over the world and racked up over 100 million views on YouTube.
ABOUT THE CREATIVE TEAM
Simon Painter, Creative Producer
Simon Painter is a visionary creative producer and entrepreneur based in California. Originally from London, Simon started his career as a classical violinist but soon transitioned into producing and creating commercial theatre. During the last 10 years, Simon has been at the forefront of the live entertainment industry, having launched and managed major performance venues and conceived, created and produced acclaimed productions such as Adrenaline and Le Noir – The Dark Side of Cirque. The first show he produced, Le Grand Cirque, smashed box-office records in the history of the Sydney Opera House selling over 40,000 tickets in 10 days. In 2012, in collaboration with Tim Lawson, Simon created The Illusionists franchise, which recently became the highest selling magic show in Broadway history. Simon also produced an NBC special of "The Illusionists." Along with its sequels The Illusionists 2.0 and The Illusionists – Turn Of The Century, the shows continue to smash records and play multiple productions throughout the world including 3 times on Broadway and London. Simon also created the jaw dropping and exquisite show Circus 1903 - The Golden Age of Circus.
Tim Lawson, Executive Producer
Tim Lawson is the CEO of TML Enterprises and founding partner of The Works, servicing Australia and international territories with first class musicals and family entertainment with productions spanning across over 350 cities in 30 countries. Theatrical credits include Sweet Charity, Buddy – The Musical, Jolson, Spirit of the Dance, Oh! What A Night, Fiddler on the Roof starring Topol (1998, 2005-2007) and Anthony Warlow (2016), It's A Dad Thing!, Weary – The Life of Sir Edward Dunlop, Shout! The Musical, Brave Men Run In Our Family, Jekyll and Hyde ,The Rocky Horror Show starring Richard O' Brien, A Chorus Line (Australasia and London Palladium), and Chitty Chitty Bang Bang. With partner Simon Painter, credits include Le Grand Cirque, Ariel Dreams, Adrenaline, Le Noir – The Dark Side of Cirque, Cirque Paris, A Magical Cirque Christmas, The Illusionists, The Illusionists 2.0, The Illusionists Turn of the Century, Now You See Me Live premiering this November and Circus 1903 making its London debut this Christmas.
www.theillusionistslive.com
Follow The Illusionists on Twitter, Instagram and Facebook.
Discounts are available for groups of 10 or more. If you are interested in bringing a group to an upcoming event, please click the "Get Group Tickets" button below to fill out our interest form and a Group Sales Executive will contact you within 48 hours. If you would like to speak with an executive directly, please call 313-471-3099. For more group sales information and FAQs, please visit 313presents.com/Groups.
Additional Ticket Information
Tickets can be purchased at the Little Caesars Arena XFINITY box office and Ticketmaster.com.
---
Select-Your-Shows Packages
2019-20 Fox Theatre Series packages are on sale now. For more details and to build your custom package, please CLICK HERE.
---
Group Tickets
Discounts are available for groups of 10 or more. For more information on group sales, call 313.471.3099, email
Group.Sales@OlyEnt.com or CLICK HERE to complete our interest form.
Bring a group to one of our amazing events and save big! For more group sales information, please CLICK HERE.
If you are interested in bringing a group to an upcoming event, please CLICK HERE to fill out our interest form and a Group Sales Executive will contact you within 48 hours. If you would like to speak with an executive, please call 313-471-3099.