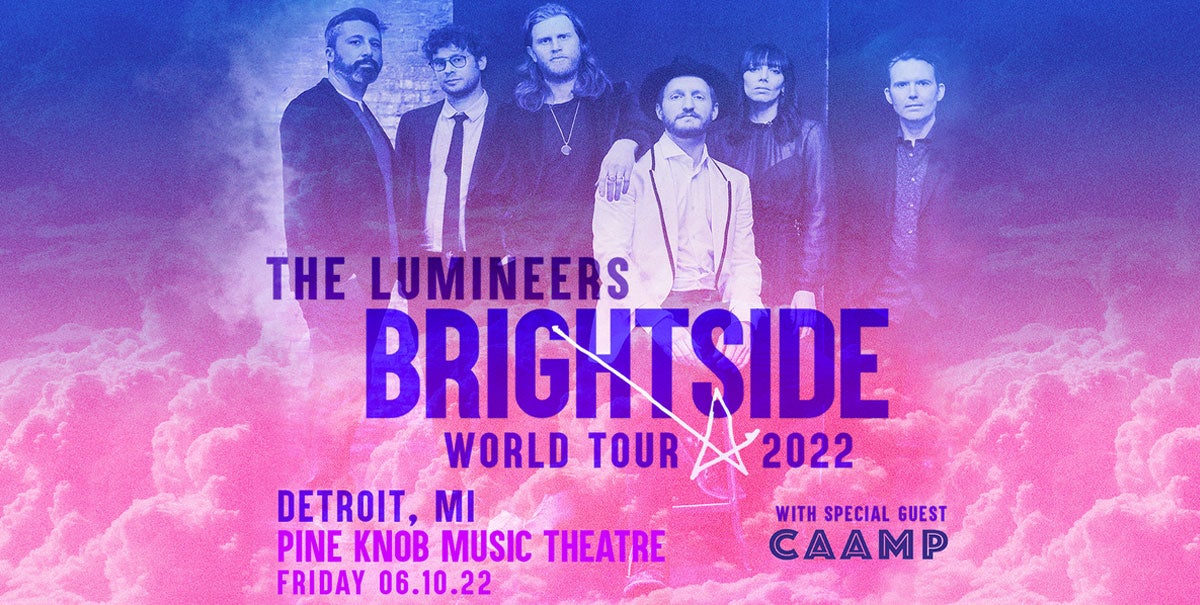 The Lumineers
BRIGHTSIDE World Tour
The Lumineers
BRIGHTSIDE World Tour
Event Details
The Lumineers bring their "BRIGHTSIDE World Tour 2022" with special guests Caamp to Pine Knob Music Theatre on Friday, June 10 at 7:30 p.m. Pine Knob Music Theatre is presented by Proud Partners United Wholesale Mortgage, Trinity Health and Ally.
After successfully creating the world's first major climate positive tour in 2020, The Lumineers are proud to continue their partnership with environmental non-profit REVERB.org, on this year's tour. The band has committed to a comprehensive climate action program via REVERB's Music Climate Revolution campaign, which, in addition to reducing the tour's environmental footprint and engaging fans to take action at the shows, will support projects that directly and measurably eliminate greenhouse gases while benefitting diverse global communities. These efforts will make the tour climate positive; eliminating significantly more greenhouse gas pollution than the tour emits including fan travel to and from shows.
The Lumineers will once again partner with On Location & CID Entertainment to offer packages that bundle a premium reserved ticket with an invitation to the BRIGHTSIDE pre-show lounge, an exclusive gift bag and more. For full details, visit: www.cidentertainment.com/events/the-lumineers-tour.
The "BRIGHTSIDE World Tour" celebrates the recent arrival of the Lumineers' eagerly anticipated new album, BRIGHTSIDE, , available now via Dualtone in the U.S. & Canada and Decca Records for the rest of the world. The 2x Grammy® Award-nominated band's fourth studio album, BRIGHTSIDE includes such new favorites as "A.M. RADIO," "BIG SHOT," "WHERE WE ARE," and the chart-topping first single and title track, "BRIGHTSIDE," all joined by official music videos streaming now at YouTube. "BRIGHTSIDE" recently made history by ascending to #1 on Billboard's "Alternative National Airplay" and "Adult Alternative Airplay" charts – the band's sixth time atop the latter ranking in less than 10 years. The Lumineers now boast the most #1 singles among all acts on that chart in the span since achieving their first AAA chart-topper in 2012.
Produced by longtime collaborator Simone Felice and produced, mixed, and engineered by David Baron over two sessions in winter and spring 2021 at Baron's Sun Mountain Studios in bucolic Boiceville, NY, BRIGHTSIDE marks The Lumineers' first new music in more than two years. The nine-song collection sees The Lumineers' co-founders/co-songwriters Wesley Schultz and Jeremiah Fraites performing virtually all of the eclectic, effervescent instrumentation, with Baron on a wide variety of keyboards and backing vocals and more by Simone Felice, touring members Byron Isaacs and Lauren Jacobson, famed backing singer Cindy Mizelle (Bruce Springsteen, Dave Matthews Band), The Felice Brothers' James Felice and acclaimed singer-songwriter Diana DeMuth.
The Lumineers' most joyous and spontaneous piece of work thus far, BRIGHTSIDE has been met by immediate critical applause around the world:
"Every track has at least one super grabby hook…It demanded my attention. Beautiful and effecting wistfulness." – NPR
"The easy melodic hooks that drew fans to The Lumineers in the first place remain, but the combination of stronger material and looser performances make for a strong fourth outing." – ALLMUSIC (4/5)
"Schultz and Fraites are masters of storytelling… What separates BRIGHTSIDE from albums past is a raw quality, like sitting in on a jam session. Strings are sparse, instead relying on piano, percussion and guitar to carry the record. Songs like the stripped down 'A.M. RADIO' with its acoustic guitar lead in have a simplicity that allow the craftsmanship to shine." – ASSOCIATED PRESS
"Its upbeat feel and finely wrought prettiness will satisfy Luministas for sure." – ROLLING STONE
"It's a compact production – nine songs, 30 minutes, much storytelling – stocked with the rootsy pop flavors first experienced on their 2012 breakout single, 'Ho Hey,' as well as follow-up hits 'Stubborn Love' and 'Ophelia.'" – USA TODAY
"As spring rolls round eventually and the days slowly get brighter, I can see myself reaching for this record: The Lumineers seem to have a way of always being calming yet never borrowing, with vocals unique enough to keep intrigue and instrumentals just lively enough to regularly respark your attention." – GIGWISE
"A sweet slice of Americana that will get right under your skin…Rootsy, heartfelt yet understated, The Lumineers hold lyrical intelligence, emotional introspection, analogue instrumentation and old-fashioned flaws-and-all musicianship to be of higher value than trendy production or sonic effects." – THE TELEGRAPH (4/5)
The Lumineers are represented by Wasserman Music and Activist Artists Management.
Additional Ticket Information
Citi is the official credit card for The Lumineers BRIGHTSIDE World tour dates in the United States. Citi cardmembers can take advantage of a special Citi Presale powered by Ticketmaster Verified Fan® opportunity by registering now thru Sunday, February 13 at 10 p.m. ET to unlock access to tickets and use their Citi card to complete the ticket purchase if verified. The Citi Presale begins Tuesday, February 15 at 10 a.m. (local) and will continue through Thursday, February 17 at 10 p.m. (local). To register for the Citi Presale powered by Ticketmaster Verified Fan® visit www.thelumineersbrightsidetour.com. For complete presale details visit www.citientertainment.com. Additionally, fans may register now through Sunday, February 13 at 10 p.m. ET at www.thelumineersbrightsidetour.com to unlock tickets for the Ticketmaster Verified Fan® presale beginning Wednesday, February 16 at 10 a.m. (local) through Thursday, February 17 at 10 p.m. (local). For complete details and ticket availability, please visit www.thelumineers.com