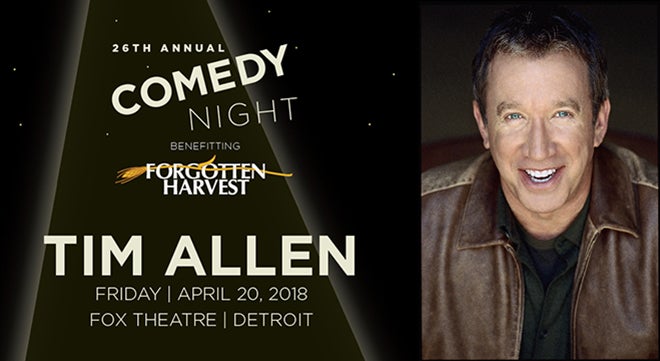 Tim Allen
Forgotten Harvest's 26th annual Comedy Night
Tim Allen
Forgotten Harvest's 26th annual Comedy Night
Event Details
Comedy star Tim Allen will headline the 26th annual Comedy Night hosted by metro Detroit's only food rescue organization, Forgotten Harvest on Friday, April 20 at 8:30 p.m.
This year's Comedy Night is a special return to his hometown for Allen, who co-founded the event and headlined its first two years. This night has become Detroit's premier annual comedy event that brings in renowned celebrities like Jay Leno, David Coulier, Martin Short, Seth Meyers and Sinbad.
The event offers a chance for Forgotten Harvest and its supporters to celebrate their achievements in the community.
"Tim Allen's return to the Forgotten Harvest Comedy Night is a welcome one," said Forgotten Harvest CEO Kirk Mayes. "Our organization is fortunate to have the support of Tim, our sponsors and the community at our largest annual fundraising event. Proceeds will go directly to fight hunger and food waste in metro Detroit."
As one of Detroit's most successful exports to Hollywood, Allen's career has taken him from the garage in Home Improvement to the North Pole in The Santa Clause to infinity and beyond as Buzz Lightyear in the Toy Story movies, along with many other well-known roles. He most recently starred in the hit sitcom Last Man Standing. Allen is currently on a stand-up comedy tour across the nation.