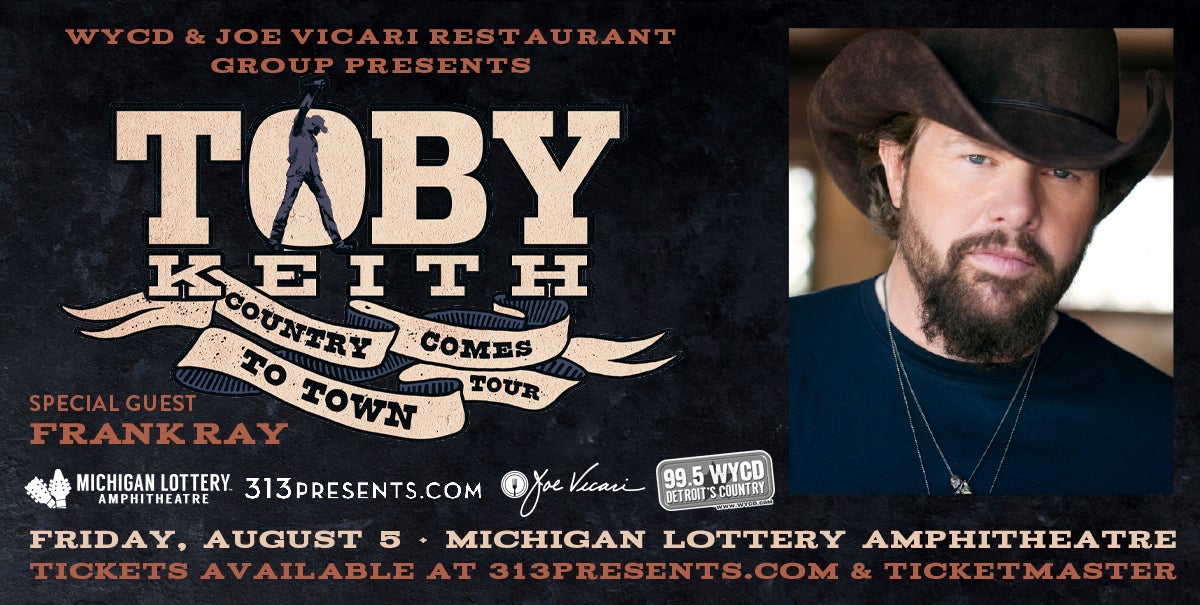 Toby Keith
"Country Comes To Town Tour" with special guest Frank Ray
Toby Keith
"Country Comes To Town Tour" with special guest Frank Ray
Event Details
WYCD and Joe Vicari Restaurant Group Present superstar Toby Keith with special guest Frank Ray at Michigan Lottery Amphitheatre on Friday, August 5 at 7:30 p.m.
The familiar maxim of the triple threat – singer, songwriter, musician – doesn't begin to cover it for Toby Keith, one of the modern era's most complete self-directed hit makers. And Keith's most recent years are a remarkably accurate representation of his entire career. In 2021, he was bestowed the National Medal of Arts to honor his artistic achievements and contributions to the arts and culture of America, as well as inducted into the Nashville Songwriters Hall of Fame and honored with the Academy of Country Music's prestigious Merle Haggard Spirit Award for "following his own path, crafting great songs and epitomizing Merle's spirit." In October, he released a new studio album, Peso In My Pocket, that led with the single "Old School" which debuted at the highest radio entrance on Billboard's airplay chart.
In 2018, he celebrated the 25th anniversary of his debut No. 1 single, "Should've Been A Cowboy" with the re-release of his debut album (remastered with the addition of three vault tracks). From the moment that song was released and shot up the charts to become his first No. 1, the engine driving everything has been the music. Toby has sold more than 40 million albums and has 32 #1 hit singles. He wrote a #1 hit every year for 20 straight years, including "Who's That Man," "Me Too," "How Do You Like Me Now?!," "You Shouldn't Kiss Me Like This," "I'm Just Talkin' About Tonight," "Courtesy of the Red, White, & Blue (The Angry American)," "Who's Your Daddy?," "Beer For My Horses," "I Love This Bar," "American Soldier," "Whiskey Girl," "As Good As I Once Was," "She Never Cried in Front of Me," "God Love Her," and "Made in America." And there have been some unexpected highlights along the way as well, including country's most impactful viral event, "Red Solo Cup," the video for which has received more than 60 million views and was named ACM Video of the Year. In 2018, Keith also released a new song, "Don't Let The Old Man In," which was inspired by a conversation he had with Clint Eastwood and was later featured in Eastwood's movie, The Mule. In 2015, he was inducted into the Songwriters Hall Of Fame in New York City. With more than 10 billion streams and BMI 97 million performances, his current Toby Keith's "Country Comes To Town Tour" is his 19th consecutive headlining tour.
Toby's most rewarding experiences, however, have come from giving back locally, nationally and abroad. His annual golf classics fund the Toby Keith Foundation and OK Kids Korral, a cost-free home for families of children dealing with critical illnesses. His 11 USO Tours to date have enhanced the lives of nearly 256,000 troops and military families in 18 countries with more than 285 events, and have been recognized with the Spirit of the USO Award (2014). And when a tornado ravaged his hometown, Toby Keith was the face of the community and helped shoulder the cleanup with the 2013 OK Twister Relief Concert. Triple threat? How about singer, songwriter, musician, producer, entertainer, humanitarian, Oklahoman and patriot. For starters.
Frank Ray, a former police officer with the Las Cruces, NM force, left his career after 10 years of service. Since then, his music career has been accelerating rapidly as he has been coined the "Hispanic Causin Panic" for his stunning vocals and the Southwest spice he brings to the stage. Ray's music is a blend – drawing influences from `90s Texas Country, Latin, R&B and Pop. As an entertainer, Ray delivers engaging, high-energy performances that have a little something for everyone. It's with this cross-cultural appeal and his panorama of influences that the Los Angeles Times proclaims Ray "is looking to stretch Country music's cultural boundaries."
Since embarking on his musical journey full-time, his debut EP Different Kind of Country spawned two top 10 singles on the Texas Regional Radio Chart. He was Country radio's most added artist of 2021 and 2022's Artist to Watch on CMT, Pandora and Amazon Music. His newest single "Country'd Look Good On You" is approaching 20 million streams globally. An experienced performer, Ray has shared the stage before with Toby Keith as well as other artists like Keith Urban, Luke Bryan, Brett Eldredge and Walker Hayes to name a few.