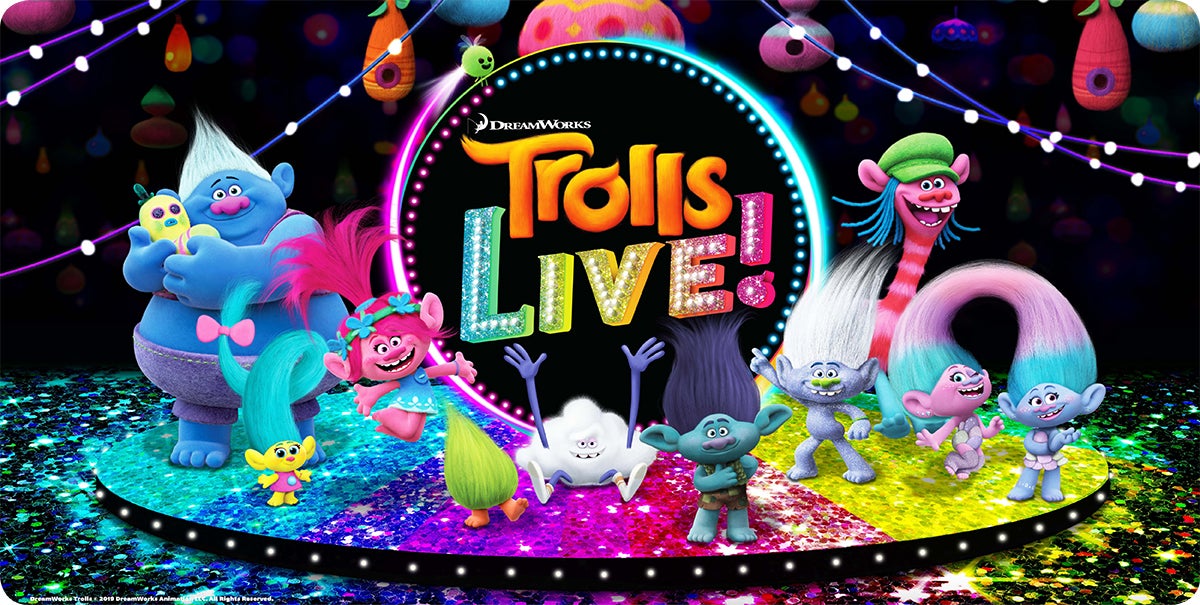 Trolls LIVE!
Trolls LIVE!
Event Details
Following cancellations and/or postponements of numerous VStar Entertainment Group shows in recent days, and taking into consideration the World Health Organization (WHO) and the Center for Disease Control (CDC) recommendations for social distancing, as well as the escalation of the Coronavirus (COVID-19) pandemic, VStar Entertainment Group announces today the Trolls LIVE! performances originally scheduled for May 1-3 at Fox Theatre have been rescheduled to Thursday, October 8 through Saturday, October 10.
Tickets for the performances on Friday May 1, 2020 at 6:30 p.m. and Saturday May 2, 2020 at 10 a.m., 2:30 p.m., and 6:30 p.m. will be honored for the respective October dates and times. All performances on Sunday May 3, 2020 have been canceled. Tickets purchased on Ticketmaster.com for Sunday, May 3 will be automatically refunded – all other refunds should be requested at the original point of purchase.
Due to Governor Whitmer's Stay Home Stay Safe Executive Order, the Little Caesars Arena XFINITY Box Office and Fox Theatre box office are closed. For guests who purchased tickets with cash for one of the canceled performances at either box office, refunds will be available when Governor Whitmer lifts the order. Tickets purchased with a credit card for one of the canceled performances at the box office will be automatically refunded.
The journey begins when the Trolls' Hug Time is unexpectedly put at risk. Knowing the only way to save it is by doing what the Trolls do best, Poppy hosts a toe-tapping, Trolls-tastic show! Poppy, Branch, Cooper, Cloud Guy, Satin and Chenille, Smidge, Guy Diamond, Fuzzbert, Biggie and Mr. Dinkles invite you into the colorful world of Troll Village for this interactive performance only the Trolls can create. This is one Trolls party you won't want to miss!
The world of the Trolls comes alive in this totally interactive, story-rich musical celebration of everything the Trolls love – singing, dancing, rainbows, glitter and plenty of hugs. The extravaganza utilizes the latest in scenic projection, puppetry, media technology and features a host of special effects and interactive surprises. Trolls LIVE! includes two acts with an intermission and will enchant both children and adults with its popular Trolls show-stopping songs, as well as introduce audiences to all-new electrifying Trolls music and choreography.
For more information or to join Trolls Hair Mail for presale and other exclusive offers, visit www.TrollsLIVE.com. Follow Trolls LIVE! on Facebook, Instagram and Twitter @trollslive, and use #TrollsLIVE.
Discounts are available for groups of 10 or more. If you are interested in bringing a group to an upcoming event, please click the "Get Group Tickets" button below to fill out our interest form and a Group Sales Executive will contact you within 48 hours. If you would like to speak with an executive directly, please call 313-471-3099. For more group sales information and FAQs, please visit 313presents.com/Groups.
Come join Poppy and Branch in the Trolls LIVE! VIP Party! The VIP Party will be filled with rockin' sing-a-longs, an exclusive gift and best of all – a Meet & Greet photo opportunity with your favorite hosts, Poppy and Branch! Trolls LIVE! VIPs will also receive premium seating, a souvenir lanyard and more.