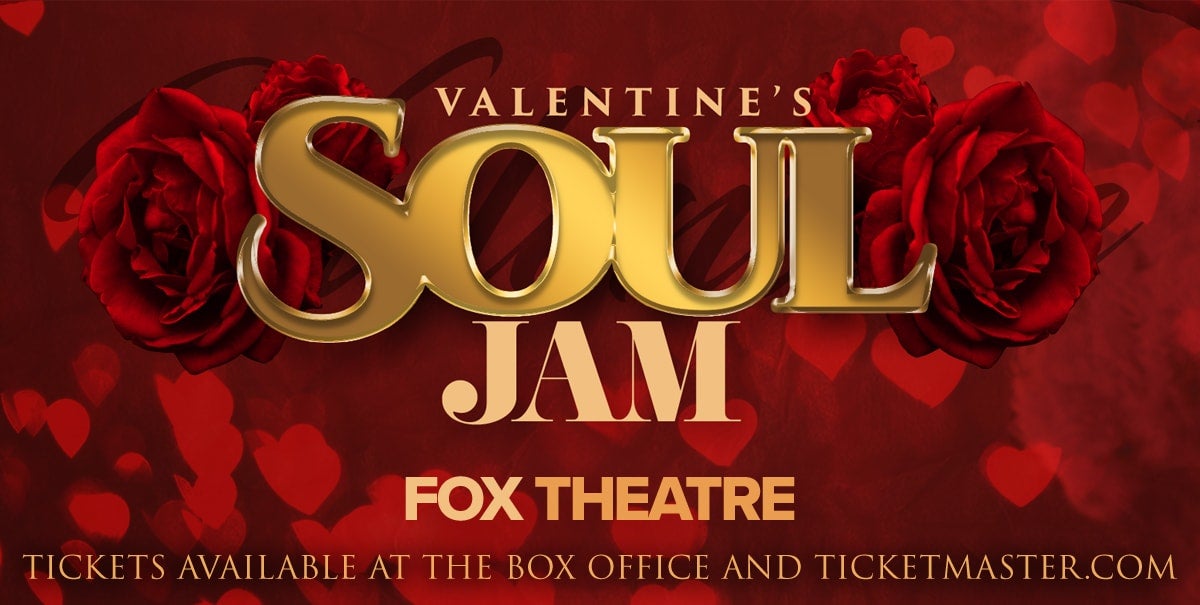 Valentine's Soul Jam
Valentine's Soul Jam
Event Details
The highly anticipated event will feature musical performances by R&B soul stars The Whispers, The Dramatics, Russell Thompkins Jr. & The New Stylistics and Enchantment, performing a myriad of their greatest hits. Fans will have the chance to hear some of the greatest songs ever recorded, sung by the artists who made them famous, in a timeless show that will make them fall in love all over again.
Lineup is subject to change.
The Whispers were a veteran R&B quintet with an impressive legacy of R&B hits. Formed in Los Angeles by twins Walter and Wallace Scott, Nicholas Caldwell, Marcus Hutson, and Gordy Harmon (who left in 1973), the Whispers turned up on the Dore label in 1964 with "I Was Born When You Kissed Me." In 1969, the quintet climbed the soul charts for the first time with "The Time Has Come" on Soul Clock, and they cracked the R&B Top Ten the next year with "Seems Like I Gotta Do Wrong." They remained hitmakers for the labels Janus, Soul Train, and Solar, with smashes like the solid gold chart-topper "And the Beat Goes On" in 1980 and another number one urban contemporary hit, "Rock Steady," in 1987. After being their backbone and selling point since the group's inception, twin lead vocalists Walter and Wallace Scott took time out for solo careers in 1993, but remained with the Whispers.
The Dramatics have been one of the most prolific, consistently entertaining groups of the last three decades. Another of the great non-Motown Detroit groups formed in the late 60s, the Dramatics went through significant personnel changes over their early years as the group struggled to find a hit. They ultimately found it on Stax/Volt Records with "Whatcha See Is Whatcha Get," a latin-tinged cut, lyrically based on a comic phrase popularized by Flip Wilson. It was an instant hit on both the pop and soul charts, and began a string of great cuts for the group penned by Tony Hester. The follow-ups "In The Rain" and "Toast to the Fool" were even better, and have remained in active play on many stations for nearly 30 years.
About Russell Thompkins Jr. and The New Stylistics
For over 30 years, Russell Thompkins Jr. was the original lead singer of the Stylistics. His impeccable falsetto voice led the group to international fame and recognition. Russell's distinctive falsetto was the driving force and the backbone of the original Stylistics and it earned them:
(7) gold albums, (5) gold singles, (2) double gold singles, (8) platinum albums, (1) double platinum album & (4) platinum singles along with a Grammy nomination in 1974 for "You make Me Feel Brand New," and a plaque on the Walk of Fame in 1994, in center city Philadelphia, including various awards and trophies from around the world. In May of 2004 they were inducted into the Vocal Group Hall of Fame. Their hits include "You're A Big Girl Now," "Stop, Look, Listen," "You Are Everything," "Rockin' Roll Baby," "Betcha By Golly Wow," "Break Up to Make Up," "Stone In Love With You," "People Make The World Go Round," "Children Of The Night," "You Make Me Feel Brand New," "You'll Never Get To Heaven," "Let's Put It All Together," "I Can't Give You Anything," "First Impressions," "Love At First Sight," "Hurry Up this Way Again," "Love Talk"
Smooth and melodious soul group Enchantment formed in 1967 at Pershing High School in Detroit. Emanuel "E.J." Johnson, Joe Thomas, Dave Banks, Ed "Mickey" Clanton, and Bobby Green obtained their first recording contract by winning first place in a 1969 talent contest sponsored by local radio station WCHB. Enchantment later signed with the Roadshow label and recorded their self-titled debut album. The first single to hit the R&B chart from Enchantment (1977) was "Come On and Ride." Later that year, the charismatic showmen received national acclaim with their second single, "Gloria." Written and arranged by dynamic lead singer Johnson, the song reached number five on the R&B chart. The follow-up, "Sunshine," peaked even higher at number three. As they rode that momentum, album number two, Once Upon a Dream (1978), produced the pleading "It's You That I Need," a number one R&B hit that reigned for four weeks. The group, still fronted by Johnson, continues to work as a performing act.