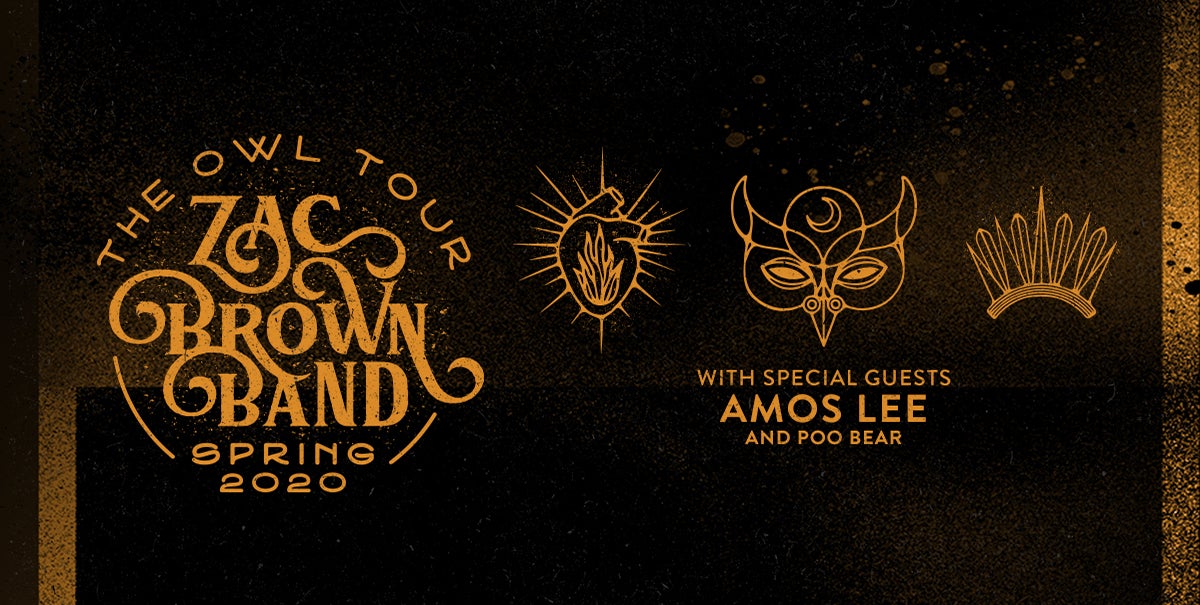 POSTPONED: Zac Brown Band
"The Owl Tour" with Amos Lee and Poo Bear and Sasha Sirota 
POSTPONED: Zac Brown Band
"The Owl Tour" with Amos Lee and Poo Bear and Sasha Sirota 
Event Details
Please note, show is postponed, more information will be announced as available.
Multi-platinum, Grammy® Award-winning, Zac Brown Band extended their highly successful summer 2019 "The Owl Tour" to include spring 2020 dates. The spring 2020 leg of "The Owl Tour" will feature support from Amos Lee and Poo Bear and Sasha Sirota throughout the run.
"The Owl Tour" celebrates and features music from the band's newest album, The Owl, as well as hits from the band's entire discography and a diverse range of cover songs that have become a signature part of any Zac Brown Band show. Featuring the dynamic melodies they have long been known for and new, genre-bending sounds, the album and tour draw inspiration from the mythology and mystery surrounding the Great Horned Owl that can see perfectly in the night, serving as a guide when we need sight even in the darkest of moments.
The spring 2020 leg of "The Owl Tour" follows this past summer's epic, 32-stop tour that brought the band to some of the nation's most storied music venues including Boston's Fenway Park, where Zac Brown Band played two consecutive sold-out shows, extending their record to 11 consecutive sold-out shows – the most of any other act at the famed venue.
"The energy throughout 'The Owl Tour' has been electric at every stop," said Zac Brown. "It's been an unforgettable year and we've had so much fun sharing the new music with our fans. We can't wait to get back on the road next spring."
"The Owl Tour" Summer 2019 leg marked Zac Brown Band's third consecutive touring run within the span of a single calendar year, playing to almost three quarters of a million fans. "The Owl Tour" effortlessly showcases their dynamic chemistry and unforgettable live act, whether they're performing fan-favorites or just-released tracks from the newest album.
"The Owl Tour" hit #1 on Pollstar's Live75 chart and earned high praise across the country. The Boston Globe said, "[Zac Brown Band's] blend of chops, spirit, and knowing exactly how to please a crowd has made them one of the summer concert season's most reliable draws, always ready for a good time but also keenly aware of how to keep an audience on its toes." The Pittsburgh Post Gazette also praised the show for "taking fans on a 28-song emotional roller coaster filled with classics and covers."
Zac Brown Band is a multi-platinum, Grammy® Award-winning, southern rock group led by front man, Zac Brown. Throughout their decade-long career, Zac Brown Band has had six consecutive albums reach the top 10 of the Billboard 200 and five consecutive albums debut at #1 on Billboard's Country Albums chart. To date, the group has won three Grammy® Awards including Best New Artist in 2010, sold more than 30 million singles, nine million albums, has achieved 15 #1 radio singles and are the second act to top both the Country and Active Rock formats. Zac Brown Band has headlined seven North American Tours and currently holds the record for most consecutive sold-out shows at the iconic Fenway Park. Since their debut, Zac Brown Band has developed a reputation with critics and fans alike as one of the most dynamic live performers, marked by strong musicianship that defies genre boundaries.