2019 GEICO U.S. FIGURE SKATING CHAMPIONSHIPS TICKETS BENEFITING FIGURE SKATING IN DETROIT ON SALE NOVEMBER 16
Nov 13, 2018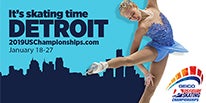 (DETROIT – November 13, 2018) – All tickets sales for the 2019 GEICO U.S. Figure Skating Championships from Friday, November 16 through Monday, December 31 will benefit Figure Skating in Detroit (FSD). The U.S. Championships will be held January 22-27, 2019 in Detroit at Little Caesars Arena.
This limited-time donation initiative will automatically donate a set dollar amount back to Figure Skating in Detroit, a non-profit program dedicated to empowering and educating girls of color through artistic discipline of figure skating. Figure Skating in Detroit is program geared for girls ages 6-15 with a mission to empower and educate girls both on and off the ice.
Based off the Figure Skating in Harlem model, FSD aims to help girls transform their lives and grow in confidence, leadership and academic achievement. FSD is the only organization in the world for girls of color that combines the life-transforming power of education with access to the artistic discipline of figure skating. The program is championed by many notable U.S. Figure Skating alumni, including five-time U.S. champion Jerod Swallow and Olympic gold medalist Meryl Davis.
When purchasing tickets to the U.S. Championships, figure skating fans can use the code "FSDetroit" to give back to the local community as well as help grow the sport of figure skating in Detroit. During the ladies free skate on Friday, January 25, FSD will receive a check supported by the ticket donation program.
Figure Skating in Detroit will be celebrating the program with a special performance at the Detroit tree lighting ceremony, including an appearance by Olympic bronze medalists Maia and Alex Shibutani. FSD skaters will also perform a group number during the Skating Spectacular on Sunday, January 27.
For more information about the ticket promotion, please visit 2019USChampionships.com. To learn more about FSD, visit FigureSkatinginDetroit.org.