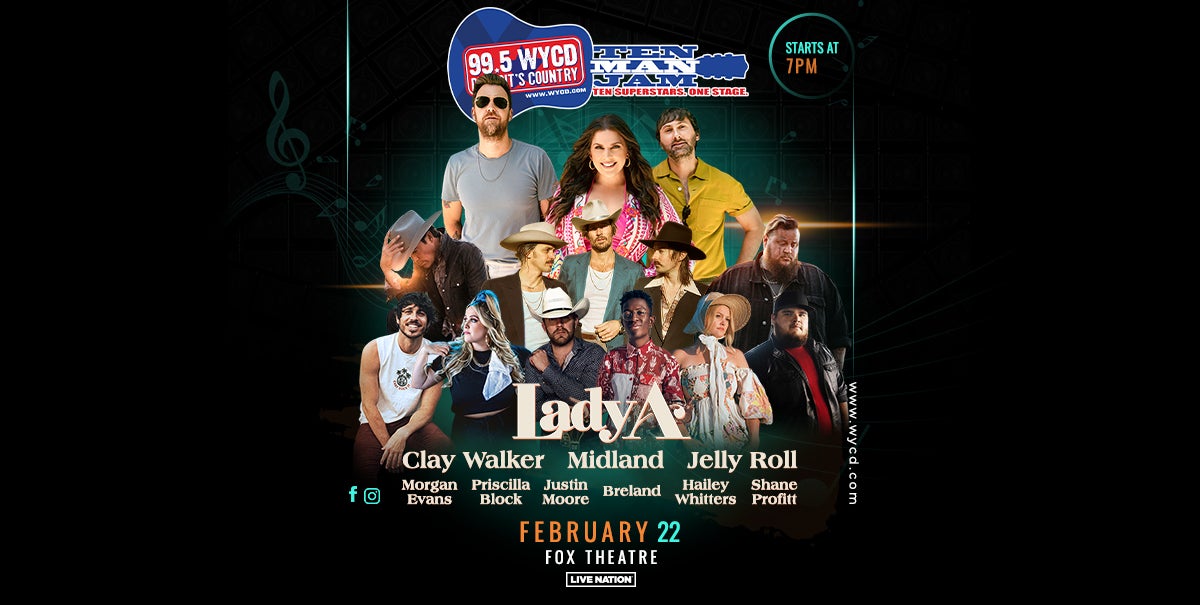 99.5 WYCD Announces 2023 Ten Man Jam Will Appear At The Fox Theatre February 22
Ten Superstars. One Stage
Tickets Go On Sale Monday, December 19 at 9 a.m.
(DETROIT – December 19, 2022) – 99.5 WYCD is excited to announce the 2023 Ten Man Jam will make its debut appearance at the Fox Theatre on Wednesday, February 22 at 7 p.m. Comerica Bank is the exclusive presenting partner of the Fox Theatre.
A limited amount of tickets go on sale today, Monday, December 19 at 9 a.m. at 313Presents.com, LiveNation.com and Ticketmaster.com. For all other tickets, tune into 99.5 WYCD for a chance to win. A portion of the ticket sales will benefit local charities.
Musical acts for the 2023 event include Lady A, Clay Walker, Midland, Jelly Roll, Morgan Evans, Priscilla Block, Justin Moore, Breland, Hailey Whitters and Shane Profitt. Lineup is subject to change.
Featuring Lady A, Clay Walker, Midland, Jelly Roll, Morgan Evans, Priscilla Block, Justin Moore, Breland, Hailey Whitters, Shane Profitt
Featuring Lady A, Clay Walker, Midland, Jelly Roll, Morgan Evans, Priscilla Block, Justin Moore, Breland, Hailey Whitters, Shane Profitt