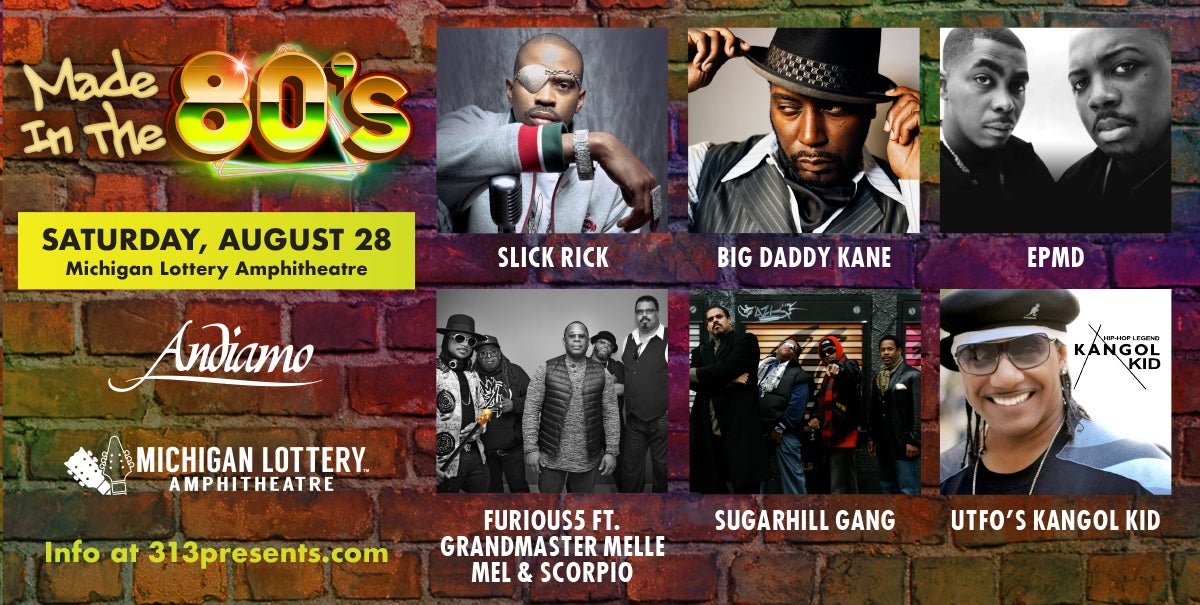 ANDIAMO RESTAURANTS PRESENT MADE IN THE 80'S FEATURING SLICK RICK, BIG DADDY KANE, EPMD, FURIOUS5 FEATURING GRANDMASTER MELLE MEL & SCORPIO, SUGARHILL GANG AND UTFO'S KANGOL KID AT MICHIGAN LOTTERY AMPHITHEATRE SATURDAY, AUGUST 28, 2021
Tickets Go On Sale Saturday, June 12 at 10am
(DETROIT – June 8, 2021) - Andiamo Restaurants present Made in The 80's featuring hip-hop pioneers Slick Rick, Big Daddy Kane, EPMD, Furious5 featuring Grandmaster Melle Mel & Scorpio, Sugarhill Gang and UTFO's Kangol Kid at Michigan Lottery Amphitheatre on Saturday, August 28, 2021 at 7:30 p.m.
Tickets (starting at $35.25 on the lawn) go on sale Saturday, June 12 at 10 a.m. To purchase tickets in the Crest Ford pavilion, Ford Motor Company luxury seats and on the lawn, visit 313Presents.com, Ticketmaster.com or the XFINITY Box Office at Little Caesars Arena.
Slick Rick, widely regarded as "hip-hop's greatest storyteller," began his career in 1983 as a member of Doug E. Fresh's Get Fresh Crew, pioneering what is today celebrated as the "Golden Age of Hip- Hop." The London-born artist has four albums to his credit, the landmark The Great Adventures of Slick Rick (1988), The Ruler's Back (1991), Behind Bars (1994) and The Art of Storytelling (1999). His music has been sampled and interpolated over 650 times by such artists as Eminem, Mariah Carey, Beyonce, Beastie Boys, TLC, Nas, Miley Cyrus, Kanye West, Black Star, The Notorious B.I.G., Snoop Dogg and Color Me Badd. Many of the new songs became hit singles, underscoring his timeless influence.
Widely regarded as one of the most influential and skilled MCs in hip hop, the baritone voiced, stylish dressing Big Daddy Kane has released two Gold certified albums, Long Live The Kane (1988) featuring hit songs "Ain't No Half Steppin'" and "Raw," and It's A Big Daddy Thing (1989), featuring "Smooth Operator," "Warm It Up" and the Teddy Riley produced hit, "I Get The Job Done." Rolling Stone ranked "Ain't No Half-Steppin'" #25 on its list of The 50 Greatest Hip-Hop Songs of All Time. His third studio album, Taste Of Chocolate (1990) features "Hard Being The Kane" and "All Of Me," a duet with the late legendary Barry White.
Rap Duo Erick Sermon and Parrish Smith make up the highly celebrated team EPMD. These two emcees are credited for delivering music that combines a feel-good groove with no nonsense verses. They created numerous hip-hop classics including "It's My Thing," "You Gots to Chill," "Get the Bozack," "Strictly Business" and "Rampage."
Grandmaster Melle Mel and Scorpio are two of the original members of the iconic hip hop group Grandmaster Flash & the Furious Five. The group's use of turntablism, break-beat deejaying, and conscious lyricism was significant in the early development of hip hop music. In 1983, the group disbanded and became Grandmaster Melle Mel & the Furious Five where they released several hits including "The Message," "White Lines," and a host of others.
Sugarhill Gang – Wonder Mike and Master Gee and the late Big Bank Hank – were the first hip hop group to place a rap single in the Top 40 of the Billboard Hot 100 with the 1979 hit "Rapper's Delight." Other Top 20 Billboard R&B hits included "8th Wonder" and "Apache (Jump On It)."
Kangol Kid was a lead member of the pioneer rap group, UTFO, which became one of the most popular rap and breakdance acts in the country on the strength of their breakout single, "Roxanne, Roxanne" in 1984. In 1987, UTFO released their most popular selling album, Lethal, which featured rock group Anthrax on the title track.
Featuring Slick Rick, Big Daddy Kane, EPMD, Furious5 featuring Grandmaster Melle Mel & Scorpio, Sugarhill Gang and UTFO's Kangol Kid
Featuring Slick Rick, Big Daddy Kane, EPMD, Furious5 featuring Grandmaster Melle Mel & Scorpio, Sugarhill Gang and UTFO's Kangol Kid