ANDIAMO RESTAURANTS PRESENT THE LEGENDS OF MOTOWN STARRING THE TEMPTATIONS AND THE FOUR TOPS WITH SPECIAL GUESTS THE STYLISTICS AT MICHIGAN LOTTERY AMPHITHEATRE AT FREEDOM HILL SATURDAY, JULY 14
Tickets On Sale Now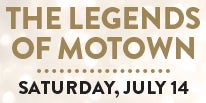 (DETROIT – February 19, 2018) – Andiamo Restaurants present The Legends of Motown starring The Temptations and The Four Tops with special guests The Stylistics will perform at Michigan Lottery Amphitheatre at Freedom Hill as part of the Fifth Third Bank Concert Series on Saturday, July 14 at 7:30 p.m.
Tickets ($20.50 on the Kroger lawn and $60 and $80 in the Crest Ford pavilion and $122 in the Ford Motor Company Luxury seats) go on sale Friday, February 23 at 10 a.m. and can be purchased at 313Presents.com, the Fox Theatre and Little Caesars Arena XFINITY box offices and Ticketmaster.com. To charge tickets by phone, call (800) 745-3000.
The Temptations were born in Detroit in 1961, a marriage of members of the Distants and the Primes, and signed to Motown. "Dream Come True" became the group's first chart hit, peaking at #22 R&B in 1962. In 1965, "My Girl" became their first #1 pop and R&B hit, and their first signature song. They hit #1 R&B again with "Get Ready" in 1966. In 1972, "Papa was a Rollin' Stone" hit #1 pop and won two Grammys®. In total, The Temptations have claimed 43 Top 10 R&B singles (14 #1) and 17 pop Top 10s (four #1). In 1989, they were inducted into the Rock and Roll Hall of Fame.
The Temptations' new millennium success has included the Grammy®-winning Ear-Resistable (2000) as well as Awesome (2001) and Legacy (2004). Reflections, released in 2006, received a Grammy® nomination for their version of Marvin Gaye's "How Sweet It Is (To Be Loved by You)." Their latest album was 2010's Still Here. Otis Williams, the only original member still living, continues to perform with The Temptations' line up consisting of Terry Weeks, Ron Tyson, Larry Braggs and Willie Green.
The Four Tops were founded in Detroit, Michigan as The Four Aims. Lead singer Levi Stubbs and groupmates Abdul "Duke" Fakir, Renaldo "Obie" Benson and Lawrence Payton remained together for over four decades, going from 1953 to 1997 without a single change in personnel. Their hit singles included two Billboard Hot 100 number-one hits, "I Can't Help Myself (Sugar Pie Honey Bunch)" and "Reach Out I'll Be There."
When Motown left Detroit in 1972 to move to Los Angeles, the Tops stayed. They continued to earn charting singles into the late-1970s. The group was inducted into the Rock and Roll Hall of Fame in 1990 and into the Vocal Group Hall of Fame in 1999. Fakir is the only surviving founding member of the original group and is joined by Ronnie McNeir, Lawrence Payton, Jr. and Harold Bonhart.
The Stylistics was formed in Philadelphia, PA in 1966. Herbert Murrell and Airrion Love are remaining original members. Friends since junior high school, Herb and Airrion have managed to keep their institution of `70s music alive. They scored 12 straight top 10 R&B hits, including "You Are Everything," "Betcha by Golly, Wow," "I'm Stone in Love with You," "Break Up to Make Up" and "You Make Me Feel Brand New." The current lineup of the Stylistics also includes Eban Brown and Jason Sharp.