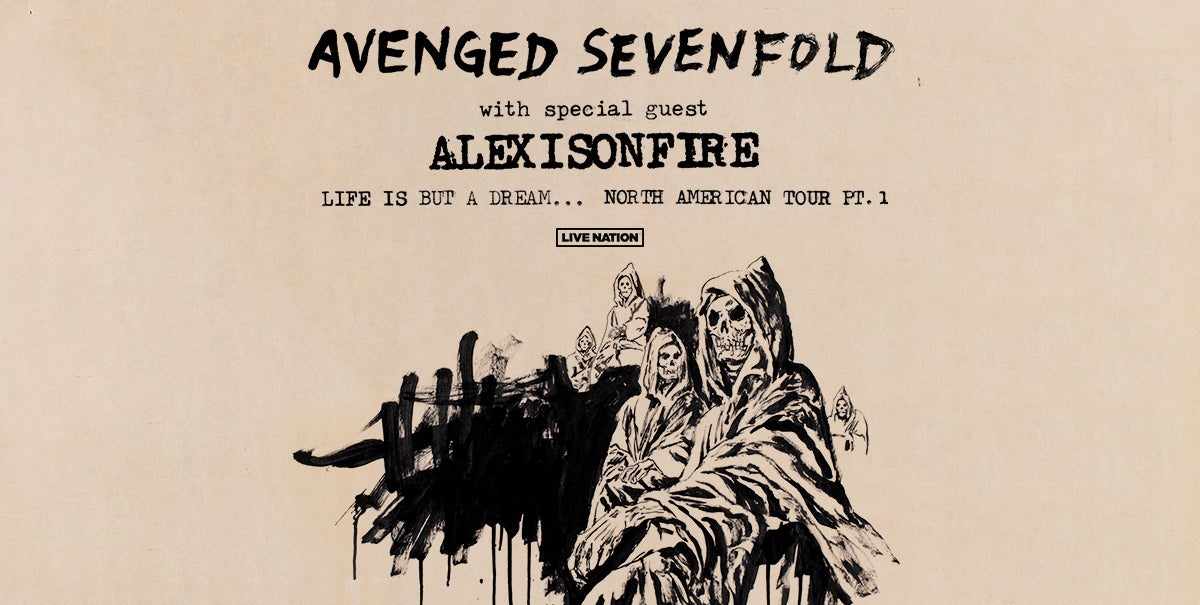 Avenged Sevenfold's "Life Is But A Dream" Tour To Include Pine Knob Music Theatre July 26
Tickets Go On Sale Thursday, March 30 at 10 a.m.
(DETROIT – March 27, 2023) – Following the announcement of two unique one night only arena shows in New York and Los Angeles, multi-platinum headliners and famed heavy metal rock group Avenged Sevenfold have launched an extensive "Life is But A Dream…" North American tour – featuring support from Alexisonfire. Produced by Live Nation, the first leg includes thirteen cities across the U.S. and Canada including Pine Knob Music Theatre on Wednesday, July 26 at 6:30 p.m. Pine Knob Music Theatre is presented by Proud Partners United Wholesale Mortgage, Trinity Health and Ally.
The announcement of leg one is just one piece of recent exciting news for the band as they also just released their first single in seven years, "Nobody", and revealed their new album Life is But A Dream…, set to debut on June 2nd via Warner Records.
Tickets go on sale Thursday, March 30 at 10 a.m. at 313Presents.com, LiveNation.com and Ticketmaster.com.
Deathbats Club members can request tickets first from now through Tuesday, March 28 at 3 p.m. ET using Ticketmaster's new Token-Gated Sales platform at avengedsevenfold.io/. Deathbats Club is a collection of 10,000 unique Deathbat NFT's, made popular by Avenged Sevenfold, flying around the Ethereum blockchain. A Deathbat is a membership card into the club and offers many perks and access to events that will take place in the "metaverse" and in real life.
During that window, fans will submit their request for tickets and, after the request period closes, they will receive a confirmation from Ticketmaster if tickets matching their preferences have been secured. This process gives exclusive access to ticket locations that have been reserved for the Deathbats Club community. For more information on the Token-Gated Sales platform see HERE.
About Avenged Sevenfold
To date, Avenged Sevenfold have sold over 10 million albums worldwide and earned two consecutive No. 1 albums on Billboard's Top 200 Albums chart (2010's Nightmare and 2013's Hail To The King) to go along with over a billion video views and a billion-plus Spotify streams, as well as multiple No. 1 singles on rock radio. The band (comprising M. Shadows, Synyster Gates, Zacky Vengeance, Johnny Christ and Brooks Wackerman) are equally known for their spectacular live shows, selling out arenas and headlining the world's most prestigious rock festivals as well as always being at the forefront of rapidly changing technology, cultural mile markers, and new ways for communities to engage.
FOLLOW AVENGED SEVENFOLD:
Twitter | Instagram | Facebook | YouTube
About Alexisonfire
Alexisonfire rose up out of the Southern Ontario underground in late 2001 to become one of the most successful indie bands to come out of Canada. The band has sold over 1 million records and released five hugely successful studio albums, with four achieving Platinum-certification: Alexisonfire (2002), Watch Out (2004), Crisis (2006), and Old Crows / Young Cardinals (2009). Crisis debuted at #1 on the Top 200 Soundscan (Canada), and Old Crows / Young Cardinals debuted at #2, and charted at #9 on the US Billboard Independent Album chart. Watch Out helped garner a New Group of the Year JUNO (2004). The band has performed to hundreds of thousands of fans on iconic stages worldwide, and graced notable music magazine covers internationally. Their long-anticipated and first full-length album in over 13 years, Otherness, was released earlier this year to international acclaim and took home Rock Album of The Year at the 2023 JUNO Awards.