BIG3 KICKS OFF 2019 SEASON AT LITTLE CAESARS ARENA SATURDAY, JUNE 22
Tickets Go On Sale Friday, May 17 at 10 a.m.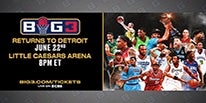 (DETROIT – May 15, 2019) – BIG3 announced today that the professional 3-on-3 basketball league, founded by producer, actor, and music legend Ice Cube and entertainment executive Jeff Kwatinetz, will open its 2019 11-week season with three games at Little Caesars Arena on Saturday, June 22 beginning at 8 p.m. The games will also air live in primetime, marking BIG3's debut on the CBS Television Network.
Tickets go on sale Friday, May 17 at 10 a.m. and can be purchased at BIG3.com/tickets, 313Presents.com, Little Caesars Arena XFINITY box office and Ticketmaster.com.
BIG3 season-opening games at Little Caesars Arena will feature expansion teams Enemies and Bivouac kicking things off followed by 2018 championship rematch as defending BIG3 Champion Power takes on runner-up 3's Company. The night's finale sees Trilogy facing off against 3 Headed Monsters.
Expansion team Enemies will be led by former Detroit Pistons great, Bad Boy and current team broadcaster Rick Mahorn, who coached Trilogy to a championship in BIG3's inaugural season. Former NBA players and Detroit Pistons Josh Smith and Will Bynum will captain and co‑captain expansion team Bivouac respectively. Other Detroit ties and former Pistons include Jason Maxiell (3's Company), Carlos Arroyo (Trilogy), and Nancy Lieberman, who coached the WNBA's Detroit Shock 1998-00, returns as head coach of defending champion Power.
BIG3's successful first two seasons in 2017 and 2018 established it as the world's premier professional 3‑on-3 league. In 2018, average arena attendance exceeded 14,000, up from 11,000 the year prior. This year will see BIG3 visiting 18 cities – up from 10 each of the two previous years. Three games will be played in each city each night, two days per weekend (for a total of six games). New teams include Aliens, Bivouac, Enemies and Triplets.
During the offseason, BIG3 added new top tier players to the league including Jason Terry, Joe Johnson, Josh Smith, Kendrick Perkins, Shannon Brown, Gilbert Arenas, Al Jefferson, Lamar Odom, Steve Blake, Mario Chalmers, Brandon Rush, Carlos Arroyo, Dusan Bulut and more.
Star players returning this year include Amar'e Stoudemire, Drew Gooden, Nate Robinson, Stephen Jackson, Carlos Boozer, Glen 'Big Baby' Davis, Chris 'Birdman' Andersen, Rashard Lewis, Metta World Peace, Mahmoud Abdul-Rauf, Corey Maggette, Cuttino Mobley, Jermaine O'Neal, Brian Scalabrine and many more.
Teams will be coached by some of the top legends in the game, including Julius 'Dr. J' Erving, Gary Payton, Nancy Lieberman, Rick Barry, Lisa Leslie, and George 'The Iceman' Gervin.
In addition to Ice Cube and Kwatinetz, the league will continue to be guided by Chairman Amy Trask and Commissioner Clyde Drexler.
During the 11-week season, games will air live on CBS Television Network and CBS Sports Network on both Saturday and Sunday, with a champion crowned live on CBS on Sunday, September 1 at 3 p.m. ET. CBS Television Network will broadcast more than 20 hours throughout the season, with CBS Sports Network set to televise more than 25 hours of additional live game coverage.
For the latest league news and updates, visit BIG3.com and follow BIG3 on Twitter, Instagram and Facebook.