BOWLING GREEN DEFEATS MICHIGAN TECH, 4-1, TO CLAIM MACINNES CUP IN FIRST GREAT LAKES INVITATIONAL AT LITTLE CAESARS ARENA
Bowling Green Forward Lukas Craggs Named Tournament MVP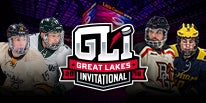 DETROIT (January 2, 2018) – The Bowling Green Falcons claimed their first MacInnes Cup with a 4-1 win over the Michigan Tech Huskies on Tuesday night in the Championship Game of the first Great Lakes Invitational held in the state-of-the-art Little Caesars Arena. Earlier in the day, Michigan defeated Michigan State, 6-4, to take third place in the 53rd installment of the Holiday tournament.
Bowling Green's championship comes in only the program's third appearance in the Great Lakes Invitational and first since 1984. The Falcons' freshman netminder, Eric Dop, made 29 saves in the win and was named to the All-Tournament Team for his efforts. BGSU sophomore forward Lukas Craggs was named the Tournament MVP after recording two assists in the Championship game and posting a three-point night (2-1-3) in the 6-4 semifinal win over Michigan on Monday night at Little Caesars Arena.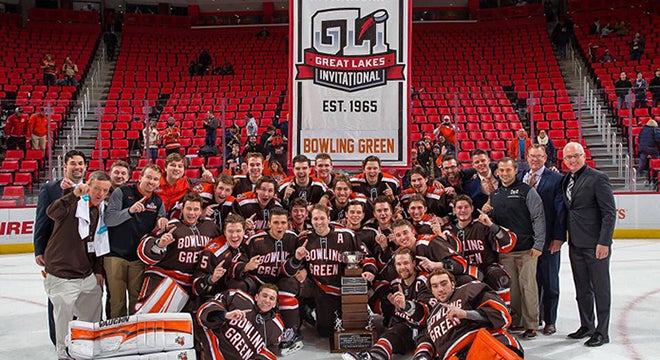 GREAT LAKES INVITATIONAL ALL-TOURNAMENT TEAM
G — Eric Dop, Bowling Green
D — Alec Rauhauser, Bowling Green
D — Mitch Reinke, Michigan Tech
F —Patrick Khodorenko, Michigan State
F — Cooper Marody, Michigan
F — Lukas Craggs, Bowling Green*
* Also Tournament MVP
Michigan found themselves down two goals less than five minutes into the third-place game, but battled back with three goals in both the second and third periods to claim a 6-4 win over Michigan State. The Wolverines were led by junior forward Cooper Marody, who tallied a hat trick in the victory and was named to the All-Tournament Team following the Championship game. The most played rivalry in college hockey continues at Little Caesars Arena when the two teams square off in the "Duel in the D" on Saturday, Feb. 10 with the Iron D trophy on the line.
Tickets start at $25 for the "Duel in the D" between Michigan and Michigan State and can be purchased at 313Presents.com, The Fox Theatre and Little Caesars Arena XFINITY Box Offices and Ticketmaster.com. To charge tickets by phone, call (800) 745-3000. For additional information, call (313) 471-6611.