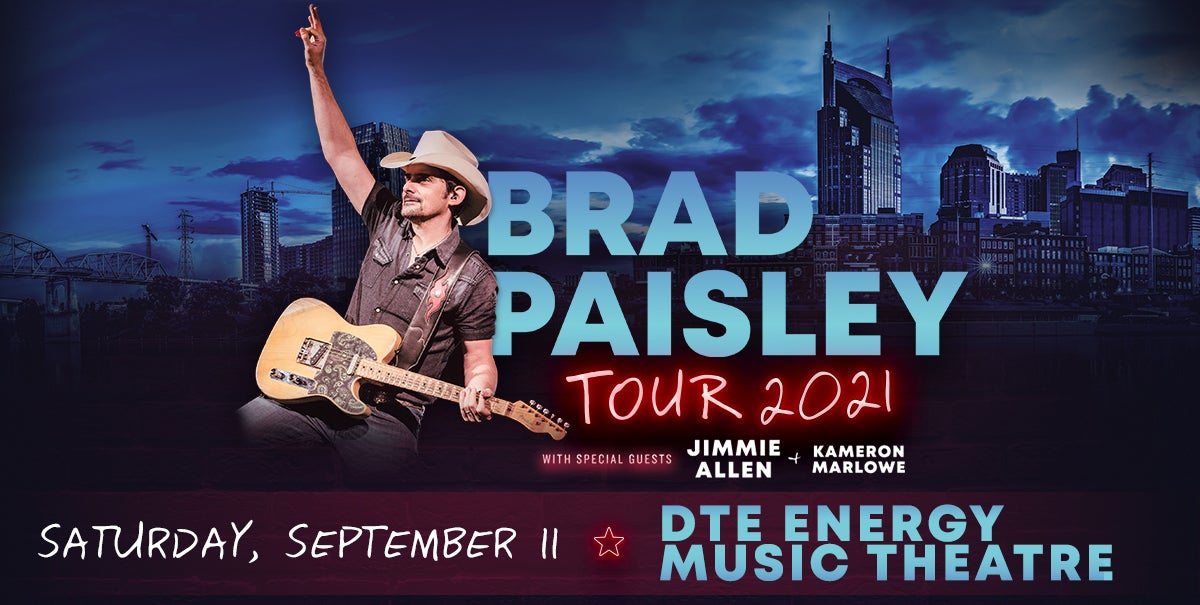 Brad Paisley brings "Tour 2021" with special guests Jimmie Allen and Kameron Marlowe to DTE Energy Music Theatre Saturday, September 11, 2021
Tickets Go On Sale Friday, May 21 at 10am
(DETROIT – May 17, 2021) – Global country music superstar Brad Paisley has announced his "Tour 2021" with special guests multi-platinum selling and current ACM New Male Artist Jimmie Allen and Columbia Nashville rising star Kameron Marlowe will visit DTE Energy Music Theatre on Saturday, September 11, 2021 at 7:30 p.m.
Tickets (starting at $30.25 on the lawn) go on sale Friday, May 21 at 10 a.m. at 313Presents.com, LiveNation.com, bradpaisley.com or Ticketmaster.com. All venue box offices are currently closed.
Live Nation is the official promoter of the tour, which launches on June 5 in Panama City Beach at Pepsi Gulf Coast Jam, and is the first large-scale festival in the world to take place in 2021. His second stop will be Nashville's 4th of July celebration, Let Freedom Sing!, which is expected to be Music City's first major event of the year.
Paisley has partnered with Vanderbilt Health in a national PSA to encourage fans to get the COVID-19 vaccine - "Be a Fan. Take the Shot." "It's been a real difficult year, a nightmare for anyone who makes their living with a group of people. I feel very passionate about the chance we have for normalcy right now with the vaccine – there's light at the end of the tunnel. I have a band and crew just waiting to get back out on the road. The more of us that Take the Shot the safer it will be for all of us to gather." Brad Paisley ~ "Be A Fan. Take The Shot" PSA Available Here
A portion of all ticket sales will go to The Store – a nonprofit free-referral based grocery store co-founded by Brad Paisley and Kimberly Williams-Paisley. The Store opened for in-store clients on March 12, 2020, following the March 3 tornado that devastated parts of Nashville. The Store was open for only four days when the COVID-19 pandemic became widespread and it was obvious in-store shopping was not going to be feasible. A new plan was needed and staff, partners and volunteers all worked diligently to reach people in need as they were sheltered at home. A home delivery system for the elderly was immediately put in place and curbside pick-up was implemented. The weekly deliveries are currently capped at 450 households and curbside pickup is at 200 per week. This is six times the initial projection and equals to over 1.3 million meals distributed. For more information on The Store go to www.thestore.org.
About Brad Paisley
Brad Paisley has earned his place in country music history as one of the genre's most talented and decorated male solo artists. Over the past 20 years, his songwriting and unmatched showmanship have won him numerous awards, including three Grammys®, two American Music Awards, 14 Country Music Association Awards and 15 Academy of Country Music Awards, among many others. A member of the Grand Ole Opry since 2001, Paisley has written 21 of his 24 No. 1 hits, and in 2008 became the first artist to achieve 10 consecutive Billboard Country Airplay No. 1 singles. The 2010 CMA Entertainer of the Year's past works have amassed over 3.9 billion on-demand streams. Paisley continues to collaborate with Peyton Manning in a multi-year ad campaign with Nationwide insurance. In 2015, the global superstar partnered with Boot Barn® to develop Moonshine Spirit by Brad Paisley, an exclusive line of jeans, hats, T-shirts, jewelry, belts and woven shirts. A prolific entertainer, Paisley's first prime-time special, Brad Paisley Thinks He's Special, aired on ABC in December 2019 and has garnered over 18.1 million viewers to date. Paisley and his wife, Kimberly Williams-Paisley, are co-founders of nonprofit organization The Store, a free-referral based grocery store, which aims to empower low-income individuals and families in the Nashville area. For more information, visit www.thestore.org.
BradPaisley.com | Facebook | Twitter | Instagram | Youtube
About Jimmie Allen
Signed to BBR Music Group's Stoney Creek Records, platinum-selling recording artist and songwriter Jimmie Allen has already made history as the first Black artist to launch a career with two consecutive No. 1 hits on country radio – the first being his debut single "Best Shot" – which claimed the No. 1 spot for three weeks – and second being his latest single "Make Me Want To" off his debut album Mercury Lane, released fall 2018. Named in tribute to the street he grew up on and the origin of his incredible journey, Mercury Lane features a cutting-edge mix of country, rock, R&B and pop that draws upon the influence of his family and small-town upbringing of the critically acclaimed rising star. Rolling Stone raved Allen's debut "challenges the narrowly defined model of what constitutes a next big thing in country music in 2018" and The New York Times dubbed it one of 2018's strongest, calling it "a conventional country album, filled with songs about the small details." His latest project Bettie James, released in July 2020, is a star-studded collaboration EP featuring Brad Paisley, Charley Pride, Darius Rucker, Mickey Guyton, Nelly, Cyrus, The Oak Ridge Boys, Rita Wilson, Tauren Wells & Tim McGraw. Wanting to weave his late father and late grandmother's legacies into his music, Allen named the project after them, with each featured artist on the project having touched their respective lives through their own music. The result is a musical composition of love, heartbreak, perseverance, hope and faith. Bettie James has garnered 120+ million streams since release, along with critical acclaim for the music, the historic nature of various collaborations, and its subsequent place in country music history. NPR calls the project an "announcement of [Allen's] arrival" and a "huge step for country" while Billboard hails it "a powerful statement from a developing voice." Rolling Stone describes "Why Things Happen" – which brings together three generations of Black country artists in Allen, Darius Rucker and Charley Pride – as "part polemic, part proclamation, and part prayer… opening up space for the artists to bear witness." Allen won the ACM Award for New Male Artist of the Year at the 56th ACM Awards and was nominated for New Artist of the Year at the 54th Annual CMA Awards – his first ever CMA nomination. His current single "Freedom Was A Highway" pairs him with Country music superstar Paisley for a breezy, windows down track currently climbing on Country radio. On July 13, 2021, Allen will publish his debut picture book, My Voice Is a Trumpet, with Flamingo Books, an imprint of Penguin Young Readers. Illustrated by veteran illustrator Cathy Ann Johnson, the book is a powerful story about speaking up for what you believe in, at any age. For more information, visit www.jimmieallenmusic.com.
About Kameron Marlowe
North Carolina native Kameron Marlowe has been touted as "the piece country music has been missing" (Everything Nash) and a "nascent talent" (Billboard). Since blasting onto the scene with his autobiographical, self-penned release "Giving You Up," Marlowe has gone on to amass more than 153 million career on-demand streams; joined the roster of Columbia Nashville alongside superstars Luke Combs and Maren Morris; and been named an Artist to Watch in 2021 by more than a dozen media outlets and music platforms, including Spotify, Amazon Music, Pandora, Sounds Like Nashville, NY Country Swag, Country Now, and more – all before his debut single "Sober as a Drunk" even hit airwaves. With his soaring, emotive vocals and gritty, rock-infused sound, Marlowe calls upon influences ranging from Brooks & Dunn and George Strait to Travis Tritt and Ray Charles, creating a sound that reflects his life-long love of country music. Quickly becoming an undeniable force in the genre, Marlowe is set to stake his claim as the new face of country. KameronMarlowe.com |Facebook | Twitter | Instagram | YouTube | TikTok