"COLLEGE HOCKEY IN THE D" RETURNS TO HOCKEYTOWN AND LITTLE CAESARS ARENA WITH GREAT LAKES INVITATIONAL (DEC. 30-31) & "DUEL IN THE D" BETWEEN MICHIGAN AND MICHIGAN STATE ON FEB. 9
Tickets Now On Sale for "College Hockey in the D" Events at Little Caesars Arena. Tickets Starting at $15 for GLI & $25 for "Duel in the D"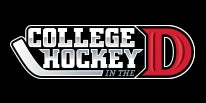 DETROIT (October 26, 2018) – 313 Presents today announced the dates for 2018-19 "College Hockey in the D" series at Little Caesars Arena. College hockey's brightest stars will once again descend on Hockeytown for the 54th annual Great Lakes Invitational on Sunday, December 30 and Monday, December 31, and the "Duel in the D" between Michigan and Michigan State on Saturday, February 9, 2019.
Tickets for both "College Hockey in the D" events are now on sale and can be purchased at 313Presents.com, Ticketmaster.com and the Little Caesars Arena XFINITY box office. Tickets can also be purchased through The District Detroit App or by calling the Red Wings Ticket Sales and Service office at 313-471-7575.
Great Lakes Invitational – Sunday, December 30 & Monday, December 31, 2018
Now in its 54th year, this season's installment of the GLI is highlighted by four Michigan-based schools for only the 15th time in tournament history. The two-day, single-elimination tournament, which has become a holiday tradition for sports fans in southeast Michigan, features event host Michigan Tech and tournament mainstays Michigan and Michigan State. Special invitee Lake Superior State is set to participate in the tournament for the fourth time and most recent appearance since 1999.
The four-team tournament starts with a doubleheader matchup on Sunday, Dec. 30 between Michigan Tech (WCHA) and Michigan (Big Ten) at 1 p.m., followed by Michigan State (Big Ten) against Lake Superior State (WCHA) at 4 p.m. Little Caesars Arena will host a tripleheader of hockey action on Monday, December 31 (New Year's Eve), as the third-place game of the GLI will take place at 11:30 a.m., and the winners of Sunday's contests will meet in the GLI Championship Game at 2:30 p.m. Following the GLI Championship Game, the Red Wings will square off against the Florida Panthers in the team's annual New Year's Eve game at 7:30 p.m.
Sunday, December 30
Michigan Tech vs. Michigan – 1 p.m.
Michigan State vs. Lake Superior State – 4 p.m.
Monday, December 31
Third-Place Game – 11:30 a.m.
Championship Game – 2:30 p.m.
Detroit Red Wings vs. Florida Panthers – 7:30 p.m.
"Duel In The D" – Saturday, February 9, 2019
The fierce in-state rivalry between the Michigan Wolverines and the Michigan State Spartans continues with the "Duel in the D" at Little Caesars Arena on Saturday, February 9 at 7 p.m. The Wolverines and Spartans will once again compete for the "Iron D" Trophy, which is awarded to the winner of the annual clash in Hockeytown.
The most-played rivalry in college hockey will open a new chapter as the two universities compete at Little Caesars Arena to claim in-state bragging rights. With the rivalry dating back to 1925, Michigan leads the all-time series 163-134-22.