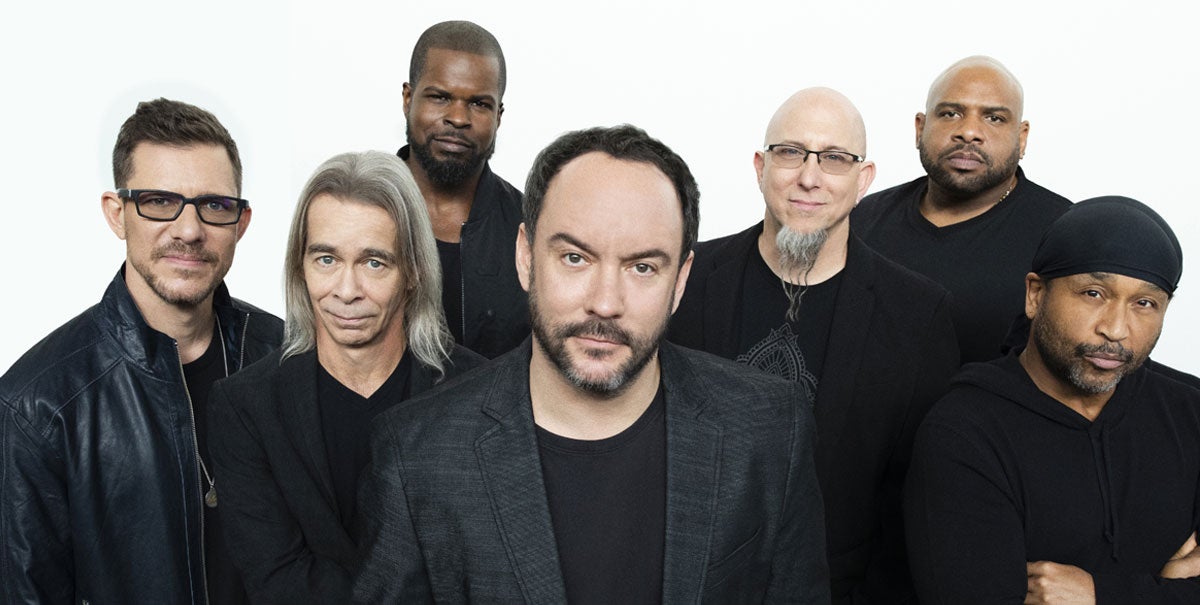 Dave Matthews Band Announces "2022 North American Summer Tour" To Include Pine Knob Music Theatre June 21
Online Ticket Presale For Warehouse Fan Association Underway
Tickets Go On Sale Friday, February 25 at 10 a.m.
Band Teams Up With The Nature Conservancy To Plant One Million Trees
(DETROIT – February 1, 2022) – Dave Matthews Band has announced its "2022 North American Summer Tour." The extensive outing will include a performance at Pine Knob Music Theatre on Tuesday, June 21 at 7:30 p.m. Pine Knob Music Theatre is presented by Proud Partners United Wholesale Mortgage, Trinity Health and Ally.
Tickets (starting at $49.50 on the lawn) go on sale Friday, February 25 at 10 a.m. at 313Presents.com, LiveNation.com, Ticketmaster.com and the XFINITY Box Office at Little Caesars Arena.
An online ticket presale for members of the DMB Warehouse Fan Association is now underway at www.warehouse.davematthewsband.com. Citi is the official card of the Dave Matthews Band "2022 Summer Tour." Citi cardmembers will have access to presale tickets beginning Tuesday, February 22 at 9 a.m. local time until Thursday, February 24 at 10 p.m. local time through the Citi Entertainment program. For complete presale details visit www.citientertainment.com.
On Friday evenings during the tour, fans can tune in to DMB Radio's "Friday Night Concert Series," for weekly live broadcasts from across the country on the band's dedicated channel on SiriusXM-- Ch.30.
Over the past two years, Dave Matthews Band has planted over 2 million trees through its partnership with the Nature Conservancy. The band has committed to helping plant an additional one million trees in 2022. Concertgoers can join in this mission by adding an optional donation of $2 per ticket to plant a tree with The Nature Conservancy's Plant a Billion Trees campaign – a major forest restoration effort with the goal of planting a billion trees around the world. The Dreaming Tree Wines, DocuSign and other tour partners have lent their support. For additional details, visit www.dmbtrees.org. Along with the tree campaign, Dave Matthews Band will once again join forces with REVERB to neutralize carbon emissions associated with both band and fan travel, resulting in a Climate Positive tour. Dave Matthews Band has a long history of reducing their environmental footprint, and neutralizing tour carbon going back to their first shows in 1991. Tour greening efforts and the band's annual eco-village are in partnership with DocuSign.
Dave Matthews Band has sold more than 25 million tickets since its inception and a collective 38 million CDs and DVDs combined. With the release of 2018's Come Tomorrow, Dave Matthews Band became the first group in history to have seven consecutive studio albums debut at No. 1 on the Billboard 200.
About The Nature Conservancy
The Nature Conservancy is a global conservation organization dedicated to conserving the lands and water on which all life depends. Guided by science, TNC creates innovative, on-the-ground solutions to our world's toughest challenges so that nature and people can thrive together. Working in 79 countries and territories, TNC uses a collaborative approach to tackle climate change, conserve lands, waters and oceans, provide food and water sustainably and help make cities more sustainable. Learn more at www.nature.org and www.dmbtrees.org.
About REVERB
REVERB is a 501c3 nonprofit dedicated to empowering millions of individuals to take action toward a better future for people and the planet. REVERB partners with musicians, festivals and venues to green their concert events while engaging fans face-to-face at shows to take environmental and social impact. In 2005, REVERB and DMB launched the Bama Green Project, and have been working together for the past 17 years. www.reverb.org
About DocuSign
DocuSign helps more than 500,000 customers to connect and automate how they prepare, sign, act on, and manage agreements. The company is also committed to protecting the environment and launched the DocuSign for Forests initiative last year to create a significant, sustained global impact and protect the world's forests.
About The Dreaming Tree Wines
The Dreaming Tree Wines are a creative collaboration between award-winning winemaker Sean McKenzie and musician Dave Matthews. The teach launched the collection of approachable, high-quality California wines in the fall of 2011. The portfolio currently includes a California Chardonnay, California Cabernet Sauvignon, California "Crush" Red Blend, California Pinot Noir, Sonoma County Sauvignon Blanc and its new addition, California Rosé. The Dreaming Tree is sustainably conscious from vine to table, making thoughtful decisions in how the wines are produced and packaged to ensure the longevity of the planet. To date, the brand has generated over $1.5 million to be donated to environmental charities. For more information about The Dreaming Tree, visit www.dreamingtreewines.com. Please enjoy our wines responsibly.