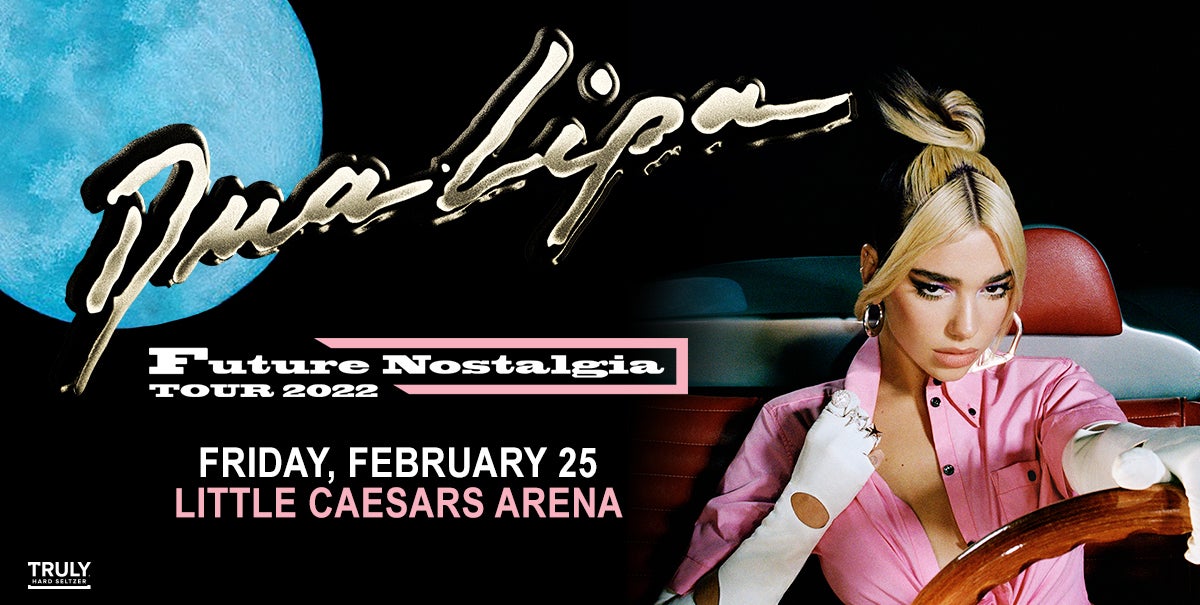 DUA LIPA ANNOUNCES HIGHLY ANTICIPATED NORTH AMERICAN "FUTURE NOSTALGIA TOUR" AT LITTLE CAESARS ARENA FRIDAY, FEBRUARY 25, 2022
Tickets Go On Sale Friday, September 17 at 12 p.m.
(DETROIT – September 13, 2021) – Global pop superstar Dua Lipa announced the North American leg of her highly anticipated "Future Nostalgia Tour" for 2022, in support of the Grammy-winning album of the same name. The arena tour makes 28 stops across the U.S., including Little Caesars Arena on Friday, February 25, 2022 at 7:30 p.m. The Future Nostalgia Tour performance will feature support from Caroline Polachek and Lolo Zouaï.
Tickets (starting at $45) go on sale Friday, September 17 at 12 p.m. at 313Presents.com, Ticketmaster.com, and the XFINITY Box Office at Little Caesars Arena.
"I'm so thrilled to tour again and see my angels in person! How amazing that we all get to dance and celebrate together once again," says Dua. "When I was writing Future Nostalgia, I imagined the songs being played in clubs on nights out with your mates. I'm so excited that this fantasy is finally coming true. I can't wait to experience these songs with you together live!"
The long-awaited "Future Nostalgia Tour," produced by Ceremony London, promoted by Live Nation and sponsored by Truly Hard Seltzer, will be the first time Dua connects her live vision for this album in-person with fans. Previously, the superstar was able to connect with fans during her record smashing live stream extravaganza Studio 2054, which had over 5 million viewers during its initial airing and featured special guests Angele, Bad Bunny, Elton John, FKA Twigs, J Balvin, Kylie Minogue, Miley Cyrus and Tainy. Dua is already slated to tour the EU in 2022, making this her first world tour run since breaking records during quarantine with her platinum-certified sophomore album Future Nostalgia.
Future Nostalgia is the longest running top 10 album by a female artist on the Billboard 200 this year and was the #1 most streamed album of 2020 on Spotify. It landed on the year-end "Best Of" lists of everyone from Rolling Stone to Billboard and Pitchfork, and spawned multiple worldwide hit singles including the #1 tracks "Break My Heart," "Levitating," which is still topping the charts and is the longest running song ever on Spotify's Today's Top Hits playlist, and US 4x platinum lead single "Don't Start Now," which broke her personal best record of weeks at #1 at US Top 40 radio and is the most streamed track on Spotify's Today's Top Hits playlist in history.
In addition to breaking radio records, Dua is also a dominate force on streaming platforms, topping Spotify's artist chart as the most streamed female artist on the platform and is currently the fourth biggest artist overall with over 65 million monthly listeners. Future Nostalgia now has over 7 billion streams across all platforms worldwide. After receiving 6 nominations at the 2021 Grammy®s, including Record, Song and Album of the Year. She is now a three-time Grammy® winner, having received awards for Best Pop Vocal Album this year and for Best New Artist and Best Dance Recording in 2019. Future Nostalgia was the follow up to her eponymous 2017 debut, which is certified platinum, spawned 6 platinum tracks, and made Dua the first female artist in Brit Awards history to pick up five nominations, with two wins for British Breakthrough Act and British Female Solo Artist.
About Caroline Polachek
Two years since taking the music world by storm with Pang -- her lush and dazzling head-trip of an album -- Caroline Polachek has returned with the infectious single "Bunny Is A Rider." Polachek says of the song: "'Bunny Is A Rider' is a summer jam about being unavailable. Bunny is slippery, impossible to get ahold of. Maybe it's a fantasy, maybe it's a bad attitude. But anyone can be bunny, at least for three minutes and seventeen seconds."
Her previous album Pang topped year-end lists globally -- including Dazed, The Guardian, NPR, to name a few. The record's lush romanticism and acrobatic vocal stylings firmly established her as one of the most singular and captivating singer-songwriters of a generation.
About Lolo Zouaï
Born in Paris to a French mother and Algerian father, singer, songwriter, and producer Lolo Zouaï (zoo-EYE) moved to the Sunset District of San Francisco as a young child when her parents won the Visa lottery. After high school, Lolo spent some time alone back in Paris before relocating to New York City with her mother. It was there that Zouaï wrote her 2018 breakout single, "High Highs to Low Lows," which propelled her into a series of independent singles, videos, and headline shows around the world, ultimately leading to the release of her highly anticipated debut album in April 2019. Since the release of her album, High Highs to Low Lows, Lolo has sold out headlines across 14 different countries, amassed over 200 million streams worldwide, and appeared in global campaigns for COACH, Tommy Hilfiger, Adidas, Nike, and more. She is thrilled to be supporting Dua Lipa on her upcoming arena tour in 2022.