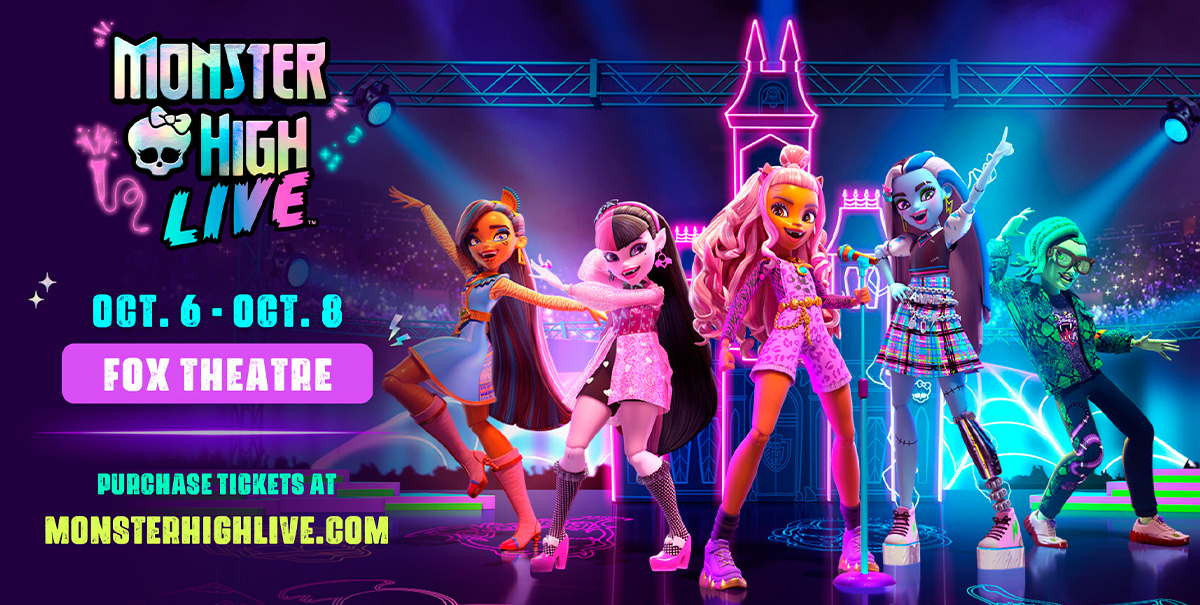 Family Entertainment Live And Mattel Announce Monster High Live Stop At The Fox Theatre October 6-8
Tickets Are On Sale Now for All-New Production
Featuring Favorite Characters and Songs from Smash-Hit Franchise
(DETROIT – May 22, 2023) – Family Entertainment Live and Mattel today announced more than 15 dates and venues for the highly anticipated Monster High Live stage production North American tour. Tickets for stops through December 2023 are on sale today including five shows in Detroit at the Fox Theatre Friday, October 6-Sunday, October 8. Comerica Bank is the exclusive presenting partner of the Fox Theatre.
Tickets are on sale now at 313Presents.com and Ticketmaster.com.
Produced by Family Entertainment Live and Full Stop Productions in association with Mattel, Monster High Live features fan-favorite monsters from the groundbreaking franchise in an all-new live show with electrifying music, clawesome dancing and friendship that never ends. In a fang-tastic storyline, Clawdeen Wolf, Draculaura and Frankie Stein get ready for the school's annual Monster Ball. Audiences will howl, clap, stomp and sing along to screamium tunes as these ghouls learn that the best fright of the year will be more spooktacular and fierce when they embrace their differences and all work together.
Monster High Live launches on the heels of the hugely popular TV movie, Monster High: The Movie, a Nickelodeon Kids' Choice Award nominated live-action musical that debuted as the no. 1 kids and family movie on Paramount+ and Nickelodeon during its launch week. In addition to the live-action film, Monster High, an animated series based on the Mattel IP, is currently airing on Nickelodeon.
Mattel first introduced Monster High in 2010 to celebrate the eerie-sistable chronicles of the children of legendary monsters, and it quickly became one of the most successful and beloved kids' properties of all time. The franchise seeks to foster a more accepting world where everyone is proud to be their authentic self. Today, Monster High is back with a reimagined set of fabulous characters reflected in a new set of dolls, accessories, apparel, costumes and more inspired by the original ghouls for a new generation that embraces what makes them unique and rallies people everywhere to express themselves.
Casting has begun for talented actors, singers and dancers who will embody the beloved Monster High characters in Monster High Live. Following the success of Monster High: The Movie, Monster High Live will feature live songs including "Monster High Fright Song" from the original digital series and "Three of Us" from the live-action movie.
"Expanding the iconic Monster High franchise by adding a live experience for families across the country is the perfect next step for Mattel's globally celebrated IP," said Julie Freeland, Senior Director of Global Location Based Entertainment at Mattel. "A fundamental element is delivering the important messages of acceptance and inclusion, and Monster High Live provides an extraordinary opportunity to do that in an impactful way."
"The live entertainment experience extends people's connection with cherished properties in a remarkable manner," said Ken Hudgens, CEO of Family Entertainment Live. "For the first time, we will bring the hugely popular characters from Monster High to cities across the U.S., allowing existing and burgeoning fans to get to know these beloved characters in a whole new way."
To bring the story of Monster High Live to life, Full Stop Productions, led by Producers Nancy Hutson and Chris Nobels, has assembled an award-winning creative team with expertise in live entertainment that engages and enthralls audiences, including Bart Doerfler, Creative Direction/Choreographer; Matheus Fiuza, Production Design; Marco Kuypers, Musical Arranger; Sam Doty, Lighting Designer; and Cynthia Nordstrom, Costume Designer.
"We feel a great responsibility to accurately translate the vibrant themes, characters, costumes, songs and settings of Monster High into a live stage show that the passionate fang-dom will embrace," said Hutson. "With the talent of the creative team and the partnership and guidance from Family Entertainment Live and Mattel, we're confident that fans will be thrilled."
Tour information is available at MonsterHighLive.com.
Performance Schedule:
Friday, October 6 7 p.m.
Saturday, October 7 11 a.m., 3 p.m. & 7 p.m.
Sunday, October 8 3 p.m.