FANS INVITED TO JACK DANIEL'S SEASON OPENING CELEBRATION AT LITTLE CAESARS ARENA IN CONJUNCTION WITH DETROIT TIGERS HOME OPENER
Tigers home opener vs. Pittsburgh Pirates this Thursday to be shown live on 900-square foot video screen in Chevrolet Plaza. Indoor and outdoor festival is free and open to public; Little Caesars Arena Via concourse will be open until 3 p.m., then cleared to prepare for 7 p.m. Pistons vs. Wizards game. All four Little Caesars Arena restaurants open with food and beverage specials throughout the day. Comerica Park gates open at 11 a.m. ahead of 1:10 p.m. first pitch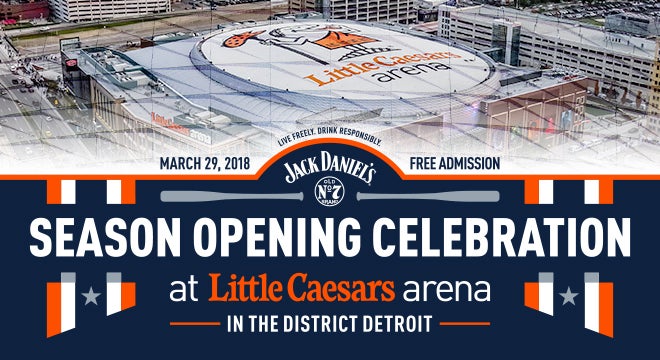 DETROIT – The inaugural Jack Daniel's Season Opening Celebration at the state-of-the-art Little Caesars Arena will be held on Thursday, March 29 in conjunction with the Detroit Tigers' home opener against the Pittsburgh Pirates. Access to the indoor and outdoor festival, which also features more than 40 breweries, is free, open to the public and available for fans of all ages.
The festival will begin at 8 a.m., with the outdoor activities remaining open through the 7 p.m. start of the Pistons vs. Washington Wizards game that same day. The Little Caesars Arena Via concourse, where select vendors and entertainment will be located, will remain open until 3 p.m., when it will be cleared to prepare for the 7 p.m. Detroit Pistons game vs. the Washington Wizards.
The Tigers-Pirates game will be shown live on the 900-square foot video screen located in Chevrolet Plaza adjacent to the Meijer southwest entry of Little Caesars Arena as well as on 50+ televisions and video screens located inside the Little Caesars Arena Via concourse. The televisions in all four Little Caesars Arena restaurants will also show the game.
The Tigers host the Pittsburgh Pirates at Comerica Park with first pitch at 1:10 p.m. Gates open at 11 a.m., and fans are encouraged to enter the ballpark early. For Tigers Home Opener ticket information fans can log on to tigers.com or call 866-66-tiger.
Jack Daniel's will highlight the event with a live DJ and karaoke. Two virtual reality distillery tours, one in the outdoor space and another inside the Via concourse, will also be featured. Visitors will have the opportunity to enjoy a 360-degree experience and see where each batch of Jack Daniel's Tennessee Whiskey is crafted.
A wide range of activities, including live music featuring Your Generation in Concert, interactive games, Red Wings and Pistons promotions and Red Wings alumni autograph signings will also be part of the festival.
Guests are encouraged to download The District Detroit Mobile App presented by XFINITY. Available in the App Store and Google Play Store, fans can secure parking in advance at any of the Olympia Development-managed parking lots and even find the best route to parking lots and venues.
For the most up-to-date festival information, visit http://www.DistrictDetroit.com/NewSeason