FESTIVAL OF LAUGHS FEATURING SOMMORE, BRUCE BRUCE, ARNEZ J AND GEORGE WALLACE AT THE FOX THEATRE SATURDAY, MAY 5
Tickets On Sale Now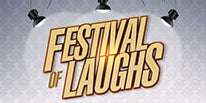 (DETROIT – January 2, 2018) – Festival of Laughs featuring comedians Sommore, Bruce Bruce, Arnez J and George Wallace will appear at the Fox Theatre on Saturday, May 5 at 7 p.m.
Tickets ($56.50, $63.50, $79 and $129) go on sale Friday, January 5 at 10 a.m. and can be purchased at 313Presents.com, the Fox Theatre and Little Caesars Arena XFINITY box offices and Ticketmaster.com. To charge tickets by phone, call (800) 745-3000.
Sommore reigns as the undisputed "Queen of Comedy." This trendsetting, highly-acclaimed veteran entertainer is widely considered one of America's top comedic female entertainers. With a winning combination of class and sass, Sommore offers audiences a hilarious, yet piercing look at today's issues from a woman's perspective. She is frank and fearless in her routines, tackling topics that range from the mundane to the controversial with wit, intelligence and style. Praised by critics, respected by her peers, and adored by a diverse fan base, she performs her stand-up act to sold-out audiences across the country, and she is among the top-grossing stand-up comediennes in the United States and abroad. Oprah Winfrey proclaimed her "a force to be reckoned with in the new millennium." For more information, visit sommore.com or follow her on Twitter at @sommoresofunny.
Bruce Bruce is a name synonymous with keeping audiences rolling with laughter thanks to his captivating improv skills and larger than life comedic style. Bruce's steady style of comedy has been showcased across the country, and he has been entertaining audiences young and old, and of all backgrounds, for years. His wit, spontaneity and dazzling personality set him apart from other standup comedians. Although Bruce is known for his adult comedy, he prides himself on not using vulgarity to win a laugh, and is no stranger is winning over new audiences with every appearance he makes. For more information, visit www.bruce-bruce.com and follow him on Twitter at @mybrucebruce.
Arnez J is a Comic View, Def Jam favorite and rapidly becoming one of the most talked about comics around. He made his television debut on Showtime's Comedy Club Network in 1993. Television viewers know him for appearances on Showtime's Comedy Club Network, The Keenan Ivory Wayans Show, Comedy Central's Make Me Laugh, Russell Simmons' Def Comedy Jam and as the 2002 host for BET's Comic View. Follow him on Twitter at @arnezjcomedy.
From 2004-2014, George Wallace appeared as the headlining star of his own show at The Flamingo Hotel in Las Vegas, giving him the nickname, "The New Mr. Vegas." Wallace was awarded a Lifetime Achievement Award at the 2013 Soul Train/Centric Comedy All-Star Awards. His first book, Laff It Off, was published in 2014. Among his best-known bits are "I Be Thinkin'" and "People Say Stupid Things." For more information, visit www.georgewallace.net or follow him on Twitter at @MrGeorgeWallace.
May
05
/ 2018
@ 7:00 PM
May
05
/ 2018
@ 7:00 PM