FIRST "DUEL IN THE D" BETWEEN MICHIGAN AND MICHIGAN STATE AT LITTLE CAESARS ARENA SET FOR SATURDAY, FEB. 10
Individual Tickets Start at $25 for Annual Clash Between Wolverines and Spartans with the "Iron D" Trophy on the Line for Winning Team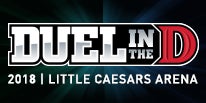 DETROIT (January 30, 2018) – The fierce in-state rivalry between the University of Michigan Wolverines and the Michigan State University Spartans hockey teams opens a new chapter with the first "Duel in the D" at Little Caesars Arena on Saturday, Feb. 10 at 7:00 p.m., in conjunction with the Inaugural Season at Little Caesars Arena.
The "Iron D" trophy is on the line for the winner of the "Duel in the D" for the third time since the trophy's creation in 2016. The Spartans and Wolverines have each lifted the "Iron D" once as winners of the annual clash in a pair of tightly-contested games in Hockeytown, with Michigan claiming a shootout win after a 4-4 tie last year and Michigan State earning a 3-2 overtime victory in the 2016 inaugural season of the trophy.
The "Duel in the D" features the most-played rivalry in college hockey, as the matchup in Detroit will mark the 319th meeting between Michigan and Michigan State. The Wolverines lead the all-time series, 162-134-21. The two teams will square off in East Lansing on Friday, Feb. 9 before the fifth and final regular season matchup at Little Caesars Arena.
This year's installment of the "Duel in the D" features two new head coaches behind the benches for Michigan and Michigan State. Mel Pearson took the reins of the Michigan program this offseason following the retirement of Red Berenson, who served as the head coach for the Wolverines for 33 years. Pearson spent 23 years as an assistant under Berenson before returning to Michigan as head coach. For the Spartans, Danton Cole returned to his alma mater following seven years as head coach at the U.S. National Team Development Program. As a player, Cole won a national championship with Michigan State (1986) and is one of 11 Spartan graduates to hoist the Stanley Cup (New Jersey, 1995).
Tickets (starting at $25) are on sale now at 313Presents.com, the Fox Theatre and Little Caesars Arena XFINITY Box Offices and Ticketmaster.com. To charge tickets by phone, call (800) 745-3000.
ABOUT THE "IRON D" TROPHY:
The "Iron D" trophy features a forged iron "D" at its center to symbolize the city of Detroit, while the skyline of Hockeytown wraps around the base, including an image of Little Caesars Arena placed at the center. A large cup rests atop the trophy and hockey sticks, a red glass puck and the logos of Michigan and Michigan State line the sides of the trophy. The trophy was designed and built by Erik and Israel Nordin at their studio, the Detroit Design Center.
"IRON D" TROPHY WINNERS:
2017 – Michigan (4-4 tie, shootout win)
2016 – Michigan State (3-2, overtime)