IMMATURE BRINGS "#TBTOUR" WITH SPECIAL GUESTS RAY J, DAY 26, B5 AND J HOLIDAY TO THE FOX THEATRE FRIDAY, DECEMBER 20
Tickets Go On Sale Friday, October 11 at 10 a.m.
Oct 7, 2019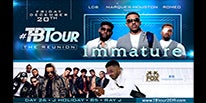 (DETROIT – October 7, 2019) — The "#TBTour" will hit the road this fall with Immature and special guests Ray J, Day 26, B5 and J Holiday, and will make a visit to the Fox Theatre in The District Detroit on Friday, December 20 at 8 p.m.
Tickets (starting at $25) go on sale Friday, October 11 at 10 a.m. and can be purchased at 313Presents.com, the Little Caesars Arena XFINITY box office and Ticketmaster.com. For complete details and additional information, please visit TBTour2019.com.
With the success of "The Millennium Tour," R&B reunion tours are in popular demand. Back in June, Immature signaled the market they were ready to hit the road to perform their top hits "Never Lie," "Constantly," "We Got It," and "I'm not a Fool." Immature, also known as IMX, is an American R&B / POP group composed of members Marques "Batman" Houston, Jerome "Romeo" Jones, and Kelton "LDB" Kessee, all natives of Los Angeles, California, where the group was formed. The group released four albums under the Immature moniker including On Our Worst Behavior in 1992, Playtyme Is Over in 1994, We Got It in 1995 and The Journey in 1997.
In 1999, the group changed their name to IMx marking 10 years of being a group and released two studio albums Introducing IMx and IMx and then released a Greatest Hits album in 2001. The group also branched out into film such as House Party 4: Down to the Last Minute and television shows that include A Different World, Sister, Sister, Family Matters and All That before disbanding in 2002.
Houston and Jones began solo careers, while Kessee continued his work as a record producer. Houston became the first former member to release a solo album MH in 2003. Jones followed suit with the release of his debut solo album in 2004, entitled Food for Thought. Houston later released four additional albums: Naked (2005), Veteran (2007), Mr. Houston (2009), Mattress Music (2010) and Famous (2013).
Houston and Jones have also pursued acting careers, with both starring in the dance film, You Got Served (2004). Houston co-starred on Fat Albert (2004) and starred in UPN's comedy Cuts. He also starred in the horror film Somebody Help Me and Somebody Help Me 2. Houston also appeared as Roger on the show Sister, Sister (1994–1998).
Arriving on the heels of big sister Brandy, R&B vocalist and songwriter Ray J parlayed his success on television into a music career at the age of 14. With his smooth vocals and youthful take on R&B, he issued debut "Everything You Wantin" (1997). As he grew, his production and lyrics also matured, following a stylistic trajectory similar to Usher. In 2008, he hit a chart peak with fourth effort "All I Feel," which topped the Billboard Independent and R&B charts. After an extended decade-long hiatus, he returned with 2019's Raydemption.
Raj J went on to land his own dating series on VH1 titled For the Love of Ray J, which spawned a soundtrack album that same year (2009). A second VH1 series, Brandy & Ray J: A Family Business lasted two seasons, and he went on to host Oxygen's Bad Girls All-Star Battle. He made moves toward a fifth proper solo album, including the pointed "I Hit It First" – which peaked at #11 on Billboard's R&B/Hip-Hop chart in 2013 – and 2015's "Brown Sugar," which featured Lil Wayne. After releasing a stream of singles in the late 2010s, his comeback efforts were ramped up with the release of "Rich N Whippin" with Soulja Boy and "Hallelujah" with cousin Snoop Dogg, which was featured on his visual project Raydemption.
Day26's story is already well-known to their fans, millions watched it unfold on MTV's Making the Band 4 (Which became the highest rated show in MTV history). When Sean "P. Diddy" Combs put out the call for vocalists in January of 2007, he was looking for talented newcomers with superstar potential and a tireless work ethic. What he got was more than he or the fans could have ever anticipated. Day26's self-titled debut album entered the record books as the biggest-selling debut album from a male R&B group in the 17-year history of SoundScan. The album – which included the hit singles, "Got Me Going" and "Since You Been Gone" – exploded into the #1 spot on the SoundScan/Billboard 200 in its first week of release, while also topping Billboard's Top R&B/Hip-Hop Albums chart.
B5, the popular R&B group, formally signed to Diddy's Bad Boy Entertainment, B5 was previously known as TNT Boyz and Audio. Their R&B music group originated from St. Petersburg, Florida and later relocated to Atlanta, Georgia. The group consists of Dustin Michael, Kelly Allen, Patrick Owen, Carnell Frederick and Bryan Jesse. Diddy produced B5's self-titled debut album along with other top producers including Rodney Jerkins, Ryan Leslie, Sean Garrett, Corna Boyz and Veit Renn. The lead single, "All I Do" is based on a cover of The Jackson 5's original single "All I Do Is Think of You."
A native of Washington, D.C., J. Holiday is a Grammy®-nominated singer, songwriter, rapper and actor. Holiday's debut album Back of My Lac was released in 2007 and featured his most acclaimed single "Bed," peaking at #5 on the US Billboard Hot 100. Holiday has gone on to release two additional studio albums including Round 2 in 2009 and Guilty Conscience in 2014.
Visit TBTour2019.com and universalattractions.com for more information.
#TBTour Artist Information
Immature - immatureofficial.com
Ray J - www.facebook.com/rayj
Day26 - www.facebook.com/Day26
B5 - www.facebook.com/officialb5online
J Holiday - www.facebook.com/jholiday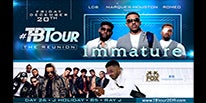 Fox Theatre
"#TBTour" with special guests Ray J, Day 26, B5 and J Holiday