JACK DANIEL'S SEASON OPENING CELEBRATION AT LITTLE CAESARS ARENA EXTENDED UNTIL FRIDAY
With Tigers home opener postponed until Friday, the game will still be shown live on 900-square foot video screen in Chevrolet Plaza. Indoor and outdoor festival is free and open to public beginning at 8 a.m. All four Little Caesars Arena restaurants open with food and beverage specials throughout the day. Comerica Park gates open at 11 a.m. ahead of 1:10 p.m. first pitch.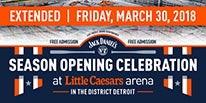 DETROIT – Following the postponement of the Detroit Tigers home opener until Friday, March 30, the inaugural Jack Daniel's Season Opening Celebration at the state-of-the-art Little Caesars Arena will also resume on Friday beginning at 8 a.m. Thousands of Tigers fans attended the festival on Thursday, which has been extended to a two-day event.
As part of the indoor and outdoor festival, Friday's Tigers-Pirates game will be shown live on the 900-square foot video screen located in Chevrolet Plaza adjacent to the Meijer southwest entry of Little Caesars Arena as well as on 50+ televisions and video screens located inside the Little Caesars Arena Via concourse. The televisions in all four Little Caesars Arena restaurants will also show the game.
Comerica Park gates will open at 11 a.m., and fans are encouraged to enter the ballpark early. All paid tickets for Thursday's game will be honored for Friday's game or can be exchanged for any future regular season game in the next 12 months. Please visit tigers.com for more information.
A wide range of activities remain scheduled, including live music featuring Your Generation in Concert, interactive games and Red Wings and Pistons promotions. Former Red Wing great Darren McCarty will sign autographs from 10 a.m. until Noon.
Guests are encouraged to download The District Detroit Mobile App presented by XFINITY. Available in the App Store and Google Play Store, fans can secure parking in advance at any of the Olympia Development-managed parking lots and even find the best route to parking lots and venues.
For the most up-to-date festival information, visit http://www.DistrictDetroit.com/NewSeason.