JASON MRAZ ANNOUNCES "GOOD VIBES" TO VISIT MEADOW BROOK AMPHITHEATRE SATURDAY, JULY 28
MULTIPLE GRAMMY® AWARD-WINNING SINGER-SONGWRITER TO BE JOINED BY SPECIAL GUEST BRETT DENNEN. Tickets On Sale Now.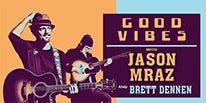 (DETROIT – February 12, 2018) – Multiple Grammy® Award winner Jason Mraz has today announced plans for a North American summer tour, joined by his SuperBand and featuring special guest Brett Dennen. "Good Vibes" will perform at Meadow Brook Amphitheatre on the campus of Oakland University on Saturday, July 28 at 8 p.m.
Tickets ($25 and four-packs at $80 on the lawn and $49.50, $59.50 and $79.50 in the pavilion) go on sale Friday, February 16 at 12 p.m. and can be purchased at 313Presents.com, LiveNation.com, The Fox Theatre and Little Caesars Arena XFINITY box offices and Ticketmaster.com. To charge tickets by phone, call (800) 745-3000.
Fan pre-sales begin Wednesday, February 14th with all remaining tickets released to the general public on Friday, February 16th. For complete details, and ticket information, please visit jasonmraz.com/tour.
Prior to "Good Vibes," Mraz – who only last night concluded his acclaimed (and twice extended) Broadway debut run in the hit musical, Waitress – is poised to embark on a more intimate live tour, dubbed "An Evening With Jason Mraz, Solo Acoustic." Those dates begin Thursday, March 8th at Raleigh, NC's Raleigh Memorial Auditorium and then continue through the month.
Brett Dennen's new single "Already Gone" from his forthcoming EP Let's... has been consistently climbing the BDS Radio Charts since its January debut at #23 (most recently reaching number ten), and is Dennen's fastest climbing AAA song of his career.
Mraz recently celebrated the 15th anniversary of his RIAA platinum certified major label debut album, Waiting For My Rocket To Come, with the album's first-time-ever vinyl release. The Waiting For My Rocket To Come double LP is available now on standard black vinyl at all music retailers carrying vinyl records (see here); an orange vinyl edition is exclusively available via Barnes & Noble. All vinyl editions feature expanded artwork by Robert Fisher and Alison Dyer, plus lyrics and new liner notes by Mraz.
As People recently noted, Waiting For My Rocket To Come launched Mraz "from the Southern California coffee house scene into global stardom and the forefront of contemporary American singer-songwriters." Released October 15, 2002, "the album indeed propelled Mraz to the forefront of contemporary American pop, fueled by a trio of indelible hit singles in "You And I Both," "Curbside Prophet," and the #1 favorite, "The Remedy (I Won't Worry)." The latter single proved Mraz's breakthrough, ascending to the top 15 on Billboard's "Hot 100" while also reaching the top of the "Top 40 Adult Recurrents" chart.