JOE "MR. D" DOMBROWSKI ADDS SECOND "INDOOR RECESS" COMEDY-TOUR PERFORMANCE AT THE CITY THEATRE APRIL 6
Tickets Are On Sale Now
Feb 5, 2019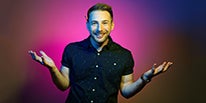 (DETROIT– February 4, 2019) — Due to overwhelming demand, a second City Theatre show has been added to Joe "Mr. D" Dombrowski's "Indoor Recess" stand-up comedy performance. He will now perform back-to-back shows on Saturday, April 6 at 7:30 p.m. and 10 p.m.
Tickets ($33 general admission) for the 10 p.m. show are on sale now and can be purchased at 313Presents.com, Little Caesars Arena XFINITY box office and Ticketmaster.com. To charge tickets by phone, call (800) 745-3000.
What's crazier than spending six hours a day EVERYDAY with a room full of eight-year-olds? The answer is...not much. Comedian, internet sensation and Michigan native, Joe "Mr. D" Dombrowski, walks you through the insanity of elementary school teaching with his stand-up comedy tour, "Indoor Recess."
Joe "Mr. D" Dombrowski is a stand-up comedian and also, somehow, a full-time elementary school teacher in Seattle, Washington. Since Joe's viral fake spelling test prank in 2017, he has been traveling the world making people laugh at the reality of working with kids aka "booger eaters." Joe has been featured multiple times on the Ellen DeGeneres Show, Pickler & Ben, GMA, BuzzFeed and more.
Visit mrdtimes.com for more information.