JOE ROGAN TO PERFORM AT THE FOX THEATRE FRIDAY, OCTOBER 25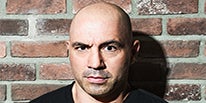 (DETROIT – June 3, 2019) – Stand-up comic/mixed martial arts fanatic/psychedelic adventurer and host of The Joe Rogan Experience, Joe Rogan will perform at the Fox Theatre in The District Detroit on Friday, October 25 at 7:30 p.m.
Tickets (starting at $39.50) go on sale Friday, June 7 at 11 a.m. and can be purchased at 313Presents.com, the Fox Theatre and Little Caesars Arena XFINITY box offices and Ticketmaster.com.
A standup comedian for over 20 years, Rogan's sixth hour long comedy special Joe Rogan: Strange Times premieres on Netflix in October 2018. Rogan's previous comedy specials include Joe Rogan: Triggered (2016) for Netflix, Joe Rogan: Rocky Mountain High (2014) for Comedy Central, Joe Rogan: Live from the Tabernacle (2012) released via his website, Talking Monkeys in Space (2009) on CD & DVD, and Joe Rogan Live (2007) on DVD. Additionally, Rogan released the CDs Shiny Happy Jihad (2007) and I'm Gonna Be Dead Someday (2000).
Rogan is host of The Joe Rogan Experience, a long form conversation with guests that is one of the most popular podcasts on iTunes.
Since 2002, Rogan has provided color commentary for the UFC (Ultimate Fighting Championship) on Pay Per View, Spike Television, and FOX. Rogan's passion for MMA began with martial arts practice at the age of 13. Within two years, the Boston native earned a black belt and soon became the Massachusetts full contact Tae Kwon Do champion four consecutive years. By the age of 19, Rogan won the US Open Tae Kwon Do Championship and as lightweight champion went on to beat both the middle and heavyweight title-holders to obtain the Grand Championship.
Film credits include Here Comes The Boom (2012) and Zookeeper (2011). Rogan hosted Joe Rogan Questions Everything (2013) for the SyFy channel. Rogan hosted the competition reality series Fear Factor on NBC in 2011/12 and previously for six seasons on the network from 2001-2006. Prior to Fear Factor, Rogan played Joe Garrelli, the resident electrician on the hit NBC comedy series NewsRadio.
Rogan regularly performs stand-up locally and internationally.
For more Joe Rogan, please visit www.joerogan.net and follow him on Twitter at @JoeRogan.