KIDZ BOP ANNOUNCES ALL-NEW "KIDZ BOP LIVE 2018" COMING TO MEADOW BROOK AMPHITHEATRE SATURDAY, JUNE 30
Tickets On Sale Now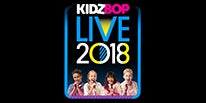 (DETROIT – January 15, 2018) – Following the success of last year's "Best Time Ever" tour, which sold out multiple shows across the country, The KIDZ BOP Kids are hitting the road again in 2018! KIDZ BOP, the #1 kids' music brand, and Live Nation have announced the launch of the all-new North American Tour, "KIDZ BOP Live 2018." The tour announcement coincides with the release of of KIDZ BOP 37, the latest album in the best-selling music series. The all-new tour makes a stop at Meadow Brook Amphitheatre on Saturday, June 30 at 6 p.m.
Tickets ($20 on the lawn and $35, $45 and $55 in the pavilion) go on sale Friday, January 19 at 10 a.m. and can be purchased at 313Presents.com, LiveNation.com, The Fox Theatre and Little Caesars Arena XFINITY box offices and Ticketmaster.com. To charge tickets by phone, call (800) 745-3000.
Citi® is the official presale credit card for the "KIDZ BOP Live 2018" Tour. As such, Citi® cardmembers have access to purchase U.S. presale tickets, which are available beginning Tuesday, January 16 at 10 a.m. local time until Thursday, January 18 at 10 p.m. local time through Citi's Private Pass® program. For complete presale details visit www.citiprivatepass.com.
Additional fan presales will run throughout the week, including offers for past KIDZ BOP ticket purchasers and Spotify listeners. Special VIP packages, which include a private party, exclusive merchandise, and a meet-and-greet with The KIDZ BOP Kids will also be available. Artist Group International (AGI) is representing the KIDZ BOP tour.
"KIDZ BOP Live 2018" is the ultimate family concert experience, "sung by kids for kids." The KIDZ BOP Kids – Billboard Magazine's #1 Kids' Artist for eight consecutive years (2010 – 2017) – will headline the new show, performing some of today's biggest hit songs. Just in time for the new tour, three new talented young performers – Olivia (11), Shane (13), and Indigo (11) – are joining the existing group of KIDZ BOP Kids: Ahnya (13), Cooper (14), Freddy (13), Isaiah (11) and Julianna (13). Four KIDZ BOP Kids will take the stage for each performance, which will include innovative stage design, special effects, fan interaction, and even a parent lip-sync battle to 90's hits.
This year, KIDZ BOP has partnered with award-winning SRae Productions, who've produced tours for many of the world's top artists, including Imagine Dragons, The Weeknd, Rascal Flatts and Pentatonix, to help create the biggest and best KIDZ BOP live show yet.
Victor Zaraya, President of KIDZ BOP, said, "We've teamed up with the biggest names in the industry to create a memorable show for first-time concert goers in the audience. SRae Productions and Live Nation are responsible for A-List tours, and KIDZ BOP is no exception. 'KIDZ BOP Live 2018' is a true concert experience, just for kids."
For a full list of tour dates and ticket information, visit kidzbop.com/tours or LiveNation.com