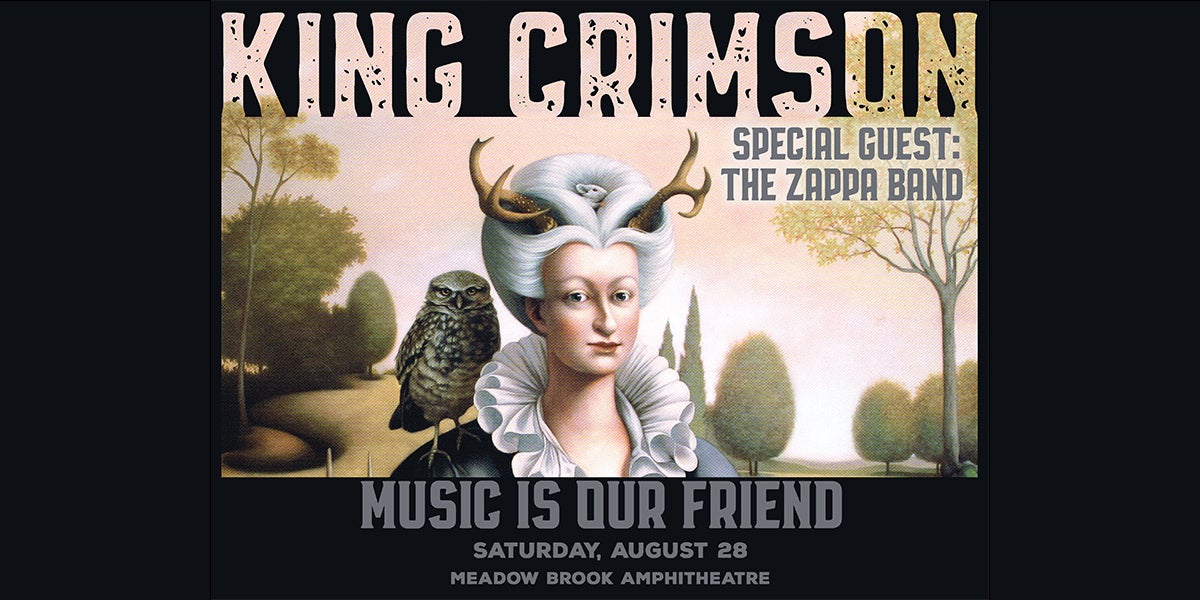 KING CRIMSON ANNOUNCE "MUSIC IS OUR FRIEND" NORTH AMERICAN TOUR AT MEADOW BROOK AMPHITHEATRE SATURDAY, AUGUST 28, 2021
Tickets Go On Sale Friday, June 11 at 10am
(DETROIT - June 7, 2021) - King Crimson has announced their rescheduled tour performance at Meadow Brook Amphitheatre for Saturday, August 28, 2021 at 7:30 p.m.
Tickets (starting at $59.50 in the pavilion) go on sale Friday, June 11 at 10 a.m. at 313Presents.com, LiveNation.com, Ticketmaster.com or The XFINITY Box Office at Little Caesars Arena.
Tickets for the previously scheduled date (June 26, 2020) will be honored for the new date and fans are encouraged to hold onto their tickets. Ticket holders unable to attend the rescheduled date now have 30 days, or until Tuesday, July 6, 2021, to request a refund at point of purchase.
When King Crimson returns to action this July, it will be the seventh year that the band has toured since returning to performing live in 2014, a run only interrupted by the lockdown in 2020. In that time, the audience has been reinvented, as much as the band itself, something Robert Fripp noted after the band's performance in Pompeii, Italy's famous amphitheater:
"In Pompeii, a large percentage of the audience was young couples; KC moved into the mainstream in Italy. I walked onstage knowing that this band's position in the world has changed level." - Robert Fripp
The band's shows regularly include material from twelve of their thirteen studio albums, including many songs from their seminal 1969 album In the Court of the Crimson King, described by Pete Townshend as an "uncanny masterpiece." The 7-piece line-up play many historic pieces, which Crimson has never previously played live, as well as new arrangements of Crimson classics – "the music is new whenever it was written." There are also new instrumentals and songs, as well as compositions by the three drummers, Pat Mastelotto, Gavin Harrison and Jeremy Stacey, which are a regular highlight. A unique show, where seven of the best musicians in the world play music without distraction or adornment.
Robert Fripp celebrates a new tour:
"The Crimson Beast Is in Go! Mode. Totally excellent news! Much hooraying! Glad times are here! The Crimson Beast Of Terror has woken from its enforced slumbering and is venturing out to stomp flat the psyches of innocents not yet experienced in the hammering onslaught of King Crimson's uncompromising pounding – bish! bish! bish! – before turning on a beat to jellify hearts with gut-wrenching passion and soul-squeezing epic unfoldings to remind us that we are all mere subjects in the unfolding drama of the universe's unfathomable mysteries while simultaneously rocking out and having a great time bopping about with Tony and Bobby and Gavin and Jakko and Mel and Pat and Jezza too."
King Crimson is:
Robert Fripp
Tony Levin
Jakko Jakszyk
Mel Collins
Jeremy Stacey
Gavin Harrison
Pat Mastelotto