"LIT AF TOUR" STARRING YOUR HOST MARTIN LAWRENCE VISITS LITTLE CAESARS ARENA SATURDAY, NOVEMBER 10
DUE TO POPULAR DEMAND, 19 MORE DATES ADDED MARTIN AND HIS FIRE LINEUP OF COMEDIANS – DERAY DAVIS, RICKEY SMILEY, DEON COLE, CLAYTON THOMAS AND BENJI BROWN – EXTEND THE LIT AF TOUR THROUGH THE END OF THE YEAR. Tickets Go On Sale Friday, July 27 at 10 a.m.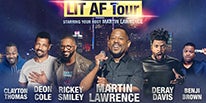 (DETROIT – July 23, 2018) – Back by popular demand, comedian, actor, director and producer Martin Lawrence has added 19 more dates to the "LIT AF Tour," including a stop at Little Caesars Arena on Saturday, November 10 at 7:30 p.m.
Tickets (starting at $45) go on sale Friday, July 27 at 10 a.m. and can be purchased at 313Presents.com, Little Caesars Arena XFINITY box office and Ticketmaster.com. To charge tickets by phone, call (800) 745‑3000. Lineup is subject to change.
Lawrence stars as the high-powered host of 2018's hottest comedy event, presenting a fire lineup of comedians including including DeRay Davis, Rickey Smiley, Deon Cole, Clayton Thomas and Benji Brown. Coming off the 20th anniversary of Def Comedy Jam, where he is known for his legendary hosting, Lawrence has made a triumphant return to the stand-up stage wowing audiences with his signature style of hilarious stories, social commentary and more. The 18-date Spring leg of the "LIT AF Tour" played to sold out crowds in major cities across the country including Los Angeles, New York, Atlanta, Washington, DC, Chicago, Miami and Las Vegas.
"Being on the road with this group of funny AF comedians is a blast," says Lawrence. "No two shows are the same and we all bring something different to the party."
The Fall/Winter leg of the "LIT AF Tour" kicks off on September 21 in Pittsburgh and hits 19 cities across the continent including engagements at Amway Center in Orlando, Scotiabank Arena in Toronto, Little Caesars Arena in Detroit and a New Year's Eve performance at Royal Farms Arena in Baltimore. For ticket information and lineup by city, please visit martinlawrence.aegpresents.com.
Martin Lawrence started in stand-up comedy at the legendary The Improv, where he honed his talents until he was asked by Russell Simmons to host his groundbreaking comedy series Def Comedy Jam on HBO. From there, Lawrence became a household name after his hugely popular self-titled TV show, Martin, was an instant hit with TV viewers. He starred for five years as not only the title character, but other support characters like the sassy Sheneneh and Mama Payne, who became comedy classics. Lawrence would later go on to star in comedy blockbusters like Bad Boys 1 & 2 and A Thin Line Between Love and Hate, which he also directed and Big Momma's House 1, 2 & 3, where he once again proved his talent for creating and acting as multiple characters in one storyline.
For more information on Martin Lawrence, please visit:
www.facebook.com/MartinLawrence
www.instagram.com/martinlawrence
About DeRay Davis:
A seasoned road warrior, DeRay Davis' Netflix original comedy special How To Act Black hit the internet with a bang in November, receiving rave reviews. He also appeared in HBO's All Def Comedy series which debuted end of 2017. The second season of VH1's Hip Hop Squares, executive produced by Ice Cube and featuring DeRay as the hysterical host, is set to air in 2018, and simultaneously, DeRay will also star in Season 2 of the hit John Singleton created F/X TV show Snowfall. Recently, he also appeared on the big screen in All Eyez On Me and Grow House alongside Snoop Dogg.
About Rickey Smiley
Rickey Smiley is a celebrated comedian, television host and top-rated nationally-syndicated radio personality who has earned a reputation for making audiences laugh both on and off stage for 27 years. Smiley has recorded eight best-selling albums, including iTunes #1 comedy album, Rickey Smiley: Prank Calls Number 6. Smiley has also hosted BET's Open Casket Sharp and Comic View, and has appeared on Showtime At The Apollo, Uptown Comedy Club, HBO's Def Comedy Jam and Snaps. In addition to being featured on Dish Nation, his nationally syndicated morning radio show can be heard in over 65+ U.S. markets. Smiley's major feature film roles in urban classics include "All About The Benjamin's", "Friday After Next," and hit romantic comedy "Baggage Claim." He continues to work on acclaimed TV One docu-series "Rickey Smiley for Real", and recently published his memoir "Stand by Your Truth and Then Run for Your Life" through Gallery Books.
About Deon Cole
Deon Cole is one of the most in-demand talents on the comedy scene. Not only is he currently a cast member on four TV shows, Blackish (ABC), Grownish (Freeform), Angie Tribeca (TBS) and Face Value (BET) you can also find his comedy specials on Comedy Central and Netflix's The Standups.
About Clayton Thomas
Clayton Thomas ("CT") is known for turning a comedy show upside down. He has served as writer and actor on Bounce TV's hit sitcom Family Time for five seasons, appeared on Modern Family, Superior Donuts, Insecure, Uncle Buck, and was the premiere comedian on the new season of HBO's All Def Comedy. Thomas also hosted his own weekly show on Playboy Radio entitled Clayton Thomas Against the World, and co-hosted Speedy's Comedy Corner on Foxxhole Radio for Sirius-XM.
About Benji Brown
Benji Brown has been heating up the national comedy scene through his candid and comedic performances. He has appeared on BET's Comic View, Laffapalooza hosted by Academy Award Winner Jamie Foxx, and Nick Cannon's Wild n' Out on MTV, and has performed on 1st Amendment Stand Up presented by Martin Lawrence on STARZ and Tyler Perry's "Meet the Browns Tour." Brown has worked alongside a list of headliners including Chris Rock, Steve Harvey, Rickey Smiley and Monique.
"LIT AF Tour" with DeRay Davis, Rickey Smiley, Deon Cole, Clayton Thomas and Benji Brown
"LIT AF Tour" with DeRay Davis, Rickey Smiley, Deon Cole, Clayton Thomas and Benji Brown