MAZE FEATURING FRANKIE BEVERLY AND SPECIAL GUEST JOE ANNOUNCE SWEETEST DAY LOVE JAM AT THE FOX THEATRE SATURDAY, OCTOBER 19
Tickets On Sale Saturday, June 22 at 10 a.m.
Jun 14, 2019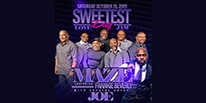 (DETROIT – June 14, 2019) — Soul and R&B band Maze featuring Frankie Beverly announced the Sweetest Day Love Jam with very special guest Joe at the Fox Theatre in The District Detroit on Saturday, October 19 at 8 p.m.
Tickets (starting at $69) go on sale Saturday, June 22 at 10 a.m. and can be purchased at 313Presents.com, Little Caesars Arena XFINITY box office and Ticketmaster.com.
Maze released 9 Gold albums from 1977 to 1993. Their well-known songs include "Happy Feelin's," "While I'm Alone," "Golden Time Of Day," "Southern Girl," "The Look in Your Eyes," "Joy and Pain," "Before I Let Go," "We Are One," "Back in Stride," "Can't Get Over You" and "The Morning After".
R&B superstar Joe solidified his reputation in the 2000s with hits such as "All That I Am," "I Wanna Know," and "No One Comes Close." The seven-time Grammy® nominee's memorable collaborations with Mariah Carey ("Thank God I Found You"), Big Pun ("Still Not a Player") and G-Unit ("Wanna Get to Know You") further underscores his musical versatility. His latest album My Name Is Joe Thomas was released in 2016.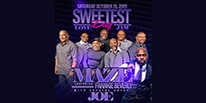 Fox Theatre
"Sweetest Day Love Jam" with special guest Joe