MICHIGAN WINS "IRON D" TROPHY IN FRONT OF SOLD-OUT CROWD AT LITTLE CAESARS ARENA
Wolverines Claim 3-2 Victory Over Spartans in Front of 19,515 Fans on Saturday Night in Inaugural "Duel in the D" at Little Caesars Arena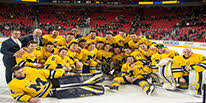 DETROIT (February 10, 2018) – The Michigan Wolverines won the "Iron D" Trophy for the second-straight season in front of a sold-out crowd of 19,515 college hockey fans in the inaugural "Duel in the D" at Little Caesars Arena on Saturday night. The Wolverines claimed a 3-2 win thanks to a goal and an assist from junior forward Cooper Marody, a pair of freshmen lighting the lamp, and a 32-save performance by sophomore goaltender Hayden Lavigne.
Michigan jumped out to an early 1-0 lead with a goal at 4:22 of the first period by Marody. With the goal and assist on the night, the Brighton, Mich., native has recorded eight points (4-4-8) in neutral site games in Detroit and a team-high 12 career points (5-7-12) against the Spartans.
Both goaltenders stole the show early in the second period before Michigan extended its lead to 2-0 with 1:30 left in the frame. The Spartans were five seconds away from killing a five-minute major penalty, but Michigan freshman forward Jack Becker scored his seventh of the season to make it a two-goal game heading into the third period.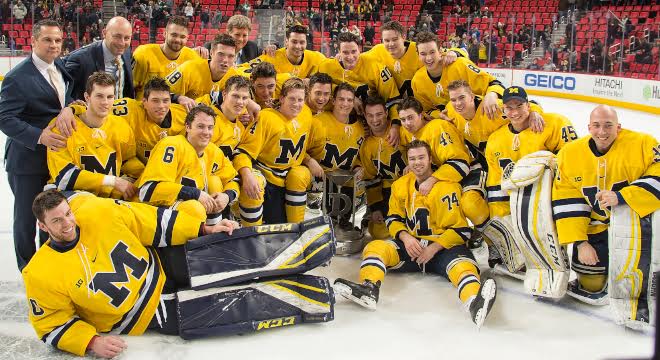 Michigan State recorded an early goal in the final frame, as the Spartans' leading scorer Taro Hirose notched his 10th of the season 21 seconds into the period. Michigan freshman defenseman Quinn Hughes tallied his third goal of the year, and second in as many nights, to make it a 3-1 game at 14:06 of the third period. Michigan State tightened the gap only 1:19 later with a goal from freshman David Keefer, but were unable to find the game-tying goal, despite an opportunity with under two minutes left that saw Michigan junior defenseman Joseph Cecconi stop the puck at the goal line.
With the victory, Michigan improved to 163-134-22 all-time against Michigan State. The rivalry is the most-played in college hockey, with Saturday's matchup marking the 319th meeting between the two teams dating back to 1925.
ABOUT THE "IRON D" TROPHY:
The "Iron D" trophy features a forged iron "D" at its center to symbolize the city of Detroit, while the skyline of Hockeytown wraps around the base, including an image of Little Caesars Arena placed at the center. A large cup rests atop the trophy and hockey sticks, a red glass puck and the logos of Michigan and Michigan State line the sides of the trophy. The trophy was designed and built by Erik and Israel Nordin at their studio, the Detroit Design Center.
"IRON D" TROPHY WINNERS:
2018 – Michigan (3-2)
2017 – Michigan (4-4 tie, shootout win)
2016 – Michigan State (3-2, overtime)