MITCH ALBOM JOINS "A FUN CONVERSATION WITH JANE FONDA & LILY TOMLIN" AT THE FOX THEATRE OCTOBER 30
Jun 18, 2019
(DETROIT – June 18, 2019) – Mitch Albom will serve as moderator during an evening filled with wit, humor and lots of fun when "A Fun Conversation with Jane Fonda & Lily Tomlin" makes a stop at the Fox Theatre in The District Detroit on Wednesday, October 30 at 7:30 p.m. Albom will guide the conversation as the stars of Grace and Frankie share their insights on life, politics, feminism, the planet and the secrets of their long-lasting friendship.
Tickets (starting at $84) are on sale now and can be purchased at 313Presents.com, the Little Caesars Arena XFINITY box office and Ticketmaster.com. Discounts are available for groups of 10 or more by calling (313) 471-3099.
Mitch Albom is an internationally renowned author, journalist, screenwriter, playwright, radio and TV broadcaster and philanthropist. His 13 books have collectively sold more than 39 million copies worldwide and have been published in 49 territories, in 45 languages, and have been made into Emmy Award-winning and critically-acclaimed TV movies. A longtime panelist on ESPN's The Sports Reporters and co-host of its new iteration as a podcast, Albom has also penned films, plays and a musical. For more than a decade, he was named top sports columnist in the nation by the Sports Editors of America, the highest honor in his field. In 2006, he founded S.A.Y. Detroit, an umbrella organization that now operates nine charities dedicated to improving lives of the neediest Detroiters. He also runs an orphanage in Port Au Prince, Haiti, the Have Faith Haiti Mission. He lives with his wife, Janine, in Michigan.
His latest book, The Next Person You Meet in Heaven, is a sequel to the bestselling The Five People You Meet in Heaven, and was published on October 9, 2018. His next book, Chika: a little girl, an earthquake, and the making of a family, is a work of non-fiction that will be released in November 2019.
More info can be found at www.mitchalbom.com. Follow Mitch Albom on Facebook, Instagram, and Twitter at @mitchalbom.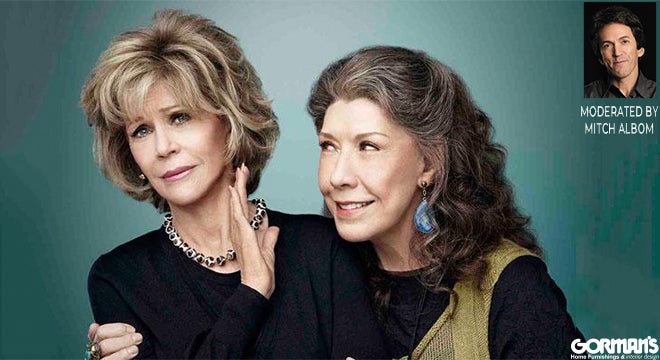 Fox Theatre
"A Fun Conversation with Jane Fonda & Lily Tomlin" moderated by Mitch Albom