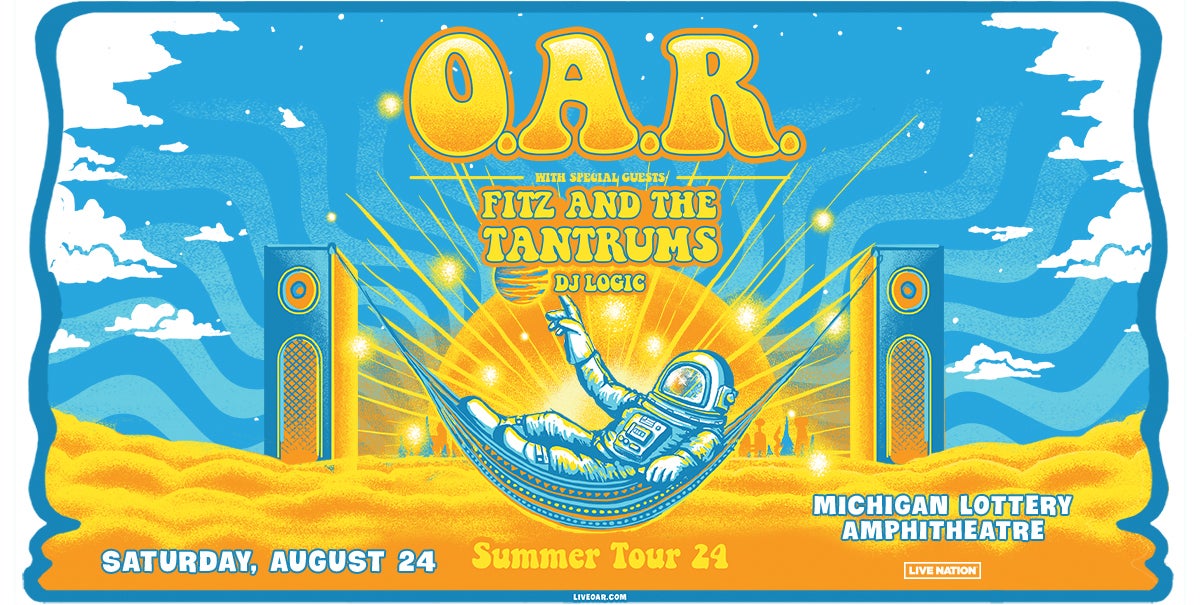 Multi-Platinum Rock Band O.A.R. Announces Summer 2024 Headlining Tour At Michigan Lottery Amphitheatre Saturday, August 24
Tickets Go On Sale Friday, November 17 at 10 a.m.
Fitz and the Tantrums to Join as Special Guests with DJ Logic Opening
(DETROIT – November 14, 2023) – Today, multi-platinum rock band O.A.R. has announced their latest U.S. tour, kicking off in July of 2024. The band will bring their exhilarating live show to amphitheaters and other renowned venues across the country including Michigan Lottery Amphitheatre on Saturday, August 24 at 6:55 p.m. Fitz and the Tantrums will join as special guests on the local date with DJ Logic opening.
Tickets go on sale Friday, November 17 at 12 p.m. at 313Presents.com, LiveNation.com, LiveOAR.com/tour and Ticketmaster.com. Tickets will also be available as part of the O.A.R. presale beginning Tuesday, November 14 at 2 p.m. ET with additional presales running throughout the week.
A portion of proceeds from the tour will be donated to the band's longtime nonprofit, Heard The World Fund, which has raised over $1.2 million since its inception supporting youth and education in underserved communities around the United States.
Formed in Maryland nearly three decades ago, the members of O.A.R. have evolved together over the years to create a multifaceted group with a devoted fanbase that transcends generations. From playing their first shows at an eighth-grade talent show to selling out Madison Square Garden multiple times, the band has proven their strength and longevity time and again. This past September, O.A.R. completed a successful 2023 tour with Goo Goo Dolls and multi-set appearance and performers and partners of Oceans Calling Festival in Ocean City, Maryland.
O.A.R.'s Marc Roberge said: "It's time for us to get out there and play a full set, jam out, and have another best summer of our lives. We can't wait to hang this summer with our friends Fitz and the Tantrums, Ripe and DJ Logic!"
About O.A.R.
O.A.R. might just be music's biggest, best kept secret. The platinum-certified Rockville, MD band has quietly sold out Madison Square Garden twice, filled Red Rocks Amphitheater a dozen times, earned platinum and gold plaques, lit up the Times Square New Year's Eve celebration, and built one of the most committed fanbases in the world. The group—Marc Roberge (lead vocals, guitar), Richard On (lead guitar, backing vocals), Chris Culos (drums), Benj Gershman (bass), and Jerry DePizzo (saxophone, guitar, backing vocals) accompanied by Mikel Paris (keys, backing vocals, percussion), and Jon Lampley (trumpet, backing vocals)—have entered a new chapter as a band by releasing their 10th studio album The Arcade and will be embarking on a headlining U.S. tour this summer with special guests Fitz and the Tantrums.