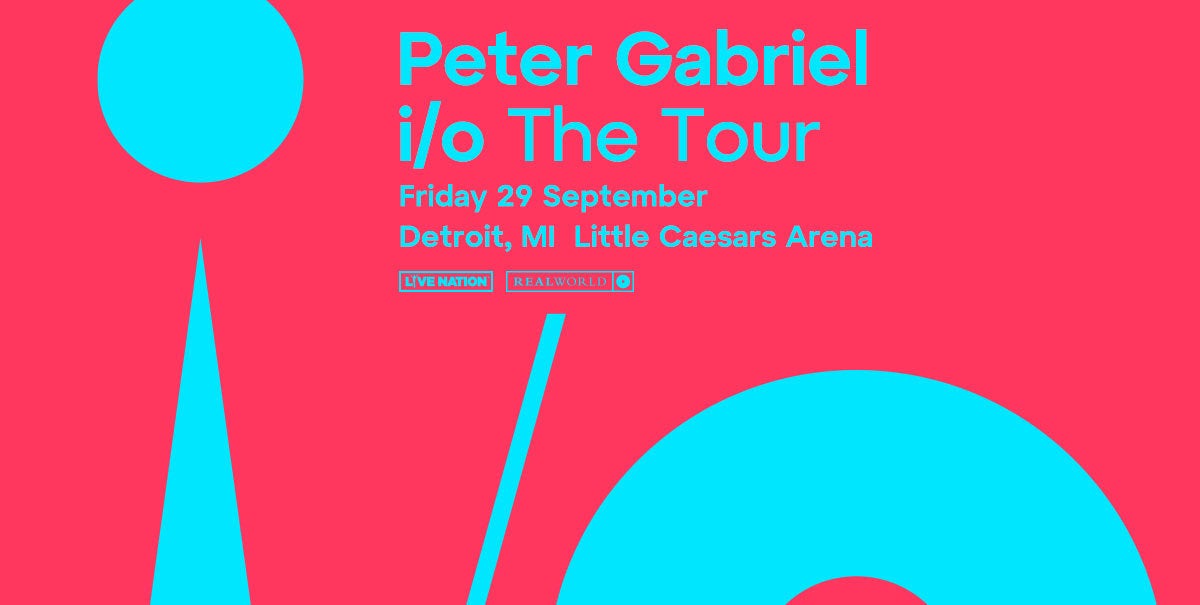 Peter Gabriel Brings "I/O The Tour" To Little Caesars Arena Friday, September 29, 2023
Tickets Go On Sale Friday, March 24 at 10 a.m.
(DETROIT – March 21, 2023) – Today, Peter Gabriel announces thirteen additional cities on his massive North America run of "i/o - The Tour". Newly added shows on the Live Nation produced tour include a stop at Little Caesars Arena on Friday, September 29, 2023 at 8 p.m.
Tickets go on sale Friday, March 24 at 10 a.m. at 313Presents.com, LiveNation.com and Ticketmaster.com. Fans will have access to a special presale through Peter's Fan Club mailing list, starting Tuesday, March 21. Tickets for all previously announced dates are available now at petergabriel.com.
Citi is the official card of the i/o - The Tour. Citi cardmembers will have access to presale tickets in the U.S. beginning Wednesday, March 22 at 10 a.m. local time until Thursday, March 23 at 6 p.m. local time through the Citi Entertainment program. For complete presale details visit www.citientertainment.com
Fans can also purchase VIP Packages, which may include premium tickets, access to the pre-show lounge, limited edition gift item & more. For more information, visit vipnation.com.
"i/o - The Tour" will see Gabriel playing new material from his forthcoming album i/o, as well as delving into his peerless catalogue of music, with hits, fan favourites and the unexpected. For the shows, Gabriel will be joined by regular band-mates Tony Levin, David Rhodes and Manu Katché. Additionally, new music from the i/o album is being released on the full moon of each month. The March song release is called "Playing For Time".
For complete tour and ticket information, VIP Packages and more visit: www.livenation.com and www.petergabriel.com.
About Peter Gabriel
Peter Gabriel first came to international prominence with the success of Genesis, a band that he co-founded while still at school. Since leaving Genesis in 1975, his recording career has included eleven studio albums, film soundtracks for Alan Parker's 'Birdy', Martin Scorsese's 'The Last Temptation of Christ' and Philip Noyce's 'Rabbit Proof Fence' as well as numerous live albums. His wider musical career has included multiple Grammy® Awards, the world-renowned Real World Studios, the formation of the Real World Records label, and in 1980 the creation of WOMAD, the festival that has launched the careers of many artists from around the world and has just celebrated its 40th anniversary.
Peter Gabriel co-founded the human rights organization WITNESS (Witness.org) in 1992, the organization that pioneers the use of cameras and technology in human rights campaigning, and in 2007, alongside Sir Richard Branson, he founded The Elders (theelders.org) which was launched by Nelson Mandela. In 2006, Peter Gabriel was awarded the prestigious Man of Peace title by The Nobel Peace Laureates and in 2008 was also included in the Time 100 list. He has been inducted into the Rock & Roll Hall of Fame twice. He remains engaged in a wide variety of tech-based businesses throughout a variety of creative industries.