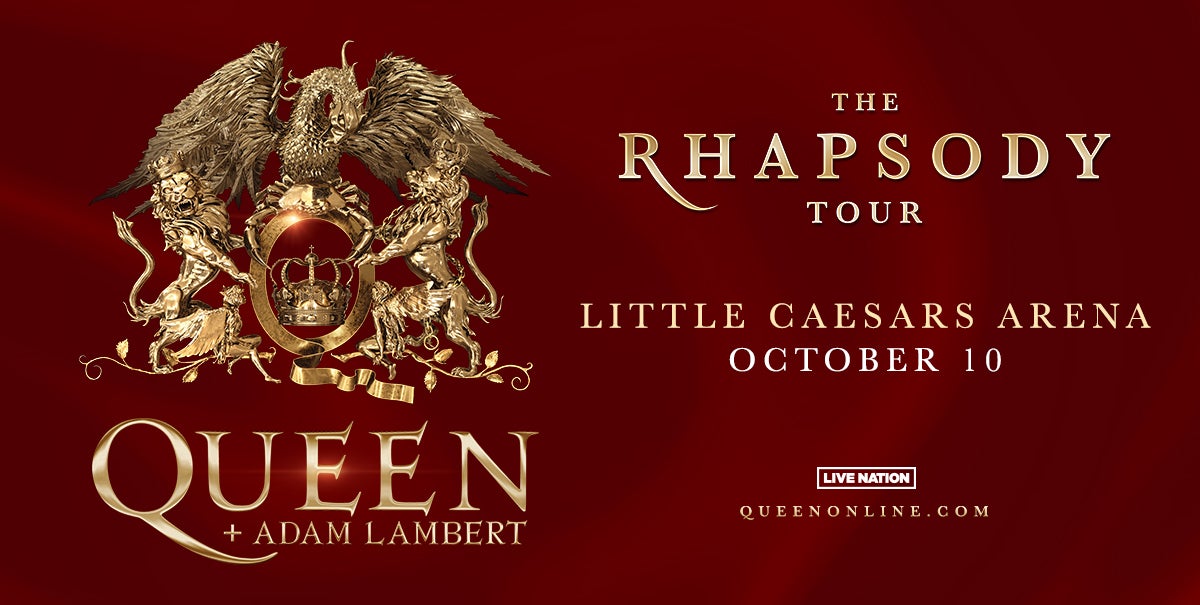 Queen + Adam Lambert Bring "The Rhapsody Tour" To Little Caesars Arena October 10
Tickets Go On Sale Friday, March 31 at 10 a.m.
(DETROIT – March 24, 2023) – Having first launched their universally acclaimed Rhapsody Tour with 25 epic shows across North America in 2019, Queen + Adam Lambert are bringing their highly acclaimed production, now expanded and updated, back to where it first began. After a 4-year long hiatus, Sir Brian May, Roger Taylor and their exceptional frontman Adam Lambert have announced they will set out on a spectacular North America run this fall. Produced by Live Nation, the tour stops at Little Caesars Arena on Tuesday, October 10 at 7:30 p.m.
Tickets go on sale Friday, March 31 at 10 a.m. at 313Presents.com, LiveNation.com and Ticketmaster.com. Queen + Adam Lambert appreciate that it is an enormous task to try and stop scalpers from taking advantage of fans wanting to purchase tickets for the tour. In an effort to help minimize resale and keep ticket prices at face value for fans, the band are collaborating with the venues' ticketing partners to restrict the ability to transfer tickets for The Rhapsody Tour so that they may only be transferred between fans at the original price.
Fans will still have protection against unforeseen circumstances. Those who purchase tickets and are no longer able to attend their show will be able to sell their tickets at the price they paid using a face value ticket exchange, including the Ticketmaster Face Value Exchange - which is free to use for buyers and sellers. More information on how the Ticketmaster Exchange works is available here.
Brian May says, "Our last tour featured our most ambitious production ever. So we decided to rip it apart and get even more ambitious. Watch out world."
And Adam Lambert says: "I can't wait to tour North America one more time with the Rhapsody tour alongside the two unbelievably talented legends that are Brian May and Roger Taylor."
Queen + Adam Lambert's 150-minute career-spanning set list celebrates the band's extraordinary back catalogue, lining up wall-to-wall immortal anthems like "We Will Rock You", "Don't Stop Me Now", "Radio Ga Ga", and "Somebody To Love" alongside classic deep cuts and vintage fan favourites. Featuring a dazzling state-of-the-art stage design, incredible special effects and set pieces, this sense-swamping extravaganza has been blowing critics and fans away the world over.
As with last year's UK and European dates, the 2023 North American tour will see Queen + Adam Lambert supported on stage by their regular band members, long-serving Queen keyboard player and musical director Spike Edney, bass guitarist Neil Fairclough and percussionist Tyler Warren.
Having extensively toured over the last few years, the Rhapsody show is forever evolving. But it remains at heart a tribute to Freddie Mercury's majestic legacy, a confirmation of Brian and Roger's undimmed musical prowess, plus a magnificent showcase for Adam's vocal skills and electrifying stage charisma, all of which adds up to a glorious full-blooded celebration of one of the greatest songbooks in rock history. Read more on the story of The Rhapsody Tour so far, including the special performance opening the Platinum Jubilee concert with the late Queen herself tea cup tapping to the beat of "We Will Rock You" HERE.