BACK AGAIN AS RBRM: MULTI-PLATINUM POP/R&B ICONS RONNIE, BOBBY, RICKY AND MIKE BRING 2019 "RBRM – 4 THE LOVE OF IT TOUR" TO MICHIGAN LOTTERY AMPHITHEATRE AT FREEDOM HILL MAY 30
Tickets Go On Sale Friday, February 8 at 10 a.m.
Feb 6, 2019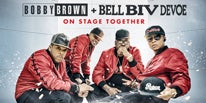 (DETROIT – February 6, 2019) – One of the most legendary groups in pop/R&B history will return to the stage this Spring – with an explosive new twist: New Edition's Ronnie DeVoe, Bobby Brown, Ricky Bell and Michael Bivins are joining forces once again as RBRM. The iconic, multi-platinum performers are set to embark on the "RBRM – 4 The Love Of It Tour" with dates just announced throughout the U.S., including a stop at Michigan Lottery Amphitheatre at Freedom Hill as part of the Fifth Third Bank Concert Series on Thursday, May 30 at 8 p.m.
Tickets (starting at $29.50) go on sale Friday, February 8 at 10 a.m. To purchase tickets for the Kroger lawn, Crest Ford pavilion and Ford Motor Company luxury seats, visit 313Presents.com, LiveNation.com, Little Caesars Arena XFINITY box office or Ticketmaster.com. To charge tickets by phone, call (800) 745‑3000.
Playing to sold out arenas nationwide, the Grammy® Award winners first made their debut as RBRM last Fall, winning praise from press and fans alike. Now RBRM is back again for 2019 – with an all-new lineup of performances.
The "4 the Love Of It Tour" will bring the RBRM experience to fans around the country, with shows in cities including Orlando, Cleveland, Atlanta, Kansas City, Brooklyn, Birmingham, Philadelphia, New Orleans, Cincinnati and many more. Booked by Jeff Epstein and Universal Attractions Agency (UAA), the Spring 2019 tour will kick off on April 26, and will run through July 26, 2019.
RBRM will also heat up some of this Summer's hottest festivals during the tour, taking the stage at both the 2019 Essence Festival, and the iconic Cincinnati Music Festival in July. Ronnie, Bobby, Ricky and Mike have become fan favorites at the Essence Festival for their show-stopping performances there throughout the past decade – including last year's record-setting event, which drew more than 500,000 attendees. This year, they'll return as RBRM, bringing a brand-new energy to the Super Dome stage.
RBRM will close out the tour with a performance at the legendary Cincinnati Music Festival. With its all-star line-up of performers, the event is the area's largest tourism weekend of the year, drawing R&B fans from around the country. RBRM will hit the stage at the Paul Brown Stadium on July 26.
Showcasing the pop/ R&B trailblazers as never before, "RBRM-4 The Love Of It" brings the artists' legendary 41-year careers to life in a whole new way. The record-shattering catalogue of hits audiences know and love from New Edition, BBD and their individual solo acts are remixed, reimagined and reinvigorated on stage, giving fans a fresh take on their timeless favorites.
The group's debut tour, "The RBRM Tour," which ran throughout Fall 2018, earned accolades from media around the country in its initial run last Fall. Reviewing the group's Ontario, California show, The Precinct Reporter said, "From the time RBRM hit the staged until the house lights came on, no one was in their seat. Not even for the slow songs. The RBRM sound took the crowd back to when the NE sound was new…The RBRM concert in Ontario solidified their influence in old school music."
"Backed by a live band a large crew of dancers, the group's reinvention, which blended the biggest hits from Brown and BBD, was a win," said The St. Louis American in their review of RBRM's St. Louis, Missouri show. "The result was something all four could be proud of."
Over the past four decades, Ronnie, Bobby, Ricky and Mike have left an indelible mark not only on the music industry – but on millions of fans around the world. Their standout vocals, dynamic choreography and unstoppable stage presence helped New Edition become one of the most successful touring groups of all time. More than that, by pioneering the Boy Band craze, they created a classic sound and style that forever changed the landscape of popular music.
The artists' legacy also includes 18 multi-platinum albums, four American Music Awards, a Soul Train Lifetime Achievement Award and 14 number one hits (in addition to countless Billboard Top 20 hits).
Exclusive Meet and Greet and Future Beat VIP Packages are also available. For all information about upcoming shows and for all things RBRM be sure to follow RBRM on Facebook.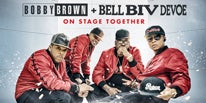 Michigan Lottery Amphitheatre at Freedom Hill
"RBRM - 4 The Love Of It Tour"