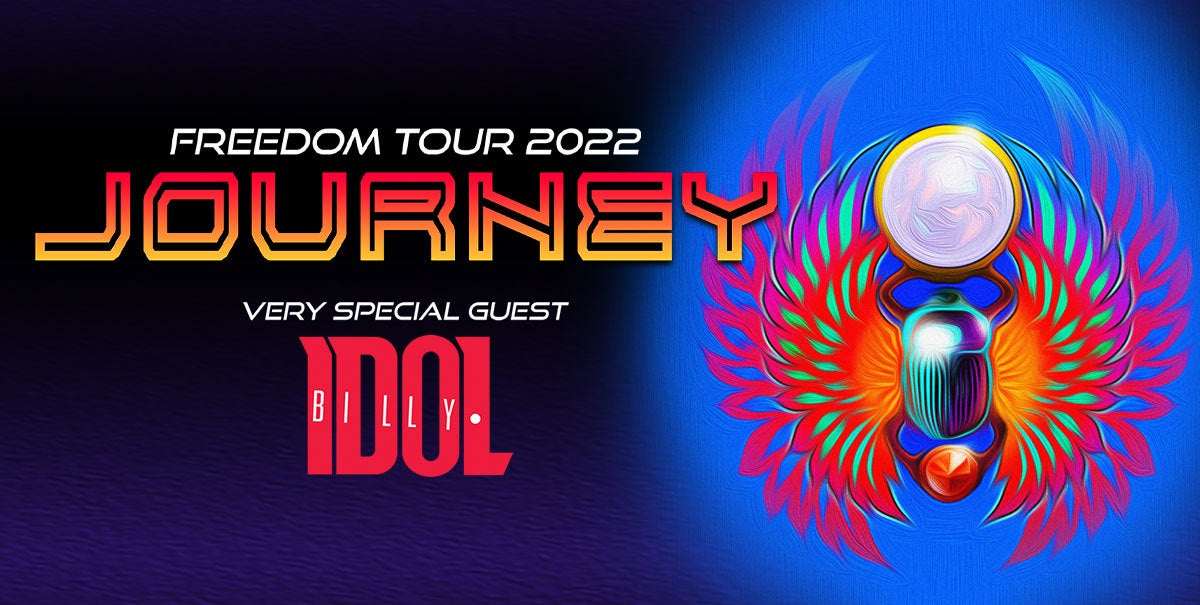 ROCK & ROLL HALL OF FAME LEGENDS JOURNEY ANNOUNCE "FREEDOM TOUR 2022" AT LITTLE CASESARS ARENA MARCH 2, 2022
Tickets Go On Sale Friday, November 19 at 10 a.m.
(DETROIT – November 15, 2021) –One of the most legendary rock bands of all time, Journey, announces their "Freedom Tour 2022" to include Wednesday, March 2 at 7:30 p.m. featuring very special guest Billy Idol. The diamond-selling Rock & Roll Hall of Famers will take the stage in 40 cities across North America with their catalog of global chart-topping hits, including "Don't Stop Believin'," "Any Way You Want It," "Faithfully," "Lights" and more. Presented by AEG Presents, the tour will perform at Little Caesars Arena on Wednesday, March 2 at 7:30 p.m.
Tickets (starting at $49.50) go on sale Friday, November 19 at 10 a.m. at 313Presents.com, the XFINITY Box Office at Little Caesars Arena and Ticketmaster.com.
Journey are one of rock music's most influential icons and they are set to deliver a brand-new album, Freedom, in 2022. This summer, the band headlined the Lollapalooza Festival in Chicago, uniting thousands of fans across generations with their decade-spanning setlist of beloved anthems. The group also rocked Central Park with "Anyway You Want It" and "Don't Stop Believin'" at We Love NYC: The Homecoming Concert, in addition to honoring 9/11 first responders at the Tunnel to Towers concert in August. Journey features founder Neal Schon (lead guitarist), Jonathan Cain (keyboards, backing vocals), Arnel Pineda (lead vocals) Jason Derlatka (keyboards, backing vocals), and Deen Castranovo (drums, backing vocals).
"It's that time - time to get back to where we are used to being - on Stage!" says Neal Schon. "We are looking forward to shifting into high gear and bringing you the best show possible. The band is running on all 12 cylinders and very excited! Please come and join us once again for an evening full of rocking stage connection fun. See you soon Friends."
"Touring next year with Journey is going to be great fun! An epic night you won't want to miss," Billy Idol says. "I'm excited to get back to so many wonderful cities and I'm bringing Steve Stevens and the rest of the Billy Idol band with me!"
About Journey
Since the group's formation in 1973, Journey has earned 19 top 40 singles, 25 gold and platinum albums, and has sold nearly 100 million albums globally. Their Greatest Hits album is certified 15 times-platinum, making Journey one of the few bands to ever have been diamond-certified, and their song "Don't Stop Believin'"has been streamed over one billion times alone.
Journey was inducted into the Rock And Roll Hall Of Fame in 2017 and 2018's co-headlining tour with Def Leppard was the band's most successful tour to date, landing them in the Top 10 year-end touring chart with more than 1 million tickets sold, and earning them the prestigious Billboard "Legends Of Live" touring award. March 2019 saw the release of Escape & Frontiers Live In Japan, a live DVD/CD set from their concert at the Budokan in Tokyo featuring the band's first-ever performances of the albums Escape and Frontiers in their entirety. Journey has also received a star on the Hollywood Walk Of Fame and were inducted into the Hollywood Bowl Hall Of Fame. Additionally, the band is the subject of the award-winning documentary Don't Stop Believin': Everyman's Journey about the band's resurgence upon adding Arnel Pineda as lead singer after founding member Neal Schon discovered the Philippines native on YouTube.
About Billy Idol
For forty-five years, Billy Idol has been one of the faces and voices of rock'n'roll, with an artistic resume to match the brilliant light of the image. First as the camera-ready front man for Generation X, between 1977 and 1981 Billy emerged with three albums that made positivity, emotional depth and high pop synonymous with punk rock. In 1982, Billy embarked on a remarkable transatlantic/transgenre solo career that integrated clubland throb, wide-screen depth and drama, rockabilly desperation, the bold and simple lines of punk, and rock'n'roll decadence.
Decades after releasing his first 45, Billy Idol still makes gliding, thumping, cinematic songs about sin, redemption and the love of rock'n'roll…and that's what you will find on The Roadside, Billy Idol's first release of original material in seven years. Produced by Butch Walker (Green Day, Weezer, amongst many others), The Roadside takes Billy Idol into new but familiar waters full of color, power, atmosphere, attitude, and mystery.
On The Roadside Billy Idol is joined by his friend and collaborator since 1981, guitarist and co-songwriter Steve Stevens. For 40 years – 40 years! ¬– Steve has been Billy Idol's sonic assassin and master blender of tones and textures, the thinking man's shredder and the shredding man's Picasso.