SHAKIRA ANNOUNCES "EL DORADO WORLD TOUR" WITH PERFORMANCE AT LITTLE CAESARS ARENA JANUARY 22
Tickets On Sale Now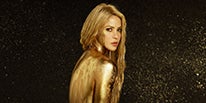 (DETROIT– June 27, 2017) — Twelve-time GRAMMY® Award-winner and international superstar Shakira has announced plans to embark on her "El Dorado World Tour", presented by Rakuten. The tour, produced by Live Nation, will feature many of her catalog hits and will feature a stop at Little Caesars Arena on Monday, January 22 at 7:30 p.m.
Tickets ($40.50, $70.50, $100.50 and $130.50) are on sale now and can be purchased at OlympiaEntertainment.com, LiveNation.com, The Fox Theatre and Joe Louis Arena box offices and Ticketmaster.com. To charge tickets by phone, call (800) 745-3000. For additional information, call (313) 471-6611. For all ticket purchase information, please visit http://www.shakira.com/.
"Thank you all so much for listening to my music in so many places around the world. I can't wait to be onstage again singing along with all of you, all of your favorites and mine. It's going to be fun! The road to El Dorado starts now!" Shakira said.
The tour announcement comes on the heels of Shakira's 11th studio album release, EL DORADO, which hit #1 on iTunes in 37 countries and held 5 of the top 10 spots on the iTunes Latino Chart within hours of its release. The 5x platinum album, including her already massive global hits - "La Bicicleta," "Chantaje," "Me Enamoré," and "Déjà vu"- currently holds the top spot on Billboard's Top Latin Albums, marking her 6th #1 album on this chart. Her single, "Chantaje" featuring Maluma, is 16x diamond certified, while its video currently has been viewed over 1.4 billion times, making it the #5 fastest video to reach 1 billion views worldwide and working its way to soon be the most viewed video of her entire catalogue.
On her first-ever partnership with Rakuten, Shakira commented, "I'm so excited to be announcing the "El Dorado World Tour", I feel this will be my best tour yet, and am thrilled to be supported by such an amazing partner as Rakuten, with whom I share the same values!"
Global internet services leader, Rakuten Inc, with over 70 services and one billion members across e-commerce, digital contents and fintech businesses, will be the sole presenting sponsor of the "El Dorado World Tour". Rakuten is known for its support of major music and sporting events in Japan and around the world but this will be its first sponsorship of a pop star of Shakira's global standing, a bold new step aimed at boosting Rakuten's global branding, customer and community engagement. Viber, a global voice and messaging platform with 900 million users and Rakuten Group company, will also become the 'Official Messaging App' for the tour. Viber will hold an exclusive presale of tour tickets for Viber users, beginning Wednesday June 28 at 10 a.m., followed by a Live Nation presale that will begin Thursday, June 29 at 10 a.m.
Follow Shakira on:
www.shakira.com
www.facebook.com/shakira
www.twitter.com/shakira
www.instagram.com/shakira
www.youtube.com/user/shakiraVEVO