SLAYER BRINGS "LEG FIVE: NORTH AMERICA" OF THE BAND'S FINAL WORLD TOUR WITH SPECIAL GUESTS Lamb Of God, Amon Amarth And Cannibal Corpse TO DTE ENERGY MUSIC THEATRE MAY 19. Episode 3 of Slayer Looks Back on 37 Years Video Interview Series Released Today. "FIVE STARS…an extraordinary farewell gig from the kings of thrash metal - they totally slayed it. If Slayer do retire, replacing them may prove impossible." – The Times of London
Tickets Go On Sale Friday, December 14 at 10 a.m.
Dec 10, 2018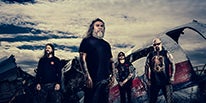 (DETROIT – December 10, 2018) – With "Leg Three: Europe" of Slayer's Final World Tour having wrapped up this past Saturday, dates in Australia, Japan, the South Pacific, and the final European dates announced in the past weeks, today Slayer announces "Leg Five: North America" of its Final World Tour. Maintaining the band's ethos of "play as many places as possible to make it easier for everyone to see the band one last time," "Leg Five" will visit DTE Energy Music Theatre on Sunday, May 19 at 6 p.m.
Tickets (starting at $29.50 and a limited number of four-packs at $89 on the United Shore lawn) go on sale Friday, December 14 at 10 am. and can be purchased at 313Presents.com, LiveNation.com, Little Caesars Arena XFINITY box office and Ticketmaster.com. To charge tickets by phone, call (800) 745-3000. Special Slayer VIP Packages will be available for all dates; those details are accessible here: http://bit.ly/slayervip.
"Leg 5" will kick off May 2, 2019 at the Ak-Chin Amphitheatre in Phoenix AZ and see the band performing 16 shows across the southern states and then up the east coast, culminating at the Xfinity Center Amphitheatre in Mansfield, MA on May 25. Lamb of God, Amon Amarth and Cannibal Corpse will support Slayer on all "Leg 5" dates.
"We are pleased to announce that the brutality continues with Lamb Of God supporting Slayer on another leg of their farewell world tour! This is the real thing and is not one to miss. Heavy metal is alive and well and we can see it on the faces and hear it in the voices of the huge crowds filling arenas and amphitheaters everywhere we've been. It's been inspirational to see the energy and dedication of diehard Slayer fans turning out in huge numbers all over the world to support the kings of metal. For Lamb Of God to have been so well received is an honor all its own and we are beyond grateful to join them for another round. Cheers!" – Mark Morton, Lamb of God
"We are very excited to hit the road with Slayer again. It is no secret that Slayer is one of our absolute favorite bands, and even though it is sad to see such an influential and legendary band retiring, it is an absolute honor to have been invited to be a part of their farewell tour." – Amon Amarth
Cannibal Corpse comments, "We are extremely honored to be sharing the stage with Amon Amarth, Lamb of God, and of course Slayer this spring on their farewell tour! To be part of this historic event will be something we will never forget."
Also today, Episode 3 of Slayer Looks Back on 37 Years video interview series is released. Tom Araya and Kerry King talk about getting their first record deal and the release of Show No Mercy; Tom, Kerry and Paul Bostaph remember Paul's first meeting with the band and his subsequent audition to be Slayer's drummer. Check out the clip HERE.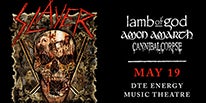 DTE Energy Music Theatre
with special guests Lamb Of God, Amon Amarth and Cannibal Corpse