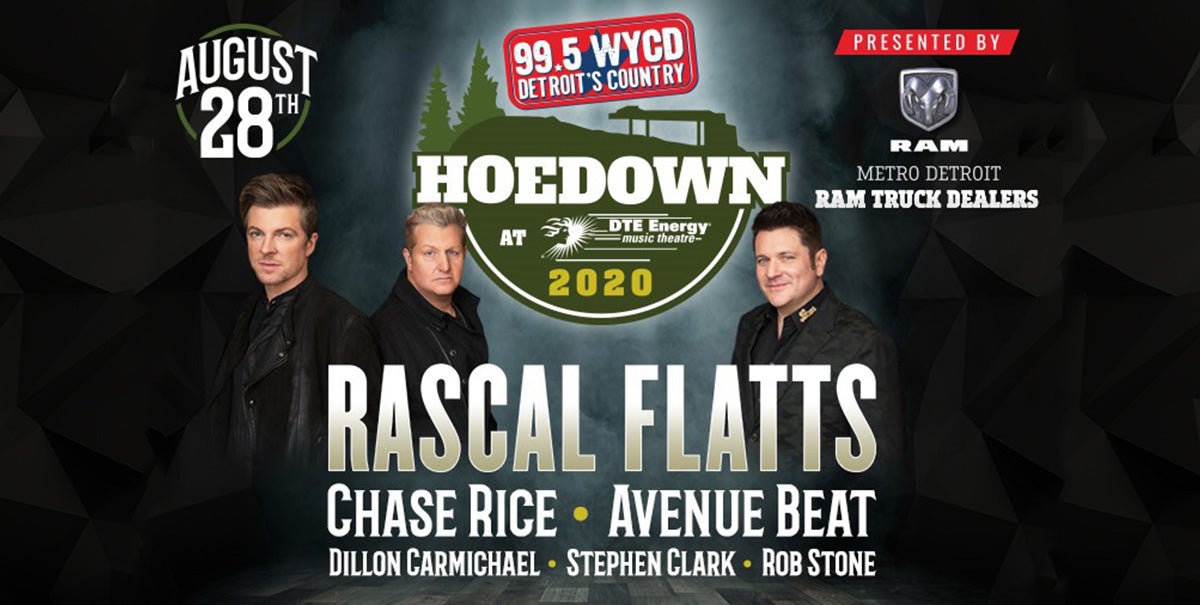 THE 38TH ANNUAL "99.5 WYCD HOEDOWN" FEATURING RASCAL FLATTS AT DTE ENERGY MUSIC THEATRE RESCHEDULED FOR FRIDAY, AUGUST 28
(DETROIT – March 20, 2020) — The 38th annual "99.5 WYCD Hoedown" presented by Metro Detroit RAM Truck Dealers scheduled for Friday, June 12 at DTE Energy Music Theatre has been rescheduled to take place on Friday, August 28 at 3 p.m. The event will feature a headlining performance by Rascal Flatts and main stage performances from Chase Rice and Avenue Beat.
All previously purchased tickets will be honored for the newly scheduled date. For any further ticket inquiries please reach out to point of purchase.
The "99.5 WYCD Hoedown" will also include performances on the Festival Stage in the DTE parking lot by Dillon Carmichael, Tenille Arts, Stephen Clark and Rob Stone.
For more information on the "99.5 WYCD Hoedown," please visit wycd.com/hoedown and follow the WYCD Facebook (www.facebook.com/Add995WYCD) and Twitter (twitter.com/995WYCD) pages for updates.
Aug
28
/ 2020
@ 3:00 PM
Aug
28
/ 2020
@ 3:00 PM