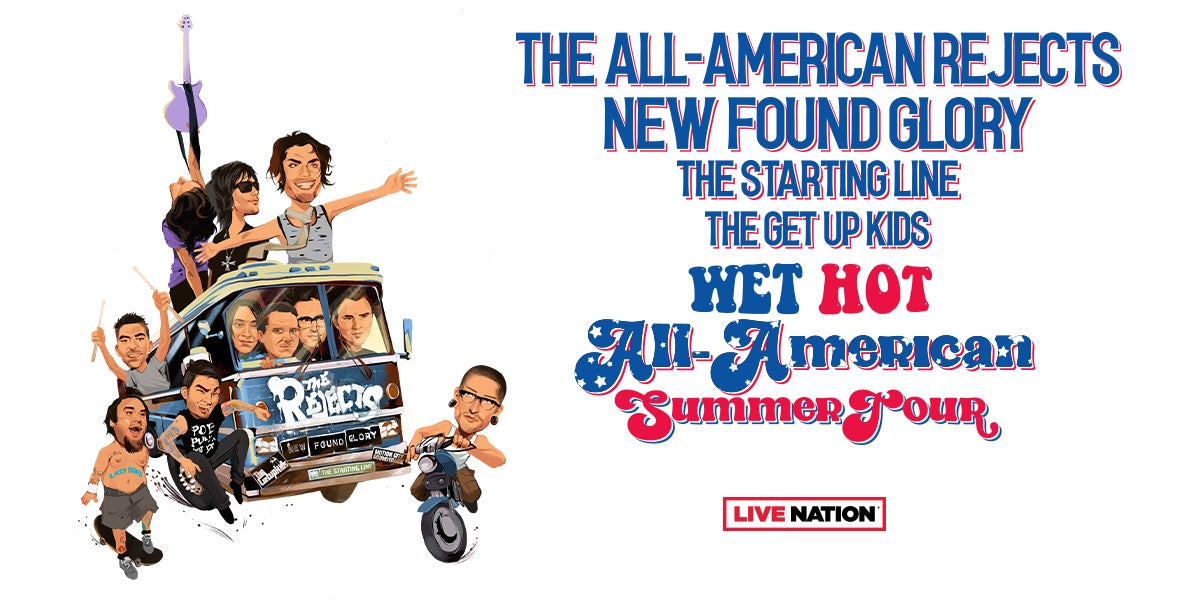 The All-American Rejects Announce First Headlining Tour In Nearly Ten Years "Wet Hot All-American Summer" At Michigan Lottery Amphitheatre August 22
Tickets Go On Sale Friday, April 7 at 10 a.m.
(DETROIT – April 3, 2023) – The All-American Rejects are excited to announce their highly anticipated return to the stage with the "Wet Hot All-American Summer Tour," their first headlining tour in nearly a decade. Produced by Live Nation, the 27-city tour will perform at Michigan Lottery Amphitheatre on Tuesday, August 22 at 7 p.m. Support for the local date will include New Found Glory, The Starting Line, and The Get Up Kids.
Tickets go on sale Friday, April 7 at 10 a.m. To purchase tickets in the Crest Ford pavilion, Ford Motor Company luxury seats and on the lawn, visit 313Presents.com, LiveNation.com and Ticketmaster.com.
Citi is the official card of the Wet Hot All-American Summer Tour. Citi cardmembers will have access to presale tickets beginning Tuesday, April 4 at 10 10 a.m. local time until Thursday, April 6 at 10 p.m. local time through the Citi Entertainment program. For complete presale details visit CitiEntertainment.com.
Speaking on their upcoming dates, the band said: "We've been trying to get out on the road in a proper way for the last few years. We finally realized after playing When We Were Young that the world was ready to pull out of their "guilty pleasure chest" and celebrate the soundtrack of their youth. When New Found Glory, The Starting Line, Motion City Soundtrack and The Get Up Kids signed on, the feeling was 'This is a celebration of summers gone by.' It's time to embrace the cumulative joy of growing up. First we got you to "Swing Swing," then we became your "Dirty Little Secret," and you thought "It Would End Tonight" so we could "Move Along," then we "Gave You Hell" for denying the fact that we're the band you listened to your entire lives, whether you liked it or not."
Vocalist/bassist Tyson Ritter and guitarist Nick Wheeler were best friends in high school in Stillwater, Oklahoma, when they founded The All-American Rejects in 1999. And while their emo-pop band has traveled far and wide and sold millions of albums in the years since, their music retains an irrepressible energy and infectious scrappiness, two qualities that seem quintessentially teenaged in the best sense. They've also always understood the lasting value of big sticky melodies, a lesson they absorbed from a wide range of early influences that included Bon Jovi and Def Leppard, as well as emo forebears such as Weezer and Jimmy Eat World. Already fully realized on their 2002 indie hit "Swing, Swing," The All-American Rejects' catchy mix of arena rock, power pop, and emo soon landed them a deal with DreamWorks. Later hits like 2005's "Dirty Little Secret" and 2008's "Gives You Hell"—which hit No. 1 on the iTunes chart—confirmed the wide appeal of Ritter and Wheeler's sometimes snarky and always punchy songwriting.
"Wet Hot All-American Summer Tour" with special guests New Found Glory, The Starting Line, and The Get Up Kids
"Wet Hot All-American Summer Tour" with special guests New Found Glory, The Starting Line, and The Get Up Kids