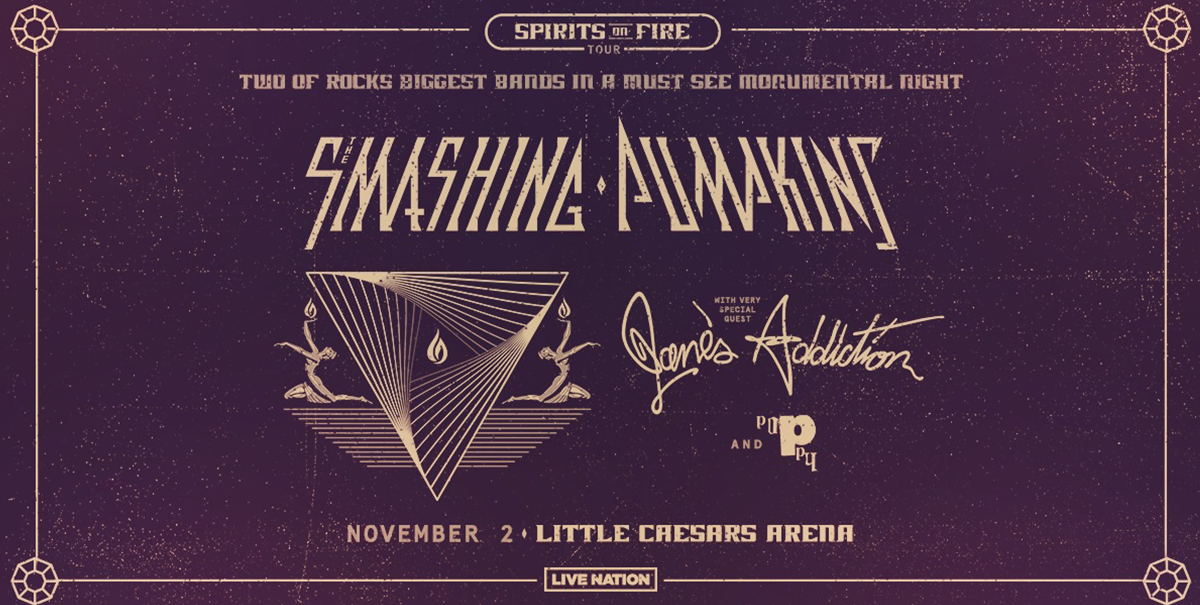 The Smashing Pumpkins Announce North American Headlining Arena Tour With Special Guests Jane's Addiction At Little Caesars Arena November 2
Tickets Go On Sale Friday, May 13 at 10 a.m.
(DETROIT – May 11, 2022) – The Smashing Pumpkins have announced their North American arena tour with special guests Jane's Addiction. Produced by Live Nation, the 32-date "Spirits On Fire Tour" will perform at Little Caesars Arena on Wednesday, November 2 at 6:30 p.m.
Tickets (starting at $49) go on sale Friday, May 13 at 10 a.m. at 313Presents.com, LiveNation.com, Ticketmaster.com and the XFINITY Box Office at Little Caesars Arena. For more details, go to SmashingPumpkins.com/tour.
Tomorrow night, in support of The Smashing Pumpkins tour announcement, the Grammy® Award-winning, critically acclaimed band will be performing and talking on CBS' The Late Late Show with James Corden.
Later today, The Smashing Pumpkins will appear at the TCL Chinese Theater in Hollywood for a commemorative ceremony in celebration of their tour announcement. Each band-member will add their handprints in cement, joining a long list of global treasures before them.
When The Smashing Pumpkins first emerged out of Chicago in 1988, the world had never heard a band quite like them. They spun together rock, pop, shoe-gaze, metal, goth, psychedelia, and electronic into a kaleidoscope of saccharine melodies, fuzzy distortion, bombastic orchestration, incendiary fretwork, eloquent songcraft, and unshakable hooks. Upon their formation, their sound was different, iconoclastic, and wholly new—and it still is today. As a result, they've sold over 30 million albums worldwide and collected two Grammy® Awards, two MTV VMAs, and an American Music Award. Their catalog is highlighted by the platinum Gish [1991], the quadruple-platinum Siamese Dream [1993], diamond-certified Mellon Collie and the Infinite Sadness [1995], platinum Adore [1998], and gold Machina/The Machines of God [2000]. In 2018, they embarked on one of their most successful tours ever, the "Shiny and Oh So Bright Tour," followed by SHINY AND OH SO BRIGHT, VOL. 1 / LP: NO PAST. NO FUTURE. NO SUN. Meanwhile, 2020 saw the release of the band's eleventh full-length and latest double album, CYR. As prolific as ever, The Smashing Pumpkins confirmed they will release more music in 2022 as they resume touring. More details to come.