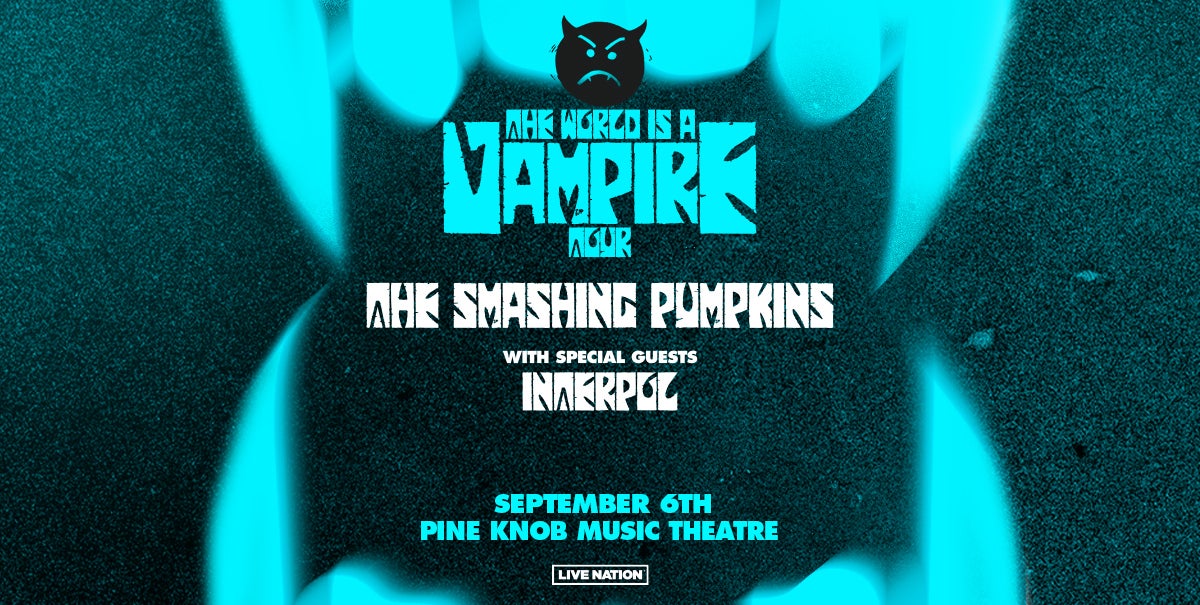 The Smashing Pumpkins Bring 2023 North American Tour "The World Is A Vampire Tour" To Pine Knob Music Theatre September 6
Tickets Go On Sale Friday, March 31 at 10 a.m.
(DETROIT – March 28, 2023) – The Smashing Pumpkins, today announced their 26-date North American "The World Is A Vampire Tour". Produced by Live Nation, the tour includes a stop at Pine Knob Music Theatre with special guest Interpol on Wednesday, September 6 at 7 p.m. Pine Knob Music Theatre is presented by Proud Partners United Wholesale Mortgage, Trinity Health and Ally.
The tour will also feature some of the world's biggest champions from the National Wrestling Alliance (NWA), who will be competing in most cities. THE WORLD IS A VAMPIRE TOUR has already sold-out 30k plus capacity shows in Mexico City this year, as well in cities across Australia this spring, and is set to expand to more countries in the future.
Tickets go on sale Friday, March 31 at 10 a.m. at 313Presents.com, LiveNation.com and Ticketmaster.com. For more details go to smashingpumpkins.com/tour/
"I grew up in a world where I needed to know bands like Siouxsie and the Banshees and The Cure existed, it meant there was a place for people like me to hang out and belong. That's what The World Is A Vampire is about. Bringing back that sense of community. If you don't fit in, you belong here. It's about having a shared experience and respecting others, but ultimately having fun. A true alternative festival, where all the self-proclaimed weirdos and outsiders of the world can get together and have a party" – Billy Corgan
Along with news of their upcoming tour, the band released their brand-new single "Spellbinding" which received its radio debut this morning during a very special live appearance on The Howard Stern Show, revealing details of their upcoming tour and the release date for their highly anticipated third and final act of ATUM, which is set for release on May 5. Act 3 will come with a special edition boxset featuring all 33 album tracks plus 10 additional unreleased songs, and is available for pre-order HERE.

The band performed "1979" and "EMPIRES" live in the studio. Watch or listen to their interview on The Howard Stern Show HERE
ATUM features 33-tracks in 3 acts and is the sequel to 1995's Mellon Collie and the Infinite Sadness and 2000's Machina/Machine of God. ATUM was written and produced by Corgan over the past 4 years. 22 tracks have been released to date, with Beguiled continuing to climb at both Active Rock (peaked at #6) and Alternative Radio Charts (#12).
In other news, Corgan's popular podcast series Thirty-Three with William Patrick Corgan continues to quench the thirst of dedicated Pumpkins fans all over the world, offering listeners the chance to hear never-before-released ATUM tracks, as-well as diving into various aspects of the band's illustrious history. Thirty-Three with William Patrick Corgan is distributed by iHeartPodcasts and available on iHeartRadio and everywhere podcasts are heard. To learn more, click HERE.
When The Smashing Pumpkins first emerged out of Chicago in 1988, the world had never heard a band quite like them. They spun together rock, pop, shoe-gaze, metal, goth, psychedelia, and electronic into a kaleidoscope of saccharine melodies, fuzzy distortion, bombastic orchestration, incendiary fretwork, eloquent songcraft, and unshakable hooks. Upon their formation, their sound was different, iconoclastic, and wholly new—and it still is today. As a result, they've sold over 30 million albums worldwide and collected two GRAMMY® Awards, two MTV VMAs, and an American Music Award. Their catalog is highlighted by the platinum Gish [1991], the quadruple-platinum Siamese Dream [1993], diamond-certified Mellon Collie and the Infinite Sadness [1995], platinum Adore [1998], and gold Machina/The Machines of God [2000]. In 2018, they embarked on one of their most successful tours ever, the Shiny and Oh So Bright Tour, followed by SHINY AND OH SO BRIGHT, VOL. 1 / LP: NO PAST. NO FUTURE. NO SUN. Meanwhile, 2020 saw the release of the band's eleventh full-length and latest double album, CYR. As prolific as ever, The Smashing Pumpkins are currently working on new music. More details to come.

OFFICIAL WEBSITE | FACEBOOK | TWITTER | INSTAGRAM | YOUTUBE
About Interpol
Interpol began in New York in 1997, when guitarist Daniel Kessler recruited bassist Carlos Dengler and singer/guitarist Paul Banks to form a band. In 2002, with Sam Fogarino on drums, the band signed to Matador records and released Turn On The Bright Lights, which made it to 10th position on NME's list of 2002's top releases and Pitchfork named it the year's #1 album. Over the next two decades would go on to wide critical and commercial acclaim, with six subsequent high charting records on the Billboard 200; earning rave reviews across the map from Rolling Stone to TIME; performing on late night television shows including the Late Late show with David Letterman and Conan and playing major festivals like Coachella and Glastonbury and headlining Mexico's Corona Capital. The band (Banks, Kessler and Fogarino) released their 7th album, "The Other Side Of Make-Believe", in July 2022 to critical acclaim. MOJO called the album "quietly masterful", Clash hailed it as "some of the boldest, most uncompromising work of their career", and NME described it as "a confident, rewarding and subtly adventurous new chapter". They're touring across the globe in 2023.
About National Wrestling Alliance (NWA)
History will be made as the National Wrestling Alliance (NWA), owned by Smashing Pumpkins front man Billy Corgan, will be sending some of its biggest stars and Champions to compete at most of the festival locations. Originally founded in 1948, the NWA has been a cornerstone of professional wrestling on a global scale for generations as a promotion and a governing body. Under Corgan's leadership, the NWA is reaching new heights in the sport and is growing an international fan base. Featured talents include NWA Women's World Champion Kamille, NWA World Tag Team Champions Bestia 666 & Mecha Wolf, NWA World Junior Heavyweight Champion Kerry Morton, Trevor Murdoch, Natalia Markova, Chris Adonis, Thom Latimer, EC3, Thrillbilly Silas Mason, Odinson, Mercurio, Kenzie Paige, Missa Kate, and many more. Be a part of the action as NWA titles and reputations will be on the line in this unique concert environment unlike any other. https://www.nationalwrestlingalliance.com